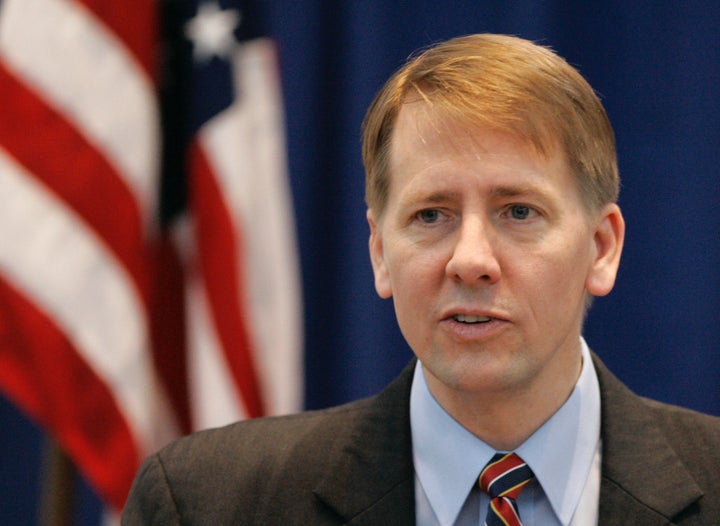 This article has been updated to include statements from Elizabeth Warren and Timothy Geithner.
President Barack Obama will nominate former Ohio Attorney General Richard Cordray to head the Consumer Financial Protection Bureau, the White House announced Sunday.
"American families and consumers bore the brunt of the financial crisis and are still struggling in its aftermath to find jobs, stay in their homes, and make ends meet," Obama said in a statement. "That is why I fought so hard to pass reforms to fix the financial system and put in place the strongest consumer protections in our nation's history. Richard Cordray has spent his career advocating for middle class families ... and looking out for ordinary people in our financial system."

Cordray currently serves as the CFPB's director of enforcement. His appointment, first reported by the Columbus Dispatch, comes on the heels of a Wall Street Journal report on Friday that Obama was not expected to nominate Elizabeth Warren, who was instrumental in setting up the agency but faced stalwart opposition from Republicans.
The Journal named Cordray as a possible nominee to lead the agency.
Elizabeth Warren confirmed the news of Cordray's nomination in a statement to The Huffington Post. "Rich has always had my strong support because he is tough and he is smart-and that's exactly the combination this new agency needs," she said. "He was one of the first senior leaders I recruited for the agency, and his work and commitment have made it clear that he will make a stellar director."
Progressives had long pushed for Obama to nominate Warren to lead the CFPB, and the Progressive Change Campaign Committee expressed disappointment at the news that he would not do so.
"With her track record of standing up to Wall Street and fighting for consumers, Elizabeth Warren was the best qualified to lead this bureau that she conceived -- and we imagine Richard Cordray would agree," PCCC co-founder Stephanie Taylor said in a statement. "That said, Rich Cordray has been a strong ally of Elizabeth Warren's and we hope he will continue her legacy of holding Wall Street accountable."
President Obama thanked Warren o Sunday for helping to build the CFPB. "I also want to thank Elizabeth Warren not only for her extraordinary work standing up the new agency over the past year, but also for her many years of impassioned leadership, and her fierce defense of a simple idea: ordinary people deserve to be treated fairly and honestly in their financial dealings," the president said. "This agency was Elizabeth's idea, and through sheer force of will, intelligence, and a bottomless well of energy, she has made, and will continue to make, a profound and positive difference for our country."
The CFPB is set to launch on July 21. In May, 44 Republican senators sent a letter to President Obama stating that they will not confirm any nominee to head the agency without changes to the Dodd-Frank financial reform law enacted last year.
"Under the Dodd-Frank financial regulation act, the director is given unfettered authority to regulate businesses that extend consumer credit," Sen. Richard Shelby (R-Ala.) wrote in a statement about the letter. "Although the director will also have hundreds of millions of dollars of public money at his or her disposal, no checks and balances are provided on how it is spent."
The Republican senators proposed creating a five-member board of directors to run the CFPB instead, along with subjecting the agency to the appropriations process and giving bank regulators greater oversight of its operations -- all moves that seemed designed to weaken the agency.
Warren, for her part, is said to be considering a run for Senate in 2012, challenging Sen. Scott Brown in Massachusetts.
The American Prospect's Robert Kuttner reports:
Meanwhile, she has been quietly exploring option B, running against Senator Scott Brown next year in Massachusetts, urged on by much of the Democratic leadership (I've always argued that this was the bigger stage and more important use of her talents)

In Massachusetts, the Democratic field right now is stunningly weak, and Warren is the one candidate who can galvanize voters and take back the seat formerly held by Ted Kennedy.
HuffPost asked Brown about a Warren candidacy last week, and Brown declined to engage, saying he was focused on the debt ceiling debate and avoiding default.
Warren issued the following statement Sunday:
"Last year, when President Obama and Secretary Geithner asked me to help them stand up the consumer bureau, I enthusiastically accepted the position and got to work because I believe firmly that the CFPB can make the consumer finance markets work better for American families – eliminating fine print, making costs, benefits, and risk clearer, and holding those who break the law accountable. In the time since, we have been hard at work building an agency to do just that.

"Today, the President announced his intent to nominate Richard Cordray to serve as the first Director of the CFPB. Rich has a proven track record of fighting for families during his time as head of the CFPB enforcement division, as Attorney General of Ohio, and throughout his career. He was one of the first senior executives I recruited for the agency, and his hard work and deep commitment make it clear that he can make many important contributions in leading this agency. He will make a stellar director. I am very pleased for Rich and very pleased for the CFPB.

"In May, forty-four Republican Senators wrote a letter saying that they will block anyone from serving as CFPB Director. Many of them don't like either the agency or the ideas that led to its creation. They lost that fight last summer in a straight up vote, but they have said they will use a filibuster over nomination to undercut the agency and its effectiveness.

"I remain hopeful that those who want to cripple this consumer bureau will think again and remember that the financial crisis – and the recession and job losses that it sparked – began one lousy mortgage at a time. I also hope that when those Senators next go home, they ask their constituents how they feel about fine print, about signing contracts with terms that are incomprehensible, and about learning the true costs of a financial transaction only later when fees are piled on or interest rates are reset. I hope they will ask the people in their districts if they are opposed to an agency that is working to make prices clear or if they think budgets should be cut for an agency that is trying to make sure that trillion-dollar banks follow the law. I hope they will ask their constituents if they are opposed to the confirmation of someone who saved $2 billion for retirees, investors, and business owners as Ohio Attorney General and who has worked hard on the front lines fighting against fraudulent foreclosures and abusive lending practices.

"Partisanship may be the most important thing in Washington, but in the rest of the country, people expect their public servants to work together to learn from past regulatory failures and to put our energy into solving problems, not scoring political points. In visiting with people and business leaders across the country – including community bankers and credit unions in all 50 states – I see a real eagerness to move forward, to work together to repair a broken credit market. I hope that Republicans in the Senate take notice and stop their fight to preserve a regulatory system that failed us.

"Prior to the passage of the Dodd-Frank Act, the President and I fought side by side to make the new agency possible. And, if we need to, I know we will continue to fight side by side, to keep it strong and independent and to make sure it has the tools it needs to serve the American people."
Treasury Secretary also issued the following statement Sunday:
"As Ohio's Attorney General and while at the Consumer Financial Protection Bureau, Richard Cordray has earned a reputation as one of America's strongest advocates for the interests of consumers. He is an effective leader who is committed to making sure American families and consumers have all the necessary tools to make the best possible choices. We are grateful that he has agreed to take on this important position and know he will build upon the powerful legacy that Professor Elizabeth Warren has established at the CFPB. Professor Warren has done an outstanding job at standing up this agency and has been a tremendous asset to us all during the Bureau's first year. She has helped initiate critical work to simplify mortgage disclosure, improve credit card transparency and shield military families from predatory lenders and has done the agency a great service in recruiting top talent to take the CFPB and its mission forward."
Popular in the Community