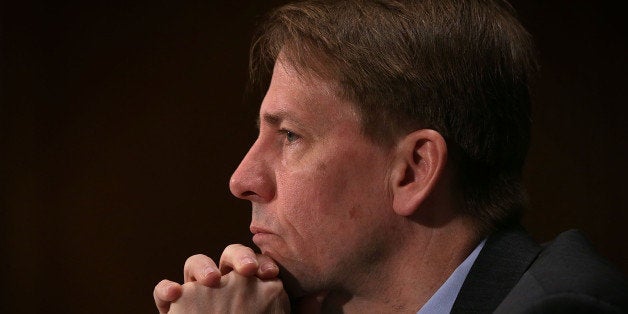 WASHINGTON -- Senate Republicans on Thursday blocked an effort to put someone in charge at the Consumer Financial Protection Bureau, a move that prevents the newly formed agency from supervising some of the same nonbank entities that triggered the financial crisis.
The Senate voted 53 to 45 to reject a procedural motion to begin debate on confirming Richard Cordray as the CFPB director. The motion required 60 votes to pass. Sen. Scott Brown (R-Mass.) was the lone Republican to side with Democrats in seeking to begin debate.
Update: 12:20 p.m. -- Moments later, President Barack Obama responded with a veiled threat to install his nominee by recess appointment. Speaking to the press after the vote, he said it makes "absolutely no sense" for Republicans to block Cordray given his credentials and the fact that many of them actually would support him if not for their opposition to the structure of the agency itself.
Asked directly if he would consider a recess appointment of Cordray once the Senate adjourns, Obama said only, "I will not take any options off the table."
The failed vote was no surprise. Republicans have been vowing for months to oppose Cordray's confirmation -- or any nominee's confirmation -- until key changes are made at the agency. Among their demands: eliminating the director's position, creating an oversight board instead, and requiring the agency to get congressional approval of its budget versus permitting it to draw funds from the Federal Reserve. The CFPB, the brainchild of Harvard law professor and now-Massachusetts Senate candidate Elizabeth Warren, was created under last year's Dodd-Frank financial reform legislation.
Democrats argue that Republicans' real aim is to undermine the agency's work altogether.
"In other words, to protect their Wall Street friends, they're not going to allow a director to be in place unless you weaken this agency," said Sen. Sherrod Brown (D-Ohio), who sits on the Senate Banking, Housing and Urban Affairs Committee. Republicans are "almost always flacking for Wall Street. It never ceases to amaze me," he added.
"This is the first time in Senate history a party has blocked a qualified candidate solely because they disagree with the existence of the agency," said Senate Majority Leader Harry Reid (D-Nev.). "Republicans are doing this to undermine the system of law we have in our country."
Republicans denied they were trying to stymie the agency. Instead, they said they were pushing for more transparency and accountability.
"This notion we are against consumer protection, that we're trying to gut CFPB, is just silly," said Sen. David Vitter (R-La.), also a member of the banking committee. "We want these three very important reforms."
"Democrats are using the Senate floor this week to stage a little political theater. They're setting up a vote they know will fail so they can act shocked about it later," said Senate Minority Leader Mitch McConnell (R-Ky.). "Until this or any other president addresses these very legitimate concerns, we cannot and will not support a nominee."
Raj Date, special advisor to the Secretary of the Treasury at CFPB, called Cordray an "exceptional leader" and praised his work at the bureau thus far.

"I have the great privilege of working with Rich every day," said Date. "The CFPB is already hard at work, helping to fix broken consumer financial markets. But without a director, we are only able to supervise banks, not any of the nonbank companies that were responsible for many of the most problematic products and practices leading up to the financial crisis."
The White House launched an unusually aggressive public relations campaign this week in a last-ditch effort to pressure GOP senators into changing their minds. State attorneys general and mayors from around the country wrote letters and held press events to urge the Senate to confirm Cordray, who was formerly the Ohio attorney general. Senior administration officials did interviews on local television stations in seven targeted states, and President Barack Obama even gave special interviews to reporters from those states to press for confirmation of his nominee.
Deputy Treasury Secretary Neal Wolin briefed reporters on Wednesday on how the lack of a director hampers the agency.
"Without a director, the CFPB cannot oversee payday lenders, private student loan providers and other nonbank lenders, including certain mortgage originators and servicers, as well as debt collectors and credit reporting agencies," Wolin said. "This nonbank sector has been the source of some of the most harmful, deceptive, unfair and predatory lending practices. And until a director is confirmed, these institutions will operate without supervision and oversight, just like before the crisis."
It remains to be seen whether the White House will now opt for Plan B, a recess appointment. Wolin ducked the question during Wednesday's briefing.
"Let's see what happens," he said. "But it's not for me here today to announce what comes thereafter."

Popular in the Community