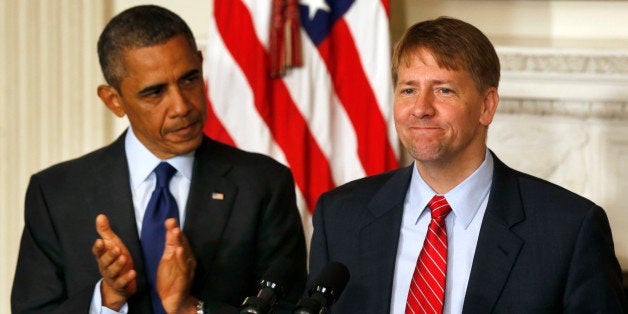 WASHINGTON -- In a move sure to infuriate Republicans and possibly draw a court challenge, President Barack Obama said Wednesday that he will use his executive power to bypass Republicans and put Richard Cordray in charge of the Consumer Financial Protection Bureau .
Senate Republicans have been blocking Cordray's nomination for months. They rejected his confirmation in December, despite conceding they actually like him, and vowed to keep opposing him or any other CFPB nominee until changes are made at the agency. Obama's recess appointment on Wednesday trumps their effort.
The president announced Corday's appointment during a speech on the economy in Cleveland, Ohio. Cordray, who previously served as the Ohio attorney general, flew on Air Force One to stand alongside the president at the event. Once appointed, Cordray will begin serving as CFPB director this week and could stay in the role for at least two years.
"Today, I'm appointing Richard as America's consumer watchdog," Obama said. "That means he'll be in charge of one thing: looking out for the best interest of American consumers. His job will be to protect families like yours from the abuses of the financial industry. His job will be to make sure you've got all the information you need to make important financial decisions."
Obama called it "inexcusable" and "wrong" that CFPB still doesn't have a director since beginning operations in July. He said while he will continue to "look for every opportunity to work with Congress" to boost the economy, he has "an obligation as president to do what I can without them," hence the recess appointment.
"I will not stand by while a minority in the Senate puts party ideology ahead of the people they were elected to serve," the president said to applause. "Not when so much is at stake. Not at this make-or-break moment for the middle class."
A CFPB spokeswoman declined to comment on the news. But Democratic supporters of Cordray and the CFPB were thrilled.
"Republicans have been trying to make an end run around the law by denying this watchdog a leader," Senate Majority Leader Harry Reid (D-Nev.) said in a statement. "I support President Obama's decision to make sure that in these tough economic times, middle-class families in Nevada and across the country will have the advocate they deserve to fight on their behalf against the reckless practices that denied so many their economic security."
"Ohio families deserve a Consumer Financial Protection Bureau -- complete with a Director -- that can stand up to the special interests and look out for Ohioans' interests," said Sen. Sherrod Brown (D-Ohio), who chairs the Senate Banking Subcommittee on Financial Institutions and Consumer Protection.
"We asked for a fair up-or-down vote on Richard Cordray's nomination. But too many senators are willing to stand instead with Wall Street, blocking a qualified nominee for the first time in the history of the Senate based on opposition to an agency's very existence," Brown said. "Rich Cordray is fair-minded and highly qualified, which is why he enjoys widespread and bipartisan support from both the people of Ohio and those he would regulate."
With a director in place, the CFPB will now monitor the activities of non-bank entities, including payday lenders, debt collectors and credit reporting agencies. It's the first time a federal agency has been charged with this role.
Many of those financial entities were "the source of some of the most harmful, deceptive, unfair and predatory lending practices" that led to the financial crisis, Deputy Treasury Secretary Neal Wolin said last month. The agency, which has been partially in operation since July, is the brainchild of Harvard law professor and now-Senate candidate for Massachusetts Elizabeth Warren. It was created under last year's Dodd-Frank financial reform legislation.
"President Obama's decision to overrule the big banks and the Senate Republicans who are protecting them gives consumers a strong ally and advocate in Washington," Warren said in a statement. "Senate Republicans will surely complain about the recess appointment, but their refusal to allow an up or down vote on Cordray's nomination is just another example of the political games in Washington that must end."
The president's move is notable for two reasons. For one, Obama rarely invokes his recess appointment authority, compared to past presidents. Until now, he has made 28 recess appointments. By contrast, former President George W. Bush made more than 170 during his presidency and former President Bill Clinton made almost 140. Secondly, and more importantly, Obama is making a recess appointment when the Senate isn't technically in recess -- a risky step that could spark a court challenge.
White House communications director Dan Pfeiffer made the case that it is fully within the president's right to make recess appointments if Republicans are relying on "a gimmick" to prevent the Senate from going into recess:
"Here are the facts: The Constitution gives the President the authority to make temporary recess appointments to fill vacant positions when the Senate is in recess, a power all recent Presidents have exercised," Pfeiffer wrote on the White House Blog. "In an overt attempt to prevent the President from exercising his authority during this period, Republican Senators insisted on using a gimmick called 'pro forma' sessions, which are sessions during which no Senate business is conducted and instead one or two Senators simply gavel in and out of session in a matter of seconds. But gimmicks do not override the President's constitutional authority to make appointments to keep the government running. Legal experts agree."
That line of reasoning isn't sitting well with House and Senate Republican leaders, however, who charged Obama with threatening the constitutional system of checks and balances and warned of future legal challenges.
"This is an extraordinary and entirely unprecedented power grab by President Obama that defies centuries of practice and the legal advice of his own Justice Department," House Speaker John Boehner (R-Ohio) said in a statement. "This action goes beyond the President's authority, and I expect the courts will find the appointment to be illegitimate."
Senate Minority Leader Mitch McConnell (R-Ky.) said in a statement that Obama has "arrogantly circumvented the American people" by installing Cordray when the Senate isn't in recess.
"This recess appointment represents a sharp departure from a long-standing precedent that has limited the President to recess appointments only when the Senate is in a recess of 10 days or longer," said McConnell. "Breaking from this precedent lands this appointee in uncertain legal territory, threatens the confirmation process and fundamentally endangers the Congress's role in providing a check on the excesses of the executive branch."
Popular in the Community