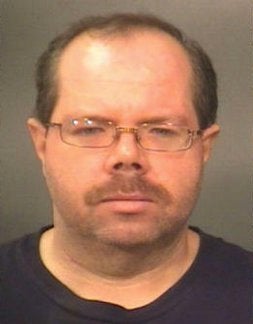 An Indiana man facing child "sextortion" charges boasted to one of his 14-year-old victims that he wouldn't be caught, federal authorities announced today.
Richard Finkbiner, 39, allegedly blackmailed two juvenile boys by demanding sexual photos of them -- in exchange, he wouldn't disseminate racy photos of them he already had, the U.S. Department of Justice reported in a press release.
"I won't get caught im (sic) a hacker I covered my tracks," Finkbiner allegedly wrote to one victim, who begged him not to post the photos online.
"All I ask is for you delete it please im (sic) onlyh (sic) 14 please just do this to somebody else not me please," the boy wrote, according to the Indy Star.
U.S. Attorney Joe Hogsett said that cops initiated a sting after a criminal complaint was filed against Finkbiner, who had "thousands of sexually explicit images and videos depicting hundreds of individuals," according to the release. There may be up to 100 more underage victims, Hogett said.
The criminal complaint alleges that several times between November 2011 and February 2012, Finkbiner met the two 14-year-old boys online using video chat websites. In both instances, Finkbiner found racy images of the boys and told them that he'd post them on gay websites if they didn't send him more sexually explicit material.
Finkbiner was arrested at his home in the city of Brazil. Fox 59 reports that, if the suspected other victims are confirmed, it could be the largest case in the country of online sexual extortion of children.
Finkbiner faces 30 years in prison on his current charges of child sexual exploitation.
Anyone with information on this case or who may have been victimized is urged to contact the FBI at 877-542-8979.