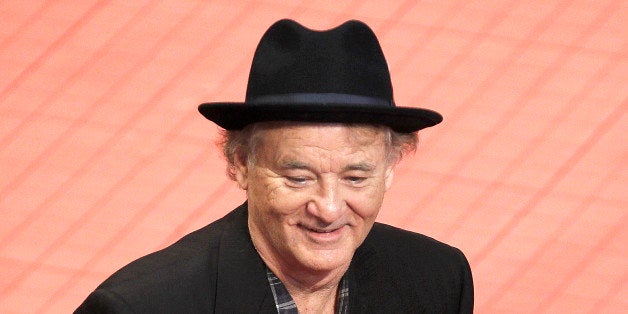 Seeing Richard Gere and Bill Murray -- as well as their new films -- back to back this week invites comparison: movie stars for the past 35 years, they continue to do superlative work in both Hollywood and independent films. Murray anchors St. Vincent -- a delightful and touching first feature opening today in NY and LA -- while Gere plays a homeless man in the NY Film Festival selection, Time Out of Mind.

Their film careers took off simultaneously in the late 1970s. After a stint on Saturday Night Live, Murray made the popular comedy Meatballs (1979); Gere's breakthrough was in a more dramatic register with Looking for Mr. Goodbar (1977) and Days of Heaven (1979). In their latest films, each now plays a protagonist on a downward spiral, a New Yorker who has lost job, finances and family... but not the taste for booze.
At a Film Society of Lincoln Center dinner honoring Gere last night, the 65-year-old actor spoke warmly and candidly about his career. When Kent Jones -- Director of the NY Film Festival -- asked him how he gravitated toward acting, Gere replied, "I grew up in the suburbs, in 'Leave It to Beaver' land. I was aware of dreams, and preferred looking up at the stars at night. Then I studied music as a trumpeter, and even played with the Syracuse Symphony in my teens. But guitar and piano became more interesting to me, because girls liked them. I graduated from high school in '67 when so much experimental theater was happening."

If Murray's career is mainly in film -- including Ghostbusters, Rushmore, Hyde Park on Hudson, and the groundbreaking Groundhog Day (1993) -- Gere has also performed onstage, notably in Bent (1980), playing a homosexual concentration camp inmate during World War II. When asked about theater versus film, he said, "I'm easily seduced by an audience. But the repetition of that deadens me. I'm more suited to the pressure and spontaneity of coming up with something in the moment."
Gere remains one of our most under-rated actors. Despite memorable performances in such movies as An Officer and a Gentleman, American Gigolo, Pretty Woman, Primal Fear, Chicago, The Hoax, and Arbitrage, he has never received an Oscar nomination. (Murray was nominated for Lost in Translation). Less interested in accolades than reinvention, Gere acknowledged that Time Out of Mind -- which he also produced -- is a risky enterprise.
Neither the actor nor his character asks for sympathy, as the homeless New Yorker George reveals little of his past or inner life. Rather, the drama -- directed by Oren Moverman -- is an unsentimentally realist chronicle of a man's effort to find a bed, a meal, a drink. On the first day of shooting in the downtown area of Astor Place, cameras in a nearby Starbucks captured Gere panhandling. With a cap pulled down to his eyes, he was not recognizable to the dozens of people who walked by as if he wasn't there. Moreover, they shot in actual homeless shelters -- one night in Bellevue and five in Brooklyn.
"We were demanding the audience to let go of normal expectations of storytelling," he admitted. "We wanted to hit something unknowable, un-nameable--a yearning to be alive and to connect -- and we wanted no villains. The world doesn't need bad guys to explore the unknown."
Bill Murray (now 64) struck a much lighter note when he was introduced by writer-director Ted Melfi at the St. Vincent premiere Monday night at the Ziegfeld Theatre. He said he was holding two bags of popcorn because he didn't know how long a first-time director would talk before the movie began.
St. Vincent turned out to be a comedy with dramatic heft, whose humbug Vincent has redeeming qualities in addition to ferocious comic energy. He gradually mellows after a new neighbor (Melissa McCarthy) asks him to watch her son Oliver (Jaeden Lieberher) while she works hospital shifts. We are led to understand the causes of Vincent's calcified life, whereas Gere's George reveals only the consequences of a rootless and inebriated existence.
The protagonist of Time Out of Mind is far from the enlightened humanitarian playing him. Gere is a founding member of "Tibet House," a nonprofit organization dedicated to the preservation of Tibetan culture. When Jones asked the practicing Buddhist how his acting and spiritual practice inform each other, Gere answered, "Everything one does in life is certainly informed by how open your heart is, and how much wisdom you are able to manifest."
________________
Annette Insdorf, Director of Undergraduate Film Studies at Columbia University, is the author of PHILIP KAUFMAN.
Calling all HuffPost superfans!
Sign up for membership to become a founding member and help shape HuffPost's next chapter