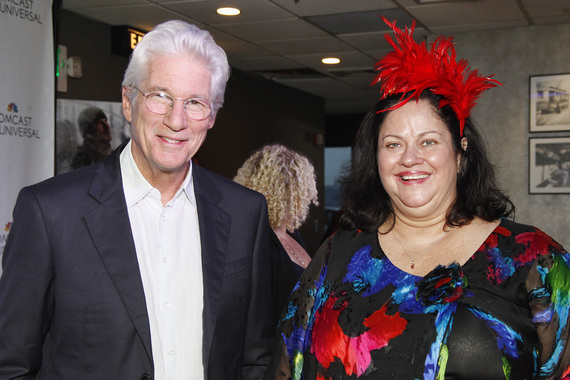 Even for the most hard bitten entertainment reporter, there is something exciting about a Richard Gere press junket. The female journalists are dressed a little better than even for a Bradley Cooper. The groupies peering through the window are not the typical teenage girls, but middle aged ladies such as the wife of the billionaire co-owner of the Philadelphia Phillies, Leigh Middleton.
Gere was in Philadelphia to promote his new movie Time Out of Mind written and directed by Oren Moveman. He plays George, a man whose alcoholism and mental illness have left him homeless and jobless. His efforts to navigate the bureaucracy set up to help him are complicated by his inability to remember his social security number.
The movie impresses upon the audience that a few bad choices is all that separates them from a life on the streets. The sex symbol became invisible once he held out a cup for money. He was only recognized twice in 21 days of filming. Real people, not extras, are filmed blithely rushing by one of the world's biggest movie stars. "It was actually worse than being invisible," said the actor, who has long been involved in helping the homeless in New York. "People were actively avoiding me on the street."
The practicing Buddhist wants the audience to ask themselves, "Are we in this together? Can we help?" He suggests:
You have to start with your own heart. How are we engaging with the world, other human beings, animals, and other sentient beings both socially and metaphysically? We can start to feel that we are not in our isolated cocoons or capsules. There is none of us that live on our own island. There is nothing we can do without other people. We are deeply, deeply interconnected- our minds, our hearts, our bodies, everything.
He warns, "It is an illusion that guy or woman falling on the street, fallen on hard times is somehow separate from us. Obviously, the Pope and the Dalai Lama know this is an illusion. Those are the ones we respect. Correct? Not the devils inside of us that go who cares, it's not my problem."
The cynical may posit that Richard Gere shed his good looks for this role because the Oscar voters are suckers for the beautiful to ugly transformation on the screen. While he may very well win an Oscar, the actor has more transcendent goals. He thinks "the meaning of all of our lives is break down our illusion that we are separate from each other. Anything that moves us in that direction is something that stays with us now and in future lives."
Calling all HuffPost superfans!
Sign up for membership to become a founding member and help shape HuffPost's next chapter