Pope Francis and Richard Branson agree: Oklahoma has no business killing Richard Glossip.
In an open letter published in The Oklahoman on Wednesday, the scheduled date of Glossip's execution, Branson pleads for the life of a "man, father, son and fellow human being" who was convicted of first-degree murder 17 years ago amid "a breathtaking lack of evidence."
"This is not about the rights and wrongs of the death penalty," Branson writes. "This is about every person deserving a fair trial."
The billionaire investor notes even Judge Arlene Johnson of the Oklahoma Court of Criminal Appeals found Glossip's trial "deeply flawed," then urges citizens to call the state's governor, Mary Fallin, to ask for a 60-day stay of execution.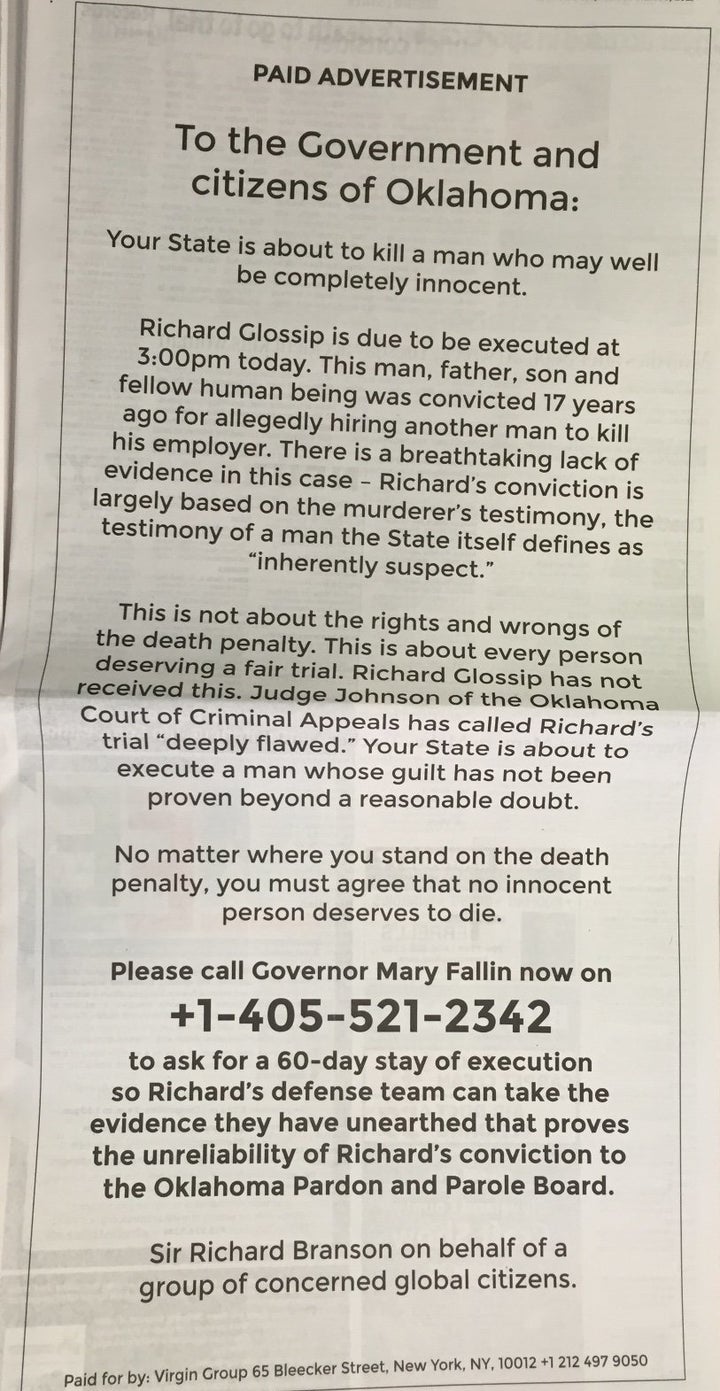 In a separate letter sent earlier this month on behalf of Pope Francis, Archbishop Carlo Maria Viganò pleaded with Fallin to commute Glossip's sentence.
In it, Viganò quotes Pope John Paul II, who argued the death penalty should be reserved only for "cases of absolute necessity," which are "very rare, if not practically non-existent."
In 1998, Glossip was accused of hiring a man named Joseph Sneed to kill his employer. After Sneed confessed to beating the man to death with a baseball bat, prosecutors offered to spare Sneed from the death penalty himself, but only in exchange for his testimony against Glossip. Glossip was thus convicted of first-degree murder based on the sole testimony of one man -- a man with clear incentive to testify, regardless of the truth. Since the trial, Sneed has indicated he'd like to recant his testimony, but now fears being put to death himself. 
Glossip's execution has already been delayed three times. In a statement released earlier this week, Fallin indicated she has no plans to intervene in the execution, but said she would "respect the decision" should a state or federal court grant Glossip a new trial or postpone the execution once more.
Calling all HuffPost superfans!
Sign up for membership to become a founding member and help shape HuffPost's next chapter