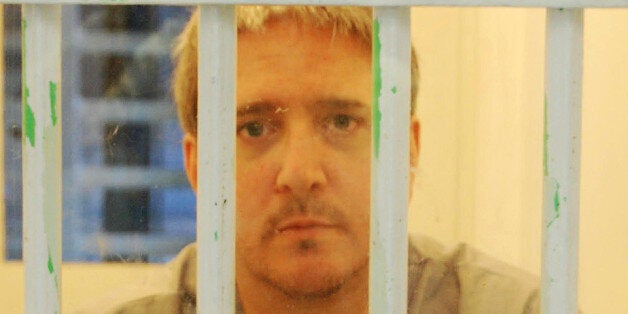 OKLAHOMA CITY -- Dozens of death penalty opponents gathered in the Oklahoma state Capitol building Tuesday as part of a last-ditch effort to save the life of Richard Glossip, who is scheduled to be executed Thursday.
"Richard Glossip's case cries out for deeper, moral consideration, because it raises the specter of an actually innocent man being executed for a crime he did not commit, based on the testimony of only one man, the man who actually killed the victim," Sister Helen Prejean, a nun known for her memoir Dead Man Walking and Glossip's spiritual adviser, said at a press conference. "Human rights are inalienable. They're not given by government -- and they shouldn't be taken away."
Glossip was convicted of first-degree murder in 1998 and subsequently sentenced to death based on the sole testimony of one witness, Justin Sneed, who confessed to beating a hotel owner to death with a baseball bat and claimed that Glossip hired him to do it. In exchange for his testimony, Sneed was spared death row himself and instead sentenced to life in prison.
"It's a peculiar distortion of justice that the actual killer will likely die of natural causes in a minimum-security prison, while Richard faces death," Mark Henricksen, one of Glossip's attorneys, said at the press conference.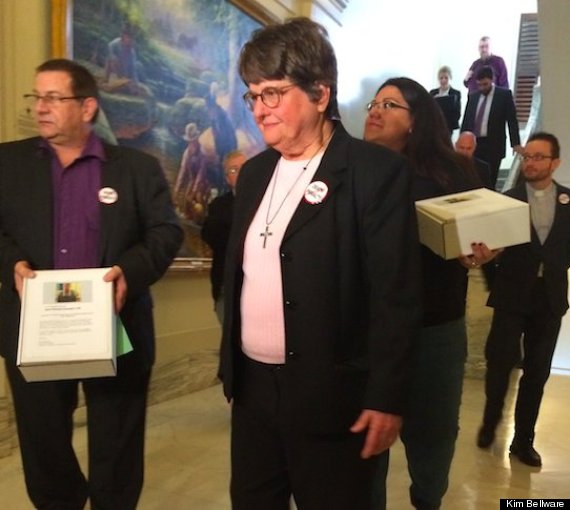 Sister Helen Prejean approaches Oklahoma Governor Mary Fallin's office with a group of Richard Glossip supporters Tuesday.
Bud Welch, an Oklahoma City native whose only daughter was killed in the Oklahoma City bombing in 1995, added that bomber Timothy McVeigh's execution didn't bring closure to him or his family. "We feel re-victimized," Welch said during the press conference. "McVeigh's execution is nothing but revenge. Victims' families cannot go through the healing process if you think killing someone out of revenge will bring you peace."
A Change.org petition asking Oklahoma Gov. Mary Fallin to suspend Glossip's execution has garnered more than 31,000 signatures. After Tuesday's press conference, Prejean led the group to Fallin's office, where she and Crystal Martinez, a friend of Glossip's who authored the Change.org petition on his behalf, presented an aide with two boxes full of signatures.
Outside the governor's chambers, members of Glossip's family, wearing white T-shirts emblazoned with Glossip's face on the front and the words "PLEASE HELP FREE AN INNOCENT MAN" on the back, appeared visibly pained.
"I don't know what we're going to do," Christina Glossip-Hodge, Glossip's eldest daughter, told The Huffington Post quietly when asked how the family would now spend their time as they await a response from Fallin's office.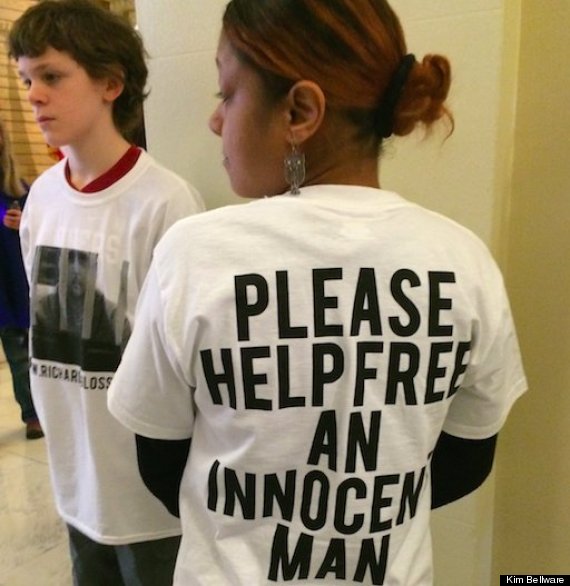 Members of Glossip's family outside Fallin's office.
Sneed's daughter, O'Ryan Justine Sneed, penned a letter to Oklahoma's clemency board in October, saying that her father has expressed in private conversations that he wishes he could recant his testimony. "For a couple of years now, my father has been talking to me about recanting his original testimony. But has been afraid to act upon it, in fear of being charged with the Death Penalty," reads the letter, a copy of which has been obtained by HuffPost. "His fear of recanting, but guilt about not doing so, makes it obvious that information he is sitting on would exonerate Mr. Glossip."
Glossip, who has staunchly maintained his innocence from the start, told HuffPost last week that he doesn't harbor bad feelings towards Sneed. "A lot of people ask if I hate [Sneed]," he said. "I don't hate him. Hatred ain't gonna do anything for you. ... I do believe that there is something after this life, and that I don't want to be going through it hating everybody."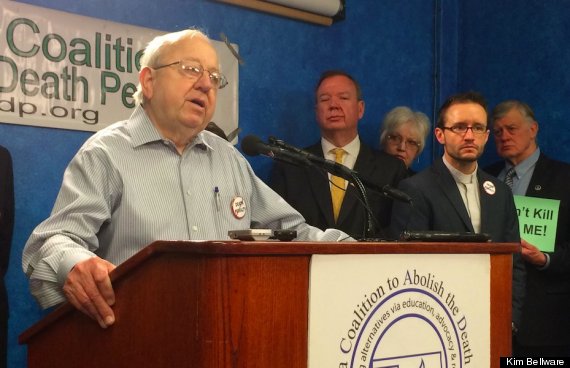 Bud Welch, whose daughter died in the Oklahoma City bombing, addresses Glossip's supporters.
Glossip and two other inmates, John Grant and Benjamin Cole, are plaintiffs in the Supreme Court case. "It's the first time in a long time that I let myself get a little more excited than normal," Glossip told HuffPost after hearing that the country's highest court would examine his situation. "I finally got a victory. A small victory -- but it uplifted me."
In the meantime, Glossip has refused to give up hope, and said his thoughts of his loved ones help to get him through his final days. "I think about just being able to hug my family," he said. "When you see how much they love you, it helps keep you very, very strong. Especially over these last couple of weeks."
In a statement emailed to HuffPost, Fallin's office indicated that she would not make an effort to stay Glossip's execution. "The only legal action available to the governor is to grant a stay of up to sixty days. Because the attorney general has already requested a stay from the Supreme Court, no further action needs to be taken by the governor at this time," Communications Director Alex Weintz said, adding that the governor did indeed receive the petition.
When Tuesday's event was over, Nancy Ogden, Glossip's sister, looked back at the closed doors of Fallin's office. "I just wonder if she even has a heart," she said.
Hear Glossip discuss his situation in his own words below:
This story has been updated with a comment from Gov. Mary Fallin's office.
Popular in the Community