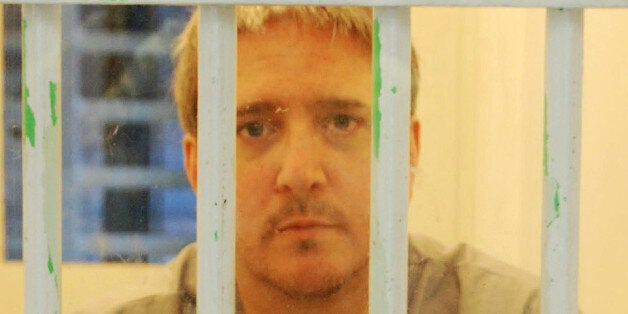 McALESTER, Okla. -- Death row inmate Richard Glossip described Wednesday's U.S. Supreme Court order suspending his impending execution as "so unbelievable."
"I've felt amazing today," Glossip said hours after he heard the news, sounding elated and buoyed by hope.
Glossip laughed easily during a conversation with The Huffington Post, talking excitedly about reconnecting with family and learning just how far news of his case has spread around the world. The Associated Press characterized the Supreme Court's decision as one that "came as no surprise," to which Glossip said, "Unless it's your life on the line, you don't know how heavy it is."
Glossip, who has been on Oklahoma's death row for 17 years, was scheduled to die Thursday by lethal injection. Last week, the Supreme Court agreed to take up a case involving Glossip and two other Oklahoma death row inmates, who claim their state's lethal injection method is unconstitutional and amounts to cruel and unusual punishment. Glossip's fate remained in limbo until Wednesday's announcement.
"I'm really happy that the Supreme Court ordered the stay so that the litigation can be carefully considered and Richard has more time," Kathleen Lord, one of Glossip's lawyers, told HuffPost. "Anything can happen with time. And Richard is not done telling his story."
Glossip, 51, was convicted of first-degree murder in 1998 and was sentenced to death based on the testimony of one witness, Justin Sneed. Sneed confessed to beating a hotel owner to death with a baseball bat, claiming that Glossip promised him $10,000 to do it. In exchange for his testimony, Sneed was spared death row himself and instead sentenced to life in prison.
Glossip has staunchly maintained his innocence from the start, and his case has attracted the support of high-profile death penalty opponents. Outside the Oklahoma State Penitentiary in McAlester on Wednesday, several of those supporters, who had been visiting Glossip under the belief it would be their last time seeing him, celebrated.
"It's such a surreal situation to be sitting with someone very near to execution," Sister Helen Prejean, a nun known for her memoir Dead Man Walking and Glossip's spiritual adviser, told HuffPost. "Then when you get the news -- I was ecstatic."
Prejean added that she "leapt out of her chair" after hearing Glossip's execution would be stayed. She said the news was not only a relief to Glossip's supporters, but to prison guards as well. "None of them wanted to be here if this was going to happen to him," she said. Several guards had requested the day of Glossip's execution off.
Glossip, who was able to visit with his guests Wednesday in the prison's law library while he sat beside them in a locked cage, said he nearly broke down and cried at the ability to reach out and touch his family. Prior to Wednesday, he said he had not been able to see his eldest daughter, Christina Glossip-Hodge, in person in 25 years. It was also the first time he and Prejean met face to face.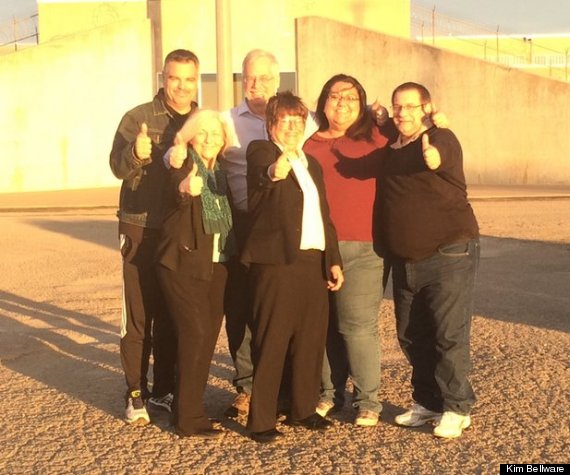 Glossip's supporters celebrate outside the Oklahoma state penitentiary, where he's currently being held. From left: Joe Cardona, Mary Rzepski, Kim Van Atta, Sr. Helen Prejean, Crystal Martinez and Jim Liberto.
A day earlier, dozens of Glossip's supporters hand-delivered a printout of a Change.org petition, which has now collected nearly 35,000 signatures, to the office of Oklahoma Gov. Mary Fallin (R). The petition asks Fallin to stop the execution.
While the governor can't grant Glossip clemency, she has the authority to delay his execution by 60 days, and there's no limit to the amount of times she can do that. Fallin's office, however, has indicated that she's unlikely to do so.
"I disagree with the necessity to grant Glossip yet another round of legal appeals," Fallin said in a statement emailed to HuffPost following Wednesday's news. "However, given that the U.S. Supreme Court has decided to hear his case, it is entirely appropriate to delay his execution until after the legal process has run its course."
Wednesday's Supreme Court order doesn't affect Glossip's death row status, but additional time before his execution may work in his favor. Should his lawyers uncover more evidence that suggests he's innocent, the state could grant him an appeal. Moreover, the state's Pardon and Parole Board could allow Glossip another clemency hearing, which could result in his sentence being commuted to life in prison with the possibility of parole.
Glossip's last clemency hearing was in October, when the state clemency board voted unanimously against him. Before the hearing, Sneed's daughter penned a letter to the board, claiming her father wished he could recant his testimony pinning the crime on Glossip, but it was submitted too late and couldn't be used as evidence.
"For a couple of years now, my father has been talking to me about recanting his original testimony. But has been afraid to act upon it, in fear of being charged with the Death Penalty," the letter read. "His fear of recanting, but guilt about not doing so, makes it obvious that information he is sitting on would exonerate Mr. Glossip."
Glossip's loved ones said they hope Wednesday's news will inspire Sneed to recant. "I have an innate hope that Justin Sneed will by awakened by close of a call we had today," Crystal Martinez, who authored the Change.org petiton, told HuffPost. "If that doesn't happen, I hope we can use all the injustices done to him during trial and finally bring him home -- alive."
Wednesday's Supreme Court order left open the possibility of carrying out lethal injections that don't involve midazolam, the controversial drug at the heart of Glossip's case, in the interim. Should they choose to move forward with an execution before the case is decided, Oklahoma's Department of Corrections would need to give death row inmates at least 10 days notice and choose a method that meets state protocols. It's unclear whether Oklahoma officials will pursue this option, and the Supreme Court will likely rule on the case by the end of June.
Oklahoma's execution methods came under scrutiny in April, after death row inmate Clayton Lockett died 45 minutes after being injected with a combination of drugs that had never been used together, including midazolam. Lockett writhed, clenched his teeth and struggled against the restraints holding him to a gurney before prison officials halted the execution, according to witnesses. He then died from a heart attack.
Earlier this month, the Supreme Court declined to stay the execution of Charles Warner, another Oklahoma death row inmate. "My body is on fire," Warner, the first to be killed since Lockett, said after he was injected.
Meanwhile, in the wake of Wednesday's news, Glossip and his supporters said they won't stop fighting.
"I'm hoping this victory for Richard shows how horribly broken the system is," Prejean said. "And that it takes death off the table as an option that government can exercise over its citizens."
Learn more about Glossip's case here, and hear him discuss his situation in his own words below:
Related
Popular in the Community