MCALESTER, Okla. -- About 90 minutes before he was scheduled to die by lethal injection, Oklahoma inmate Richard Glossip said guards came to take his property and clothes.
There, in a cold cell, he sat for two hours with nothing but his underwear and an excruciating uncertainty. He asked for his clothes back after a while. Guards gave him a sheet instead.
All Glossip knew was that the U.S. Supreme Court was considering whether to grant a stay of execution. He could die in less than two hours, or he could be returned to his regular cell.
"I've been in here almost 18 years and [this] was the worst I've ever had to go through," Glossip said by phone later Wednesday night. "It was pure torture, I'm not gonna lie."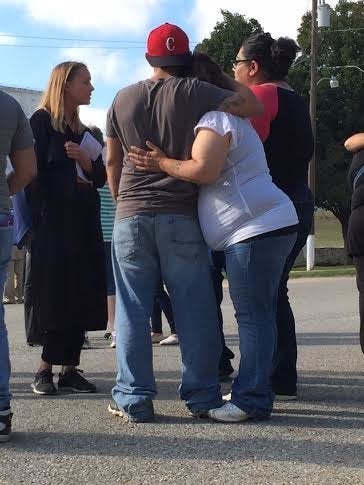 Outside the prison, Glossip's family and friends faced similar uncertainty. To keep busy, his niece, Billie Jo Boyiddle, filled balloons. Family members wrote final messages of love to Glossip to tuck inside. If he was executed, they would release the notes to the sky.
For the six people Glossip had chosen as witnesses to his execution -- activist nun Sister Helen Prejean, friends Crystal Martinez and Kim Van Atta, attorney Kathleen Lord, Sky News reporter Ian Woods and a reporter from The Huffington Post -- the uncertainty extracted grim recollections.
Martinez realized the peck on the cheek she gave Glossip through the mail slot of the law library where they had visited him in January would be the last kiss he would ever receive. The next time his children would be able to hug their father would be after his corpse was transported from the penitentiary grounds.
Witnesses aren't escorted into the death chamber until the inmate has been prepared, tied down and inserted with IV lines. Some of the witnesses wondered if Glossip was being diapered or pricked with IVs at that very moment.
Prejean, the anti-capital punishment advocate who authored Dead Man Walking, paced and reminded the witnesses that they could be assured Glossip was still alive until they saw him put to death with their own eyes.
Hope was fading that Glossip would be spared. He had avoided three earlier execution dates, and the pessimism was new.
Glossip's first two stays were called off days before he had been scheduled for execution. His Sept. 16 date was called off roughly three hours before the scheduled time. This time, his death seemed so certain that fellow inmates gave him a sendoff -- the ritual where the inmates yell his name and kick the bars and walls of their cells in unison as he passes through the halls.
It's known as the "one heartbeat."
The Supreme Court denied Glossip's petition for a stay four minutes before his scheduled execution time Wednesday afternoon. But Gov. Mary Fallin (R) would soon issue a 37-stay due to a mixup with one of the three execution drugs. (On Thursday, the Oklahoma attorney general indefinitely suspended all executions in the state pending an internal investigation.)
After several hours of anxiety, no one could stop crying.
A few of Glossip's nephews gathered outside the prison wiped tears and pinched their eyes as they absorbed the news. Boyiddle and her mother, Nancy Ogden -- Glossip's sister -- remained in shock. They weren't sure if they would celebrate or break down.
That evening, Glossip said by phone that the ordeal had shaken him unlike before.
"It was total confusion. The whole thing was a mess today. It was really a mess," Glossip said.
He said he was unnerved that all of the staff training, with dry-runs of the tie-down and other execution procedures, could be undone by a mistake so simple.
State Corrections Director Robert Patton defended the execution protocol, slamming questions about its failure as "crap," according to Oklahoma City news station Fox25. Patton blamed the mixup on the drug provider, which he said shipped the wrong chemical.
The identity of the drug company couldn't be confirmed. In 2014, the state Supreme Court ruled the providers of execution drugs can remain a state secret.
Glossip said he is now "freaked out" by the confusion. "Something just doesn't add up."
He has clung to a remarkably optimistic attitude through multiple execution dates, according to friends, family and those who have interviewed him. He once said he refuses to "let them get me down."
After Wednesday, that seems to have shifted.
"My sense is that Richard is suffering from a kind of PTSD," said friend Mary Rzepski, the wife of Glossip's best friend, Kim Van Atta. Rzepski was quick to note she's not a psychologist, but said his anxiety was evident: Before breakfast Friday morning, Glossip had called his friends four times.
"He said his brain is mush,"Rzepski said. "He really has been traumatized by this for sure."
Popular in the Community