Richard Glossip wakes up each day knowing that at 6 p.m. on Jan. 29, he's going to die.
The 51-year-old has been on death row ever since he was convicted of first-degree murder nearly 17 years ago on the testimony of a single witness. Glossip has maintained his innocence from the start, and now he's hoping that a last-minute reprieve from Oklahoma Gov. Mary Fallin (R) -- or the White House -- can spare him from becoming the 196th person to be put to death by the state of Oklahoma.
Justin Sneed, a young contract handyman who worked and lived at the Best Budget Inn that Glossip managed in Oklahoma City, confessed to beating motel owner Barry Van Treese to death with a baseball bat on Jan. 7, 1997. Prosecutors said Glossip feared losing his job and recruited Sneed to kill his boss. Sneed would later testify that Glossip promised him $10,000 to commit the crime. Both men were convicted of first-degree murder. In exchange for his testimony, Sneed received a life sentence without parole; Glossip received a death sentence.
A judge told Glossip that if he admitted his involvement in Van Treese's death, he would be sentenced to life in prison and eligible for parole in 20 years. Glossip said he refused to perjure himself by admitting to something he didn't do.
Last month, Glossip went on a hunger strike, which drew more attention to his case. He had already brought several anti-death-penalty advocates into his corner, including Sister Helen Prejean, the nun and clemency advocate behind the memoir Dead Man Walking. A Change.org petition calling for Fallin to spare Glossip's life has garnered more than 11,000 signatures.
If Glossip is executed as planned, he'll leave behind four children: Christina, 35; Erica, 32; Tori Lynn, 28; and Richard Jr., 26, as well as two grandchildren, ages 14 and 8. The Huffington Post spoke to him by phone earlier this week.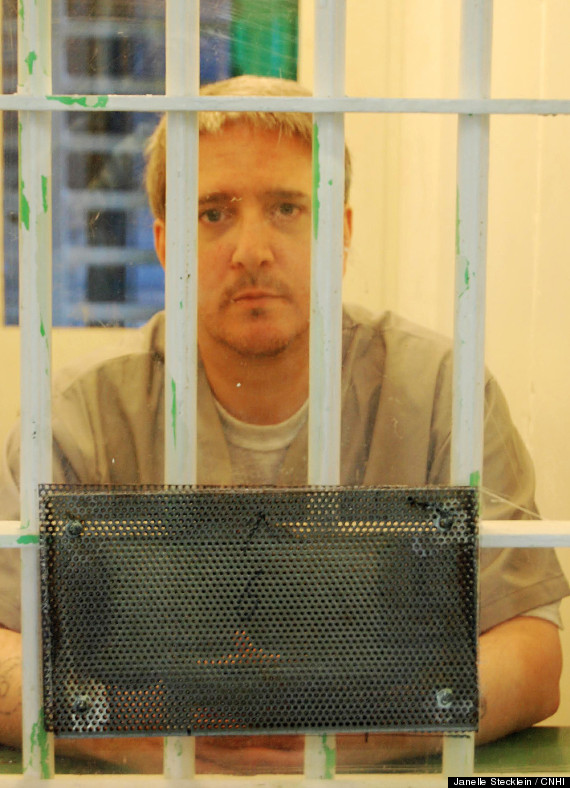 I laugh all the time. I know the guards done think I flipped, completely crazy, because I laugh at the TV all the time.
I love British comedies. Especially this one called "Last of the Summer Wine." It's these three guys, these old buddies who have been friends for years and years since school. And it's about the things they enjoy, like climbing a hill and lying in the grass. They don't need cars, homes, all that fancy stuff. They just need a cup of tea or to go lie on a hill somewhere.
And you watch that, it makes you realize you didn't need all them things in life either. All you need to live is a simple life. A simple life will always be the best.
You just gotta make do with what you have. And I do. Anything funny that comes on, I'll watch, and I'll sit and laugh with it. It helps me get through every day, knowing something's there to laugh at.
It doesn't always have to be a serious thing every day that you get up. Just because you're facing being executed, don't mean you can't laugh and try to live a life as best you can while you're in your situation.
I'm proud to say a lot of people down here say I've made a difference in their lives, and it's helped them to cope with this a lot better. You gotta spend the time you have no matter where you are, make the best out of the situation.
My last cellie, Wendell Grissom -- he ended up seeing that you don't have to live every day in this place miserable. That you don't have to be mad at a guard because he does something to you that you didn't like. It's their job; you can't be getting mad and kicking on the door and screaming at people just because they decided they didn't like what you're doing at the time.
Grissom had that problem at first. Even his pen pal in England wrote me and said, "I've never seen such a big change in a person." She said his demeanor is so much better since he met me.
And that makes you feel good, knowing you could help change somebody. To make a difference. Letting it destroy your mind or taking whatever peace you have left is just crazy. You just can't let that happen to you.
I didn't realize I had that much strength to deal with this for so many years. People complain about the simple things in life that they don't have. Like a new car or this or that. I get up every day facing this and I fight. It surprises me that I have it in me. I sure didn't think I did.
I thought I'd have been a granddad many times over. I am a granddad, and I'm happy about that. But a lot is different now, that's for sure. I just thought life would be totally different.
I have two grandkids that I've never seen except in pictures. It gives you something to look forward to. That if something should happen, and this should change, I would get to see these people and get to be part of their lives. They'd get to see me, who I am, and see that this place hasn't changed me.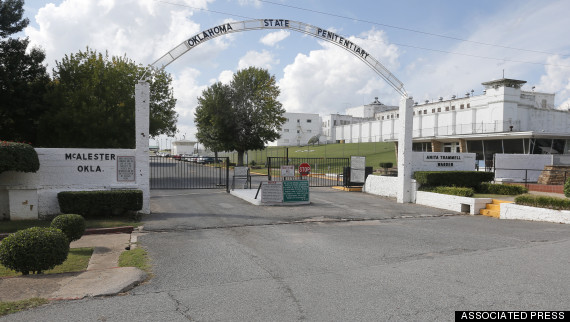 The entrance to the Oklahoma State Penitentiary, where Glossip is being held.
Every now and then I'll lie back and think about that. I really do. I just think about amazing things that could happen if I were to be set free.
I think about just being able to hug my family. Being with them at mealtimes. And I miss working so bad, it's unbelievable. I love to work. I've always loved to work.
That's one of the things I miss most in life. Being able to get up and go to work each day, and bust my ass each day, as I always have. I know it sounds strange and simple.
My oldest daughter just got back into my life. We had written each other several times since I've been locked up, but as for phone conversations, we just started talking on the phone a little over a month ago. She was so excited to talk to her dad, since we haven't seen each other for so long.
When your family starts getting back in your life and you see how much they loved you, even after all the years you've been separated from them, it helps keep you very, very strong. Especially over these last couple of weeks.
They showed up at my trial without my consent. I really didn't want them there. I didn't want them drug into this mess. That's what it was. A mess.
I didn't want them visiting me in prison, which made them very upset, for the most part. I didn't want them seeing me through the glass and cuffs and shackles. I didn't want them seeing their dad like that. I wanted them to remember me as I was.
My uncle was a preacher, so I had to grow up in the church. But I've never really been away from the church for long periods of time. I've always believed.
I think [being on death row] makes you a lot stronger in your beliefs. Or you better let it make you a lot stronger in your beliefs, that's for sure. When you get down close to where I'm at now, it's a comfort to know that you've made peace with everything. Especially God.
A lot of people ask if I hate [Sneed]. I don't hate him. Hatred ain't gonna do anything for you. I don't know what people believe in the afterlife, or what's going to happen. I don't even know, to be honest with you 100 percent, what I believe. But I do believe that there is something after this life, and that I don't want to be going through it hating everybody.
I don't give up hope in any way, shape or form. Because until they lay you on that table and stick them needles in you and you're completely dead, you always have hope. I'll never let them take that away from me, no matter what.
I'm not afraid of dying. Everybody dies. It's just a part of life: You're born, you die, that's it. But I do want people to know that I'm innocent.
Everybody's skeptical when you first tell them you're innocent. When you're on death row and in prison, people come up and say, "I'm innocent; I didn't do it." But when you look into the case and start seeing for yourself, "Hey, something ain't right here," then it really kind of bugs some of these people that I'm not more angry than I am. That I'm taking this like I am. But I'd rather take it like this than be miserable every day up until that day.
A lot of reporters have asked me, "If you got out tomorrow, would you be bitter toward all of the things that have happened to you?" I told them, "No, I wouldn't." I'm not a bitter person now, and I don't want to be a bitter person ever. Things happen. It's unfortunate that they do. But all I can do now is fight.
My friends say, "You just can't seem to catch a break." Maybe now I'll catch the break. Who knows. It's not over till it's over.
This interview has been edited and condensed for length. For more on HuffPost's conversation with Glossip, listen to our podcast below:
Related
Before You Go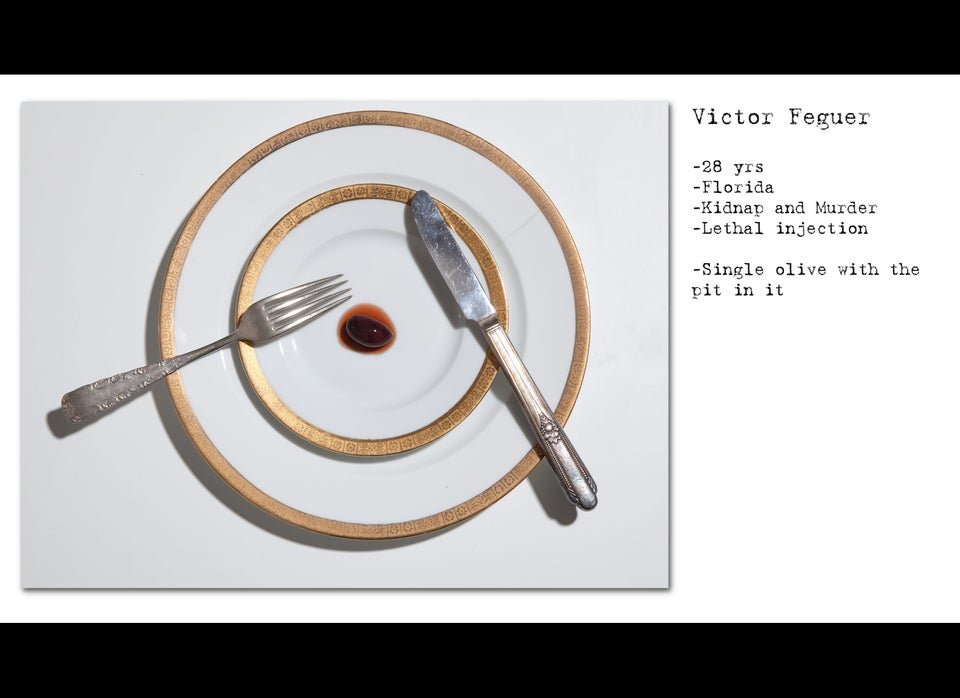 No Seconds: The Last Meals Of Death Row Prisoners
Popular in the Community