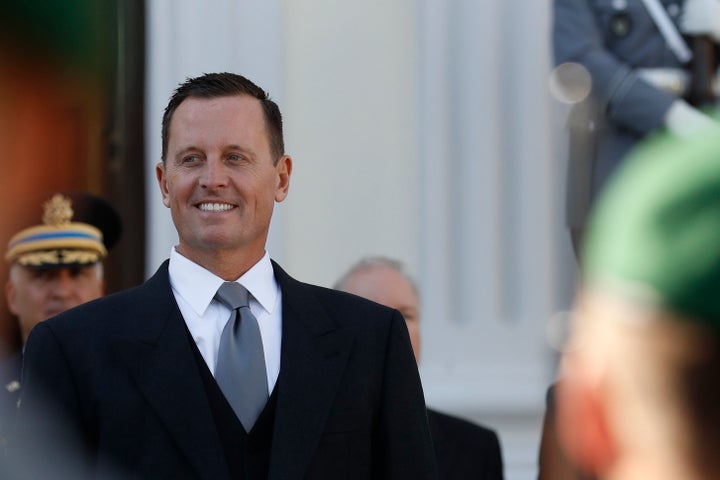 Richard Grenell, appointed by President Donald Trump as the U.S. ambassador to Germany, says he wants to "empower" anti-establishment conservative movements and leaders across the European continent ― a highly unusual statement for a diplomat.
"There are a lot of conservatives throughout Europe who have contacted me to say they are feeling there is a resurgence going on," Grenell told the right-wing outlet Breitbart News in an interview published Sunday.
"I absolutely want to empower other conservatives throughout Europe, other leaders. I think there is a groundswell of conservative policies that are taking hold because of the failed policies of the left," he added.
It's unclear if Grenell's statements were approved by the State Department. Diplomats are traditionally expected to maintain their political neutrality and not interfere in the internal affairs of other nations.
Grenell's comments caused a stir in Germany, where several current and former officials from the Social Democratic Party, one of the parties that make up the government's ruling coalition, criticized him for meddling in European politics.
"Grenell does not behave like a diplomat but like a far-right colonial officer," said former SPD leader Martin Schulz, according to HuffPost Germany. "Ambassadors are representatives of their countries and not of political movements."
SPD Vice President Thorsten Schäfer-Gümbel tweeted that "Europe's citizens do not let a Trump vassal tell them how to vote."
"A US ambassador who meddles in democratic conflict is simply out of place," he added.
And Johannes Kahrs, another SPD official, said that if Grenell's comments were aimed at ousting German Chancellor Angela Merkel ― a favorite target of Trump's ― then "this gentleman has to leave the country."
Back in the United States, Sen. Chris Murphy (D-Conn.), a member of the Senate Foreign Relations Committee, called Grenell's comments "awful" and criticized him for overstepping the boundaries ambassadors are supposed to set for themselves.
Tom Wright, a senior fellow at the Brookings Institution, tweeted that Grenell had created a "huge headache" for top State Department officials. Wright also speculated that the envoy's comments would heighten tensions within the Trump administration between Secretary of State Mike Pompeo and national security adviser John Bolton.
Grenell, a Republican and outspoken Trump ally, worked with Bolton when the latter served as the ambassador to the United Nations under President George W. Bush.
The story has been updated with comment from officials in Germany's Social Democratic Party.
Popular in the Community