We were fortunate enough to attend the red carpet opening of Richard Grieco's art work at Gallerie Sparta in West Hollywood. Richard, while best known for his acting, is also a talented painter. He has been painting for 20 years. It took actor Dennis Hopper to encourage him to show his work.
The gallery is located on the Sunset Strip and because of Richard's commitment, and generous donation of some of his proceeds, to Fallen Heroes, the front of the gallery was lined with police cars all dedicated to men and women killed in the line of duty. They all had their lights flashing. Notice the TMZ tour bus going by? It was a sight to behold.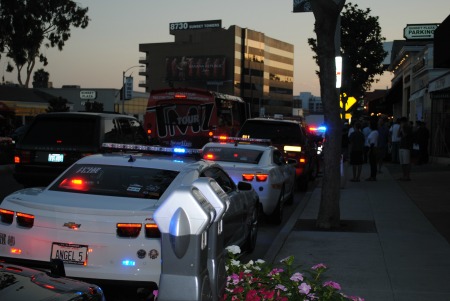 Photo by George Keller
Once inside the invitation only event, we were awash in classy looking people, fabulous art, a beautiful two story gallery, hors d'oeuvres and drinks. It looked like this from the upstairs.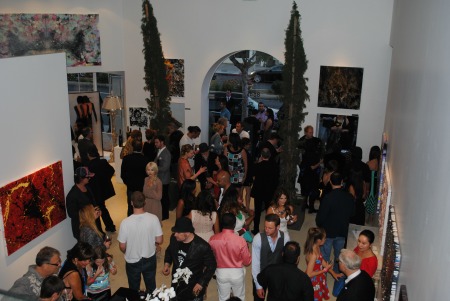 Photo by George Keller
I caught up with Richard and got some interesting insight into his work. I asked him how he knew when a painting was done. He said he would look at it and not have anything to add and then walk away from it for a day, or two, or three. Then come back and view it and see if he felt the same way. If so, it was done. Then the name for the painting would come to him too. The way he showed me it evolving looked like the art grew out of him. He was very passionate about it.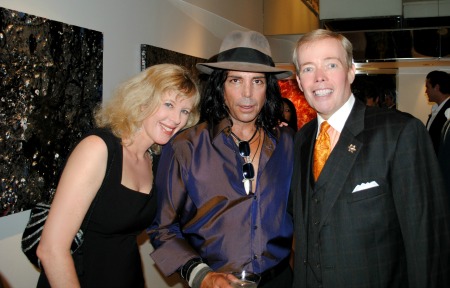 Irene Rubaum-Keller, Richard Grieco and David Streets photo by George Keller
We did a little Q and A and here is what he shared with me:
You are very passionate about your art. What is it like, as the artist, to show your work and have people comment and critique it?
It is a very emotional and surreal experience, but I enjoy watching how each piece affects each person. It's humbling.
What is it that lights your fire and inspires you?
Well I am almost compelled to paint every day. To get whatever that emotion is out on canvas. In a lot of ways you feel like you are a conduit for all emotions.
If you had to choose between acting, music, producing or art, could you? And if so, which would you choose?
I don't think you have to choose. I feel if you approach each facet of artistic expression with purity than why limit yourself.
What medium are you using? Oil, acrylic, etc...?
I like to use all mediums I don't like to limit myself with just one. I like to stretch the boundaries of canvas and paint and material.
People compare your work to Pollock a lot. How do you feel about that?
I am honored.
Some very important people turned out to support Richard. Here I am with none other than Mickey Rooney. Mickey and Richard did a movie together. He is lovely and sharp as ever.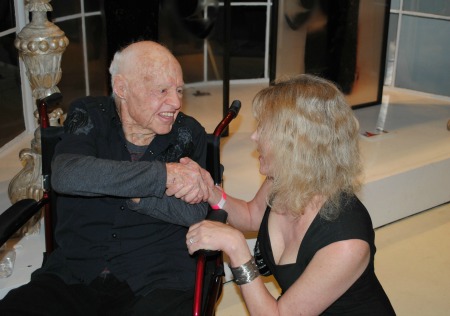 Photo by George Keller
Here is a beautiful example of his work. I'm there to give you a sense of the size. All the paintings ranged in size from quite large to relatively small.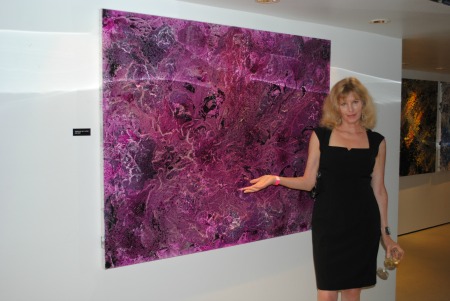 Photo by George Keller
If you would like to see his work in person, it will be at Gallerie Sparta 8641 Sunset Blvd. West Hollywood, CA. 90069.
Now until September 6, 2013.
Calling all HuffPost superfans!
Sign up for membership to become a founding member and help shape HuffPost's next chapter