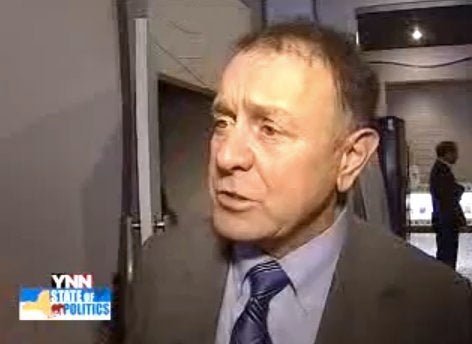 NEW YORK -- Rep. Richard Hanna (R-N.Y.) said he doesn't like the way federal lawmakers are gaming the debt ceiling debate.
Hanna, a congressional freshman, criticized lawmakers for stalling the vote to raise the nation's debt limit in an interview with the local news station YNN, a Time Warner affiliate in upstate New York. As leaders in Hanna's own party continue to insist they will not vote to raise the debt limit unless they win measures to trim the deficit, Hanna said the debt ceiling needs to be raised on time.
"I actually think that this kind of gamesmanship is not very helpful," he told YNN. "Everybody who understands the nature of the debt limit understands that it has to go up, and hopefully the majority of people in Congress will recognize that and vote for it."
"I do understand that some people ran for office saying they would not," he continued. "Well, that was a little misguided because we're not paid to go there and stall government or not pay our bills."
Top economic officials in the Obama administration have repeatedly insisted that a failure to raise the debt limit could eventually push the government into default. The nation officially hit the debt limit on Monday, the Treasury Department announced.
If Congress does not raise it by Aug. 2, Treasury could be forced to miss debt payments, an event that could spark an economic crisis worse than the one the country is still recovering from, Treasury Secretary Tim Geithner told Congress in a letter this month.
The Treasury has initiated a program of "extraordinary measures" that help the government tread water as the borrowing limit remains in place. Earlier this month, Treasury halted issuance of securities that help state and local governments manage their debt. Starting this week, Treasury can now redeem securities held by a pension fund and block other funds from new investments.
A default by the federal government would be disastrous, independent economists have warned. It would likely send panic through credit markets worldwide, causing interest rates in the U.S. to skyrocket. The full consequences, moreover, cannot be known, argued a new study by the Centrist Democrat group Third Way.
In a letter to Sen. Michael Bennet (D-Colo.) last week, Geithner said the effects of a default could be "similar to what happened in the wake of the collapse of Lehman Brothers."
Republican lawmakers have questioned the urgency of the issue and are attempting to use it as a lever. House Speaker John Boehner (R-Ohio) said on Sunday he wanted to make a deal with the president to tie a debt ceiling increase to deficit-shrinking measures. Other prominent Republicans, including Senate Minority Leader Mitch McConnell (Ky.), have said they won't vote to raise the limit unless they win concessions.
But Hanna expressed his frustration with this debate. He stressed the importance of trimming the deficit, but he said the debt ceiling should be raised promptly.
"This is a time for people not to plant their feet but to engage in the process," he said on YNN.
After being asked about this YNN interview, Hanna spokeswoman Renee Gamela emailed the following statement to The Huffington Post: "Representative Hanna understands that raising the debt limit will be necessary and hopes that it is accompanied by reforms that put our nation on a path to long-term fiscal responsibility."
WATCH the interview below:
Calling all HuffPost superfans!
Sign up for membership to become a founding member and help shape HuffPost's next chapter