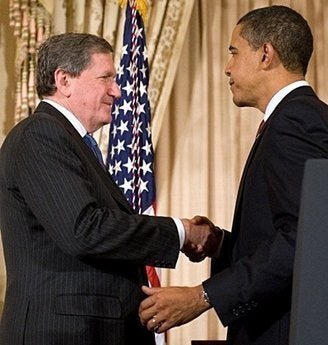 "Marlbrough s'en va-t-en guerre, Mironton, mironton, mirontaine, Marlbrough s'en va-t-en guerre, Ne sait quand reviendra."--French song
I've been asked by a former Foreign Service officer about Richard Holbrooke, so here's my take on him.
An ex-US diplomat myself, I worked with (he'd say "under") Holbrooke, currently Special Representative for Afghanistan and Pakistan under the Obama administration, in Belgrade in the mid-90s, when he was Assistant Secretary of State for European Affairs.
I've tried to write a long "thought" piece about Holbrooke, basically defending him (as if he'd care) from attacks from the left regarding his competence/morality for his new Obama-administration assignment. But I couldn't, probably because Holbrooke is far too complicated and brilliant.
Holbrooke, whose temper knows no bounds, is insufferable, of course; but, no matter what his limitless ambitions were in the 90s (he hoped to be Secretary of State, as his charming Hungarian-born wife informed me in a Belgrade restaurant, at a lunch for Serb intellectuals I helped put together -- I was amazed by her candor) he did try to end war in the Balkans.
Bottom Line: The unbearable Mr. Holbrooke wanted to end the war in the Balkans, not start one.
And so as the "PAO" (Public Affairs Officer handling public diplomacy) at the American Embassy in Belgrade it was a privilege to work under -- yes, under -- him.
Holbrooke's main problem, of course, was that he initially knew nothing about the Balkans (but who does know anything initially about the Balkans), but he could identify sleazeballs (it takes one to know one?) quickly. And this is "why" he "succeeded" in that cursed corner of Europe via the Dayton "ceasefire" -- no way it can be called a peace agreement.
The latest PR move at the White House -- the Afghan and the Pakistani leaders meeting there with President Obama -- smacks 100% of Holbrooke -- a replication of the scenario of the Balkan dictators meeting at Dayton he arranged with American dignitaries.
Give Holbrooke credit for repeating himself, although he is a master of reinvention.
Listen to Holbrooke, receiving the prestigious 2004 Great Negotiator Award, presented by the Program on Negotiation at Harvard Law School: "Negotiation is like jazz... It is improvisation on a theme. You know where you want to go, but you don't know how to get there. It's not linear."
I have no idea why we are/what we are doing in Afghanistan. I should think that someone who knows something about history -- yes, Mr. Holbrooke himself, few among government servants (and he is an immensely dedicated one) with a sense of the past -- should realize the quagmire we are getting ourselves into at a time of economic crisis here at home.
May Allah bless the insufferable and able Mr. Holbrooke. And may the people of Pakistan and Afghanistan remember that he -- of Jewish ancestry -- strove to save Muslims in Bosnia, when precious few in the world cared.
Meanwhile, US "Predators" unmanned aircraft are killing "insurgents" in a part of the world most Americans, worried about their credit card payments, know nothing about.
Such is "foreign policy."
Related
Popular in the Community