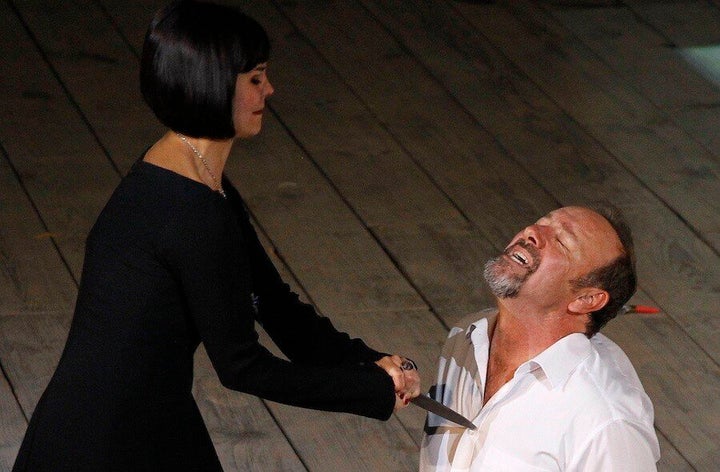 The picture on the Richard III poster shows the actor Kevin Spacey, mangled like a piece of John Chamberlain's chrome sculptures, his left leg in a brace turned inward, his epaulets woefully off kilter, his dark glasses barely grazing his nose, his crown cocked like a smartass cartoon. At BAM where the Bridge Project's stunning production of Shakespeare's play is thus advertised, the image only begins to tell you what's in his heart. Having just murdered Lady Anne's father and husband, he woos her, Shakespeare's language suggesting everything you can possibly do with a cane. Its noise announces Richard's writhing gestures, producing dread and glee. You don't know where he will thrust it, including a gratuitous jab at a severed head in a bloody box. Ooooh!
People will remember Kevin Spacey's richly physical performance -- one of his best -- the way they do Olivier's, Ian McKellan's, and Al Pacino's. The character himself is a gift, unremittingly narcissistic, conscience-free, who after a bad dream wakes up to one, in time to die. For political gain, he will murder anyone; the line up of his corpses -- including his nephews, children played to Tweedledum and Tweedledee perfection by two women (Katherine Manners and Hannah Stokely) -- seated at a last supper banquet is one splendid vision in director Sam Mendes's production featuring a minimal, excellent set of many doors designed by Tom Piper, with Paul Pyant's lighting. Overseeing these proceedings is the ghost of Queen Margaret (Gemma Jones); a chorus of drummers accompanies the battles; it's the Night of the Living Dead to percussion.
Of the supporting cast, let's face it, few vie with Richard to successfully unseat his power, as king or dramatic presence. Chuk Iwuji is good as the Duke of Buckingham, staging photo ops for William, Lord Hastings (Jack Ellis) in Act I. Haydn Gwynne as Queen Elizabeth brings her own chilling agenda to a scene in which Richard wants to marry her daughter. But one, that of Henry, Earl of Richmond should have been more imposing. Parallel to Richard, he stands atop a table suggesting an equal as opposite force which, red jacket notwithstanding, he is not. Deposed and dead, Richard has more life.
Early on, the word NOW was projected onto a scrim, and this week it is easy to think of the Republican candidates clawing to bring one another down state by state. But in the larger picture of rage against bad rulers -- those dethroned in the Arab spring for example -- this play is a potent spectacle of just how bad bad leadership can be.
Popular in the Community