Drug overdose is the leading cause of death in Butler County, Ohio, but Sheriff Richard Jones says he has no plans to equip his deputies with naloxone, an opioid overdose reversal drug that saves hundreds, if not thousands, of lives around the country every day.
"My officers don't carry Narcan, nor will they," Jones said, referring to a brand name of naloxone, which is typically administered nasally and works by essentially blocking the opioid receptors that heroin, fentanyl and other narcotic painkillers target.
Jones cited high costs and concerns about officer safety, noting that some overdose victims revived with naloxone can be unpredictable and hostile.
In a recent interview with Ashleigh Banfield on HLN's "Primetime Justice," Jones said his position would change only if "the courts order" him to begin carrying naloxone.
Jones has made a name for himself as an outspoken advocate for a variety of extreme anti-drug views, including once suggesting the U.S. should drop one of its largest bombs on Mexican drug cartels. He told HuffPost that most of the responses he'd gotten to his latest remarks on naloxone were positive, from people "disgusted by the drug problem" and tired of inaction from national politicians.
"This Narcan, all it does is save people's lives for another day," said Jones. "You enable these people when you give them this Narcan."
Jones said he disagrees with experts who say addiction is a disease, and is frustrated because "nothing that is being done is fixing the problem." He said he's seen an increase in the number of women giving birth to opioid-addicted babies in jail and heard countless horror stories about young children being directly affected by the ravages of addiction. He also described speaking with one man who'd been using intravenous drugs for so long that he now had to inject them into his penis in order to find a vein.
Jones noted that just because his deputies won't carry naloxone doesn't mean overdose victims won't get revived.
"The life squads aren't just going to stop giving them Narcan, but it's pushing the resources out so bad and our government has no response, they have no cure, they're all too busy," said Jones. "Nancy Reagan, as silly as it might sound, you gotta just say no and you gotta teach kids and you gotta start in the 7th grade."
Butler County is now the only sheriff's department in Southwest Ohio not equipped with naloxone, according to the Enquirer. Advocates have been working with the Butler County Health Department to give free overdose reversal kits and training to relatives and friends of people struggling with addiction, as well as users themselves, who are often nearest to the scene of an overdose.
Southwest Ohio has been hit especially hard by the opioid epidemic in recent years, with some counties seeing exponential growth in overdose deaths amid an influx of increasingly powerful opioids.
Nearly 200 people in Butler County died of drug overdoses last year, with 153 related to heroin or fentanyl, a potent synthetic opioid that along with other analogues has fueled surging drug deaths around the nation. The county is on pace to see 263 overdose deaths this year, according to a June report by The New York Times. In neighboring Montgomery County, overdoses will claim 800 lives this year if they continue at the current rate.
"These are real people with families and friends and kids and coworkers, and they're part of our community."
The crisis has led to some differing opinions on how best to respond. Last month, a city councilman in Middletown, which is located in both Butler and Warren counties, asked officials to explore the possibility of denying emergency medical services to certain individuals who had sought a medical intervention twice before.
"I want to send a message to the world that you don't want to come to Middletown to overdose because someone might not come with Narcan and save your life," said Middletown council member Dan Picard. "We need to put a fear about overdosing in Middletown."
Picard expressed concern about the mounting cost of overdose reversal kits, citing estimates showing the city is on pace to spend 10 times the amount it had initially budgeted for naloxone in 2017. Middletown officials have since said emergency medical services personnel will continue to revive overdose victims.
In Ohio and around the country, officials have been giving voice to similar forms of compassion fatigue. Some have suggested that death is a foregone conclusion for many people addicted to opioids, and that reviving them repeatedly is therefore not worth the resources.
These positions may speak to the deep frustration of communities in the grips of the opioid epidemic, but drug policy advocates say they're not representative of most officials in charge of responding to it.
"We see a lot of consistency and buy-in from law enforcement, fire and EMS on the importance of overdose response and harm reduction, and the importance of an enhanced overdose response," Kelly Firesheets, senior program officer at the Cincinnati-based Interact for Health, told HuffPost.
"There are hundreds if not thousands of departments that are now carrying naloxone and are happy to carry it because they generally say it's a good thing for the communities and for the officers, because they like being able to do something at the scene of an overdose," said Corey Davis, deputy director for the Network for Public Health Law, which supports increased access to naloxone.
Interact for Health takes a "naloxone-plus approach" to dealing with overdoses, treating overdoses as opportunities for intervention and to connect victims to treatment.
"A lot of times we get confused and forget that naloxone is not treatment for addiction," said Firesheets. "This is a crisis intervention we're talking about ― we're talking about keeping a person from dying. And then there are other systems and processes and services that people need as treatment for the disease that is threatening their lives."
Firesheets also expressed concern that Jones' decision not to equip officers with naloxone would limit the department's ability to protect deputies who may come into contact with a number of synthetic opioids, some of which are so lethal that amounts equivalent to just a few grains of salt can be deadly.
There have been numerous instances in recent months, including in Ohio, of officers being revived with Narcan after accidentally touching synthetic opioids and overdosing. Jones said the emergency medical personnel who typically respond to overdoses along with his officers would be able to administer naloxone should that happen.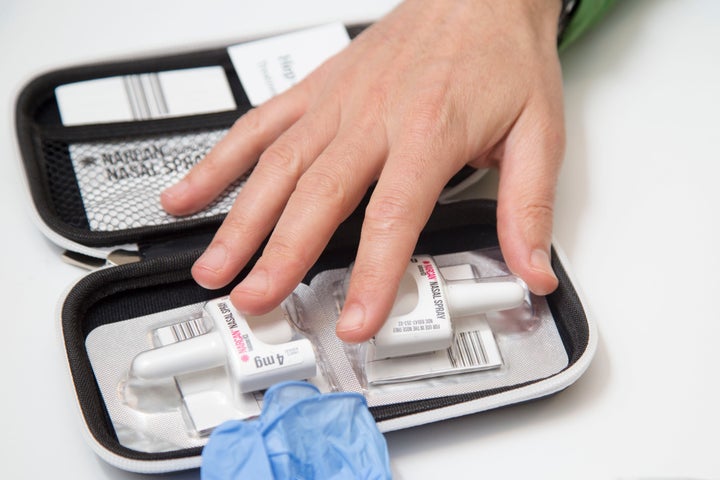 To Firesheets and others, Jones' remarks are evidence of the lasting stigma around addiction, which has become deeply engrained amid 40-plus years of the U.S.-led war on drugs. One of the chief policy prescriptions of this era has been that law enforcement should be a primary solution to drug use.
"The humanness of this sometimes gets lost in our discussion about policy and practices," said Firesheets. "These are real people with families and friends and kids and co-workers, and they're part of our community. That makes this challenging to wrestle with sometimes."
The views of people like Jones show that police shouldn't be leading the public health policy response to the overdose epidemic, said Michael Collins, deputy director of the Drug Policy Alliance, a nonprofit that advocates for the progressive reform of drug laws.
"They're not social workers, they're not doctors, and so they're often not best equipped to deal with the challenges of drug use," Collins told HuffPost. "Police will not get us out of the overdose epidemic. There has to be a public health approach, and it has to be an approach that's grounded in science and health and human rights and not enforcement."
Although treatment is a vital part of this equation, people have to be ready to get treatment, said Collins.
"We have to recognize that there are individuals who aren't ready for treatment, don't want treatment right now, aren't willing to get treatment, and the question is, how do you reduce the harm associated with their drug use?" he said.
Collins brought up proposals like syringe exchange programs and safe-injection facilities, both of which have shown promising results, and both of which Jones told HuffPost he's skeptical of.
Although these programs can be opportunities to connect drug users to treatment, Collins believes that even if they don't succeed in getting people to seek help, it doesn't mean they've failed.
"The bar for the success of all these interventions shouldn't be have we gotten the user into treatment, it should be have we saved their lives?" he said.
Support HuffPost
The Stakes Have Never Been Higher
Popular in the Community