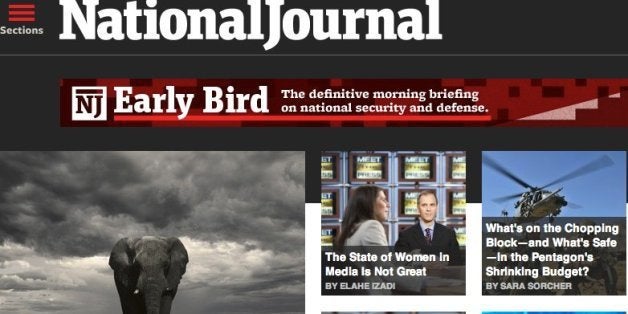 NEW YORK -- Richard Just, the former top editor of The New Republic and Newsweek, has been named editor of National Journal. Just will oversee the print magazine and report to Editor-in-Chief Tim Grieve.
In an interview with The Huffington Post, Just said he plans to bring "compelling," "moving," and "funny" writing to the pages of National Journal, a magazine more traditionally associated with wonky politics and policy.
"I really want National Journal to be something that people want to read," Just said, "not something they feel they have to read."
The print edition of National Journal isn't found on newsstands, but is distributed through a membership model aimed at Washington's elite. The cost levels of membership vary, but can reportedly reach upwards of $25,000 annually. National Journal also boasts a free website, which has become more urgent and vibrant under the stewardship of Grieve, who joined last year from Politico.
Grieve, who oversees the print and web operation, recently announced that the magazine's print frequency would be reduced from 42 to 32 issues per year. In an editor's letter, Grieve stressed that the new publication schedule would allow National Journal "to spend more on reporting and analysis, less on printing and delivery trucks."
Just said National Journal will be hiring editors, staff writers and freelancers, all in an effort to "get some of the best magazine voices out there." The magazine moved in a newsier direction following a 2010 redesign. Now under a veteran magazine editor, it will be overhauled yet again with an emphasis on high-quality, long-form journalism.
"I've been really excited about their willingness to give me the resources and autonomy to really reinvent this thing," Just said. "To make it into something we can be proud of."
While there are several prominent magazines veering right or left in Washington, Just said he'd like to "make National Journal the non-ideological magazine about politics and policy" that's read on both sides of the aisle.
The changes to National Journal's print product come a few months after Politico rolled out its first issue of Politico Magazine, which publishes articles daily online and in a print edition six times a year. Politico's new magazine has published some much-talked-about stories online in recent months, including a TSA agent's "confession," but took a hit Friday when marquee hire Jason Zengerle left after only one print issue.
Disclosure: This reporter previously worked under Tim Grieve at Politico.

REAL LIFE. REAL NEWS. REAL VOICES.
Help us tell more of the stories that matter from voices that too often remain unheard.