High waters caused a coffin containing the remains of Carolyn Joyce Fobbs-Lee to rise to the surface last week at Riceville Cemetery in southwest Houston. The coffin traveled 150 feet and ended up on a concrete hiking trail along the bayou, KHOU reports.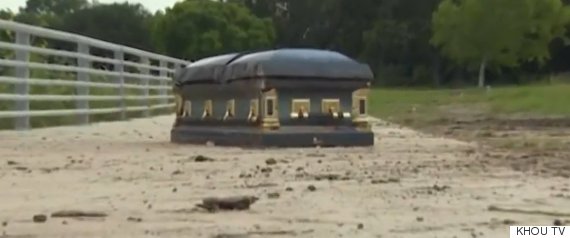 Lee, 65, and his wife were married for 37 years before she died of lung disease in 2007 at the age of 57.
He said the tragedy never should have happened because his wife was interred in a sealed concrete vault, according to Newser.
Lee's lawyer, Annie McAdams, said her client paid more than $11,000 for the vault, which should have held up against flood waters.
McAdams told the paper an expert she hired to examine the vault said it had been inadequately sealed and lacked the proper holes which would let water pass in and out in a flood.
Neither the cemetery nor the church have responded to Lee's allegations, and didn't immediately return calls for comment from The Huffington Post.
Though a rival business, George Lewis Funeral Homes, has offered to rebury Lee's wife at no cost, McAdams says her client still wants his wife to be re-buried at Riceville Cemetery.
"That's their home church, they were married there. They were parishioners for over 30 years," McAdams told Click2Houston.com. "When Mr. Lee talks about the church, that's his family, that's his home and he wants to be buried next to her."
Popular in the Community