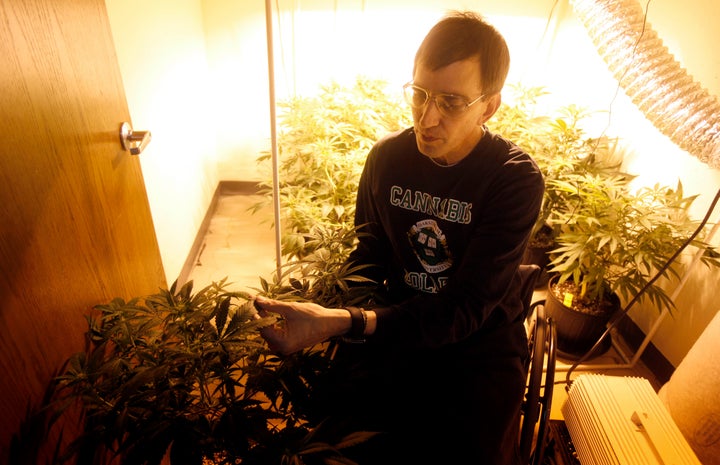 Last year's Proposition 19 was quite a wild ride, but marijuana legalization in California is over.
That's according to Richard Lee, the Oaksterdam University founder and chief sponsor of Prop. 19, which won its place on Californians' November 2010 ballot only after Lee spent his $1.5 million life savings on the requisite signature drive.
That means the effort to legalize marijuana in California has stalled out.
Lee has publicly stated before that he'd be unable to fund Prop. 19's successor: The $1.5 million "was all my money," he repeated Saturday (though since it was spent before the IRS could grab it, it's all good). And others have speculated that a legalization measure in Colorado, gathering signatures and momentum for November 2012 in that state, where running a statewide campaign is much easier and cheaper than in California, would soak up limited resources.
But according to Lee, the major backers of Prop. 19 -- which included George Soros, several "Facebook billionaires," Lee said, and other well-heeled philanthropists -- have not committed to shelling out the necessary cash this time around. And indeed, no major contributions for any cannabis measure are on file at the Secretary of State.
"There was a draft," Lee told SF Weekly. "But the funders didn't come through."
Representatives from the "new Prop. 19" committee, tasked with creating a successor ballot measure, did not immediately respond to requests for comment on Lee's pronouncement. But when responding to earlier rumors in August, both Dale Sky Jones, chairwoman of the Coalition for Cannabis Policy Reform (CCPR), and board member Dan Rush, a union organizer with UFCW Local 5, which has begun organizing medical cannabis workers, said it was still going full speed ahead for a new legalization measure.
In particular, the backers of "Repeal Cannabis Prohibition," which was submitted to the ballot last month, said that there had been a disagreement between the Drug Policy Alliance, through which much of Prop. 19's funding flowed last year, and the CCPR over how best to proceed in California. That prompted the "Repeal Cannabis Prohibition" backers to submit their own measure, which is currently competing with another measure, "Tax Marijuana Like Wine," for financial backing and for signatures.
When reached in August, Rush dismissed the rumors. "I don't know who's been blowing smoke up your ass," he declared, when told that rumors of his committee's demise were swirling. "But there's going to be a [new Prop. 19]."
And perhaps there will. But it may have to wait until 2016.
REAL LIFE. REAL NEWS. REAL VOICES.
Help us tell more of the stories that matter from voices that too often remain unheard.