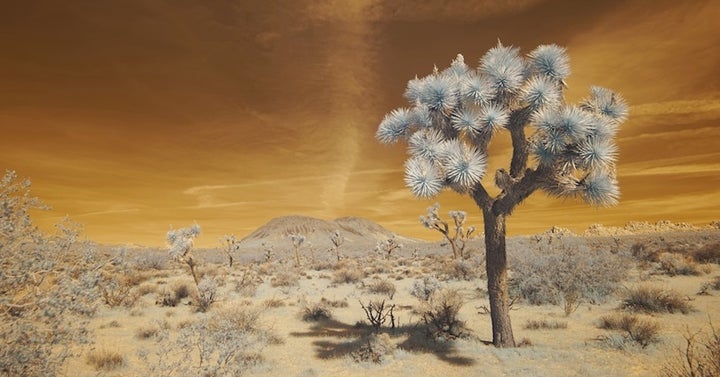 "I would describe my work as modern cave paintings using Mark-expressionist shapes and joyful colors to channel the energies, movement and vibrations of my spiritual journey through life." – Richard Lee Smith, Jr.
Born in 1975 in Dallas, TX, Richard Lee Smith, Jr. was a kid who didn't care much for school but enjoyed hunting and fishing with his dad as much he enjoyed going to ballets, operas and symphonies with his mom. He also developed an early fascination with his grandmother's artwork. The smell of the paint in her studio, the magical process of her drawing and the finished pieces decorating their family home. Inspired, he began drawing and painting on his own. It turned out that art was something he happened to be very good at.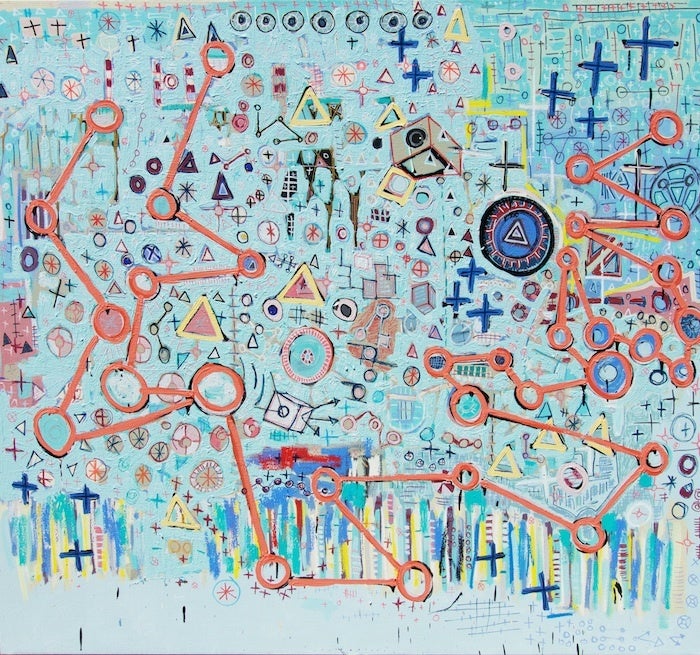 "At school I always struggled in regular classes and excelled in art," Smith says. "Then in eighth grade I found out about Dallas's Booker T. Washington High School for the Performing and Visual Arts. Once I learned there was a place I could focus specifically on drawing and painting, school suddenly sounded like the most amazing thing in the world. I decided right then and there that not only was I going to get into that art school, I was going to become an artist for life."
Smith thrived in the school's individualized approach to learning and developed a new appreciation for the structure and discipline that pushed him to find his voice as an artist. While he was always inspired by the bold colors and intense strokes of Vincent Van Gogh and Jackson Pollock, he focused on perfecting his own realistic style in landscapes and nature. Then one day the painting teacher took the class on a surprise field trip that would completely change his path as an artist.
"He didn't tell us where we were going, just walked us down the street to the Dallas Museum of Art and into a gallery-sized room full of Jean-Michel Basquiat's paintings," Smith says. "It just blew mind, I was completely mesmerized. I had never really considered abstractism to be my thing but that afternoon back at school I did my first abstract painting and I've been painting abstract ever since."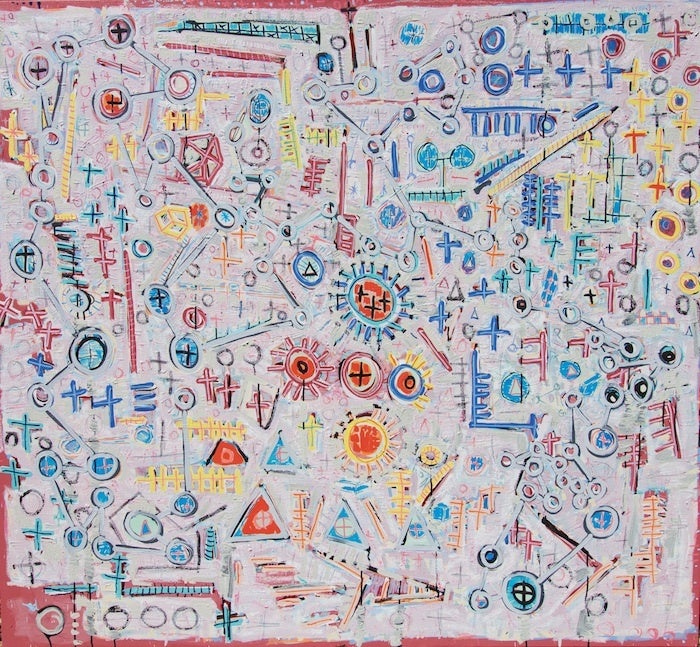 Immediately after graduation, Smith had his first exhibition in Dallas and then moved to California to continue his studies at San Francisco Art Institute. In 1997, he received his BFA and it seemed the stars had all aligned and his adult life was off to a strong start. Then at the age of 23, Smith was hit with another surprise – the worst possible news that would forever change his life. He was diagnosed with cancer and given less than a year to live.
"They told me I had stage IV lymphoma and they didn't even want to bother treating it because it was already so advanced," he explains. "My family and I were absolutely shocked and devastated by the news and I spent several months severely depressed basically facing my death. Then one day I had a waking dream where I saw myself as an old man. It was so vivid and profound that something in me just knew I was going to be okay."
Smith was so convinced by this vision that he even assured his family he was going to be okay and they urged him to get counseling, assuming he was just in denial. Then sure enough, a third diagnosis finally revealed that his cancer was only just in the beginning stages and very treatable. He had a small tumor surgically removed and then underwent seven months of full mantle radiation. It was a grueling ordeal that caused him to lose nearly 70 pounds.
"The treatment was definitely the most traumatizing of all and it took me a few years to recover. But then I began to see the experience as a blessing and I gained a whole new perspective on life. I started looking into why I got cancer and I became very focused on pursuing health, doing regular cleanses, seeing shamans and healers and going on vision quests. I also realized I needed to make the most of my time here and to pursue my art work full force," Smith reveals.
Today, Smith's work has become widely recognized for his signature style of Mark-expressionist shapes using a juxtaposition of colors that convey feelings of joy and radiates energy to the viewer. Channeling his own energy through the creation of each piece, he draws and paints intricate layers of shapes and movements to create an ethereal world with an undercurrent of spiritual commentary.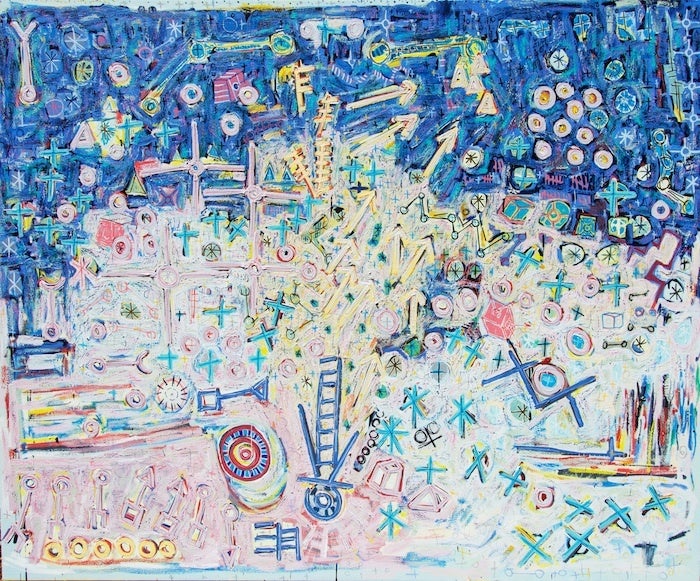 "My paintings now are a direct reflection of my quest for health and happiness. They come from a place of healing and clearing, and that energy radiates to the viewer and invites them to explore their own vision quest as well."
Smith says the calming effect of nature has been another strong influence in his life and a constant inspiration fueling his other lifelong passion for fine art photography. Although there are obvious differences between painting and taking photos, he explains how his approach to both mediums are inspired by the same magical energy.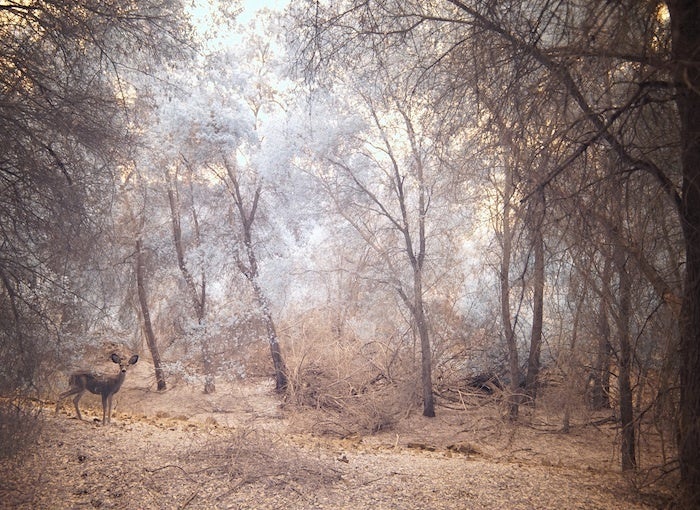 "I love being outdoors on a quest for the perfect shot and when I can see the perfect composition and the light is just right, the need to capture it in that moment creates the same force of energy that I feel when I'm painting," he explains. "I also approach photography the same way I approach my painting, I only print one print of each selected photo on archival paper and then frame it under museum glass with a one-of-a-kind found frame. That it way it becomes a unique art piece and viewers feel they are looking at a timeless painting."
Over the last decade, Smith has captured a national audience with several solo and group exhibitions in Dallas, San Francisco and Los Angeles. Currently he is painting full-time in his Los Angeles based studio and will be showing his latest collection of work at his highly-anticipated upcoming solo show on Saturday, May 20th in Topanga Canyon. This first-of-a-kind event will feature Smith's most prolific paintings, drawings and photography in a beautiful rustic backdrop that combines every element of his life journey - from his Texas roots, to his love of nature, to his health-inspired California lifestyle.
"I'm very excited about this show. It's going to be in a 100-year old restored barn here in Topanga Canyon and we're going to turn it into a gallery for the night. It's the first time I'll be showing my paintings and photography together and we've got great music, gourmet food, specialty cocktails…there will definitely be something for everyone."
Saturday May 20th, 2017 6-10 pm
DJ Music/Wine, Beer & Specialty Cocktails/Gourmet Vegan Tacos/Medical Elixer Tasting
The show is open to the public and will be a celebration of art, nature and life. If you would like to attend, please RSVP here.
Related
Popular in the Community