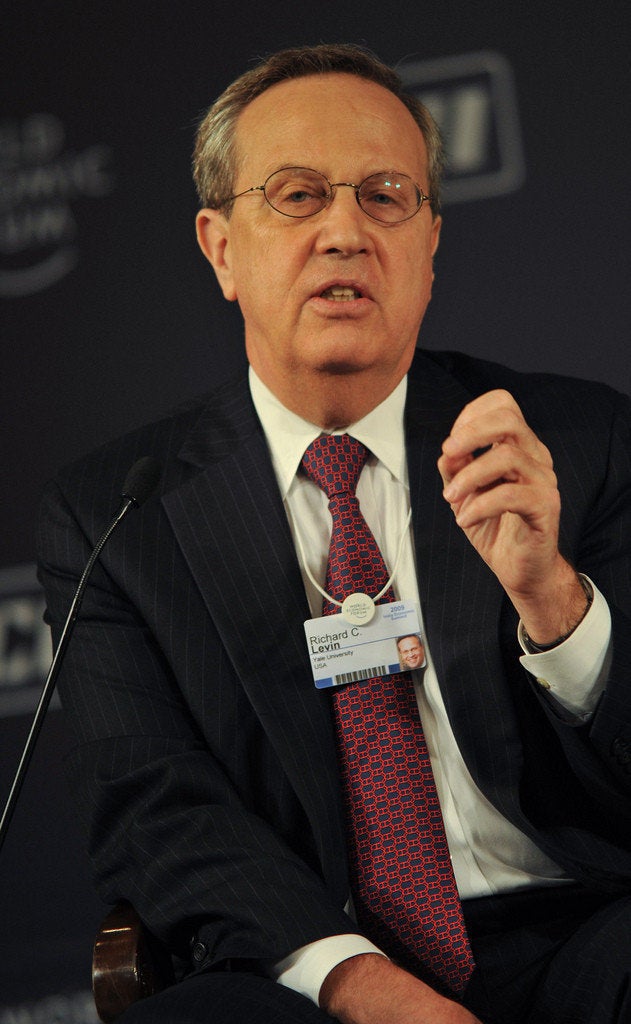 Yale President Richard Levin, who is reportedly being considered for an economic post in the Obama administration, believes the government should give companies direct incentives to create jobs, according to a prominent colleague at the university.
Speculation about a Levin appointment has been swirling since Bloomberg News reported last week that the Yale economist had discussed "economic positions" with the president. If Levin were to replace outgoing National Economic Council director Larry Summers, his appointment would signal an ideological shift for the administration, a move toward a policy of tight Wall Street regulation, proactive job creation and consumer protection.
On Friday, Levin's colleague portrayed Levin as a champion of a more muscular government effort to create new jobs, a position consistent with the Yale president's past speeches.
Levin has a "modern, liberal outlook," said Yale economist Robert Shiller, who gained fame for identifying the bubbles in technology stocks and real estate before they burst.
"The thing that I've learned from him recently, that I find interesting, is his proposal that our stimulus policy should be more focused on creating jobs," Shiller said. "And this could be achieved by incentivizing firms that are subsidized by stimulus packages to use a more labor-intensive method."
In other words, Levin believes the government should reward companies for hiring. If he were appointed NEC director, it seems likely he would push for a second stimulus, which would feature such a program.
With unemployment at 9.8 percent, lawmakers and economists agree that some sort of job-creation strategy is badly needed. The recent tax cut deal in Washington, struck between the president and GOP lawmakers, would extend tax cuts for the wealthy, reauthorize unemployment benefits and offer a payroll tax cut for employees.
Such legislation would create 2.2 million jobs over the next two years, at a cost of $594 billion, the White House-aligned research group Center for American Progress predicts. On average, each job would cost the government $137,000.
Leading economists, such as Princeton professor Alan Blinder, Gluskin Sheff chief economist
David Rosenberg and Moody's Analytics economist Gus Faucher, have said other job-creation methods would be more effective.
Shiller said his assessment of Levin's views was based on a conversation he had with the Yale President late last week. Levin's big idea, Shiller said, is "that we consider a stimulus package that is more focused on job-creation than it has been in the past."
"I was recommending this to Austan Goolsbee, who's chairman of the Council of Economic Advisers," Shiller said, referring to this job-creation idea. "I just checked with Rick Levin about it. It's still on his agenda."
"The stimulus package should have been all direct job creation," Levin said in a speech at Yale last year.
Levin has neither confirmed nor denied whether he's in the running for the top advisory job, telling the Yale Daily News that "I love my job, and I'm not looking to leave." Shiller said he hadn't heard anything beyond what's already been reported.
A more recent YDN report shows the university excitedly speculating about the prospect of Levin as NEC director.
"Of course many of us hope President Levin will continue for a while longer," Penelope Laurans, Master of Jonathan Edwards College at Yale and special assistant to President Levin, told the YDN. "But change is inevitable and good leaders set up the institution for inevitable change."
According to the YDN, Yale economist William Nordhaus said in a statement that he is familiar with the rumors but "cannot discuss any confidential information."
Levin's office wouldn't comment for the original HuffPost story, and didn't immediately respond to requests for comment on this one.
Professors seem confident that Levin, if appointed, would be a top-notch NEC director.
"He has a very good, broad judgment and exceptional people skills," Shiller said. "The NEC is supposed to coordinate economic policy across all the departments, so he seems to be very well suited for that."
The speculation, though, remains just that. "The president has not made a decision and he is considering a number of qualified candidates," White House spokesperson Jennifer Psaki said.
Shiller, who co-created the widely used Case-Shiller index of home prices, could not comment on Levin's views on the housing market. But judging by a speech Levin gave in April of last year, Levin believes banks should accept losses from bad home loans.
"It makes sense to write down the loan value," Levin said last year, speaking out against the policy of subsidizing mortgage companies. "There's ideological aversion to doing the right things here. Somehow writing down the value of the loan seems like a violation of capitalism, but somehow subsidizing people to pay interest rates, because we've done it before, seems all right."
Shiller is one of the country's most well-known economists. In 2005, after he updated his 2000 book Irrational Exuberance to include a prediction about the housing market, New York Times' David Leonhardt labeled him "Mr. Bubble," saying Shiller was enjoying a "15 minutes of gloom."
Shiller's prediction later came true.

Popular in the Community