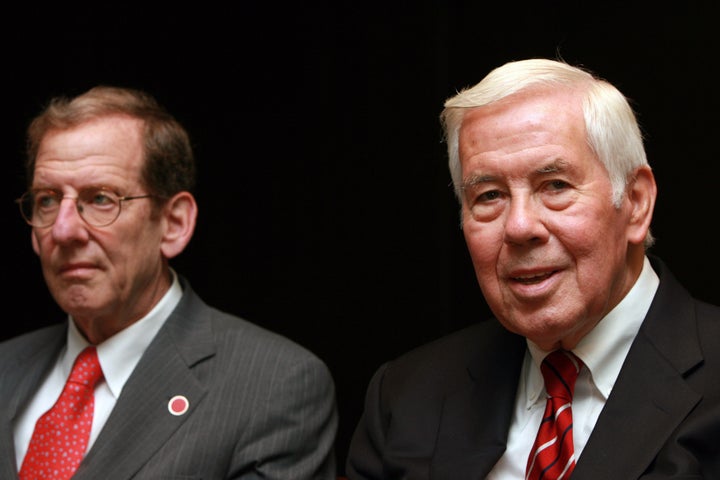 Sen. Richard Lugar (R-Ind.), a veteran GOP lawmaker who has served in the Senate for more than 30 years, voiced support for a ban on assault weapons last Friday.
In an interview with Bloomberg's Al Hunt, the Indiana senator was asked whether the ban, which expired in 2004, should be reinstated. "I believe it should be," Lugar replied. "But I recognize the fact that the politics domestically in our country with regard to this are on a different track altogether."
Lugar continued, "As a matter of fact, it appears that ammunition has been purchased from stores all over the country, subsequent to [the shooting in Arizona], by many Americans feeling that somehow Congress might take action that would somehow limit the amount of ammunition or the types of ammunition people can have."
The Federal Assault Weapons Ban was passed by Congress in 1994, but expired ten years later. HuffPost Mark Blumenthal recently wrote that despite a drop in support for gun control in general, public opinion "continued to show plurality support for an assault weapon ban as recently as a year ago."
Sen. Chuck Schumer (D-N.Y.) recently said on "Meet the Press" that it would be difficult to get the votes for gun control legislation.
Lugar, the ranking member on the Senate Foreign Relations committee, is expected by many to be challenged by a Tea Party-supported candidate when he seeks the Republican nomination for his Senate seat in 2012. After Lugar met with Indiana Tea Party leaders in December, the head of one group said, "We obviously would beg to differ that he is conservative, and our experience is that he won't get the support of any Tea Party group across the state."
Lugar seems ready for a challenge. In the Bloomberg interview, the senator told Al Hunt, "I anticipate there will be a candidate or candidates running in the Republican primary against me."
Scroll down to watch the interview. The assault weapons question arises just after the five-minute mark.
Support HuffPost
The Stakes Have Never Been Higher
Popular in the Community