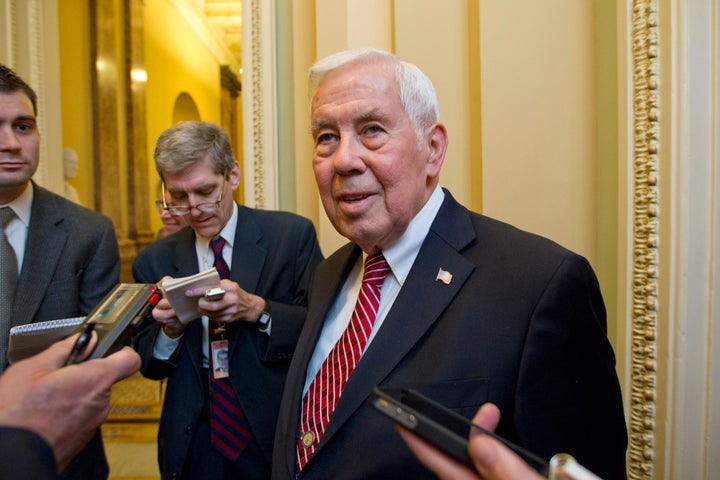 In February of 2011, a few days after a surprising popular revolt brought down the regime of Egyptian President Hosni Mubarak, Sen. Richard Lugar (R-Ind.) appeared on CNN to discuss the future of America's relationship with the longtime ally nation.
Speaking out about some $150 million in foreign aid that was due to be delivered to Egypt that year, Lugar, the top Republican on the Senate Foreign Relations Committee, argued that even amid uncertainty about the new military leadership, the funds should continue to flow.
"Our assistance here may be the most influential thing we can do," the senator said, seeking to tamp down more hysterical analyses.
But since then, the six-term incumbent has had to confront a revolution of his own, with angry Tea Party voters in Indiana turning on the statesmanlike senator, declaring he's lost touch with his home state and casting him as "Obama's favorite Republican." With his primary election against state Treasurer Richard Mourdock coming Tuesday, the most recent poll had Lugar trailing.
Dealt a homegrown insurgency from the right, Lugar's steady, calming voice in international affairs has quieted. A year after the Egyptian revolution, with another crisis brewing over aid to Egypt -- this one over the possible prosecution of several employees of American pro-democracy organizations -- Lugar found himself with a different take on the funding.
Asked by a reporter this January about the diplomatic row, Lugar took a hard line: "We find this incomprehensible and there will be consequences," he told reporters.
A lot had changed in Egypt in the previous year. The military rulers who had promised to oversee a smooth transition to democracy had proven intransigent and occasionally outright despotic; cutting off aid was starting to seem reasonable to some in Congress.
But the changes for Lugar had been nearly as dramatic. For the first time in his 35-year career, the senator found himself locked in a genuine primary challenge against the unlikely Mourdock -- a poor campaigner who has nevertheless been boosted by a flood of spending from right-wing groups like the Club for Growth, the Tea Party-allied FreedomWorks and others.
Faced with this challenge, congressional staffers and close watchers of Lugar and congressional foreign policy say that the incumbent effectively ran in the other direction: Instead of falling back on his long record of national security accomplishments and bipartisan support, Lugar cast himself almost exclusively as an advocate for partisan and domestic issues.
Where his voice had once been critical, and invaluable, to the foreign policy debates on Capitol Hill, many say he went surprisingly missing.
Indeed, by the time Lugar spoke critically of foreign aid to Egypt earlier this year, the most notable thing for many foreign policy wonks was not that he had shifted his stance under the pressure of a political campaign -- it was the fact that he took a stance at all.
"He has been disappointingly absent all year long," Stephen McInerney, the executive director of the Project on Middle East Democracy, which works closely with Congress on issues related to foreign aid, said last year. "He didn't do anything wrong, but he's just been absent and quiet all year. It's obviously been an important year."
It's been a remarkable turn of events. For nearly four decades, Lugar had crafted a career as one of the most accomplished and pragmatic voices on American foreign policy, someone who could rise above partisanship to work with Democrats like Sam Nunn (on a law to reign in loose nuclear materials) or John Kerry (on a bill to protect foreign assistance to Pakistan) to advance complex pieces of national security legislation.
His steady defense of foreign aid spending, increasingly a target of cost-conscious and internationally isolationist Republicans, has made him beloved across the foreign policy spectrum, from international ministries to the State Department.
"Lugar is a national treasure for his perspective on foreign affairs," P.J. Crowley, a former State Department spokesman, told The Huffington Post late last year. "Foreign aid does not have the political constituency that defense spending has ... and Lugar would be one of those people you would turn to to make the case for maintaining the global perspective on why foreign assistance is so important."
In 2006, a year in which Democrats declined to even put up a challenger to Lugar for his seat, Time magazine named him one of the 10 best senators, in part owing to his tradition of bipartisanship on foreign policy.
A glance at the press releases on Lugar's senate website offers one hint of how much, over the past year, the senator has drifted away from the sort of foreign policy issues that had long defined his career, opting instead to focus on matters of domestic and partisan concern, like job creation, and especially on attacks against President Barack Obama for his handling of the Keystone XL pipeline.
On his campaign website's "Issues" page, the ranking member of the Senate Foreign Relations committee buries the only foreign policy heading, "National Security," at the bottom, below things like "Jobs Plan," "Cutting Waste" and "The Obama Agenda."
Even Lugar's Foreign Relations committee press feed has gone silent: It has not put out a single statement since last November. By contrast, the committee's chairman, Sen. John Kerry, (D-Mass.), has put out 25 press releases in that time. (A Lugar spokesman said the feed was controlled by Kerry's office, not Lugar's.)
BAD TIMING FOR 'STATESMAN OF THE SENATE'
"I think it is fair to say that he has visited the Russian Federation more often than Russiaville, Indiana," Jim Holden, Mourdock's campaign manager, told HuffPost earlier this year.
It didn't help that Lugar was for a while ruled ineligible to vote in Indiana because he actually lives in Virginia. He had to re-register at the farm his family owns in Indiana.
Still, the campaign tactic took many Lugar watchers by surprise.
"It seems to me like he had two strategic options," said John T. Shaw, a congressional correspondent for Market News International and a longtime Lugar watcher. "One was to run as a real hard right Republican, at least in the primary, or the other was he could just run as who he is and say, 'Look, I'm a loyal Republican, but I work with Democrats when I have to to solve big problems.' "
Earlier this year, Shaw published an in-depth book -- a product of more than five years' labor -- about Lugar's long history as a bipartisan statesman. Shaw had long respected Lugar for his delicate approach to foreign policy matters, and his ability to work across the aisle.
Lugar and his staff had made themselves open and available to Shaw -- the senator himself sat for interviews -- and they might have been expected to embrace the book, "Richard G. Lugar: Statesman of the Senate," upon its publication. Instead, they barely acknowledged it.
"Lugar has had an ability to forge alliances across the aisle," Shaw said. "For 35 years that's been a good thing, and for this one year and a half it's been a negative."
That doesn't mean that Lugar hasn't taken some strong foreign policy stances on the Hill, including several actions he has kept under wraps.
Dan Diller, a spokesman for Lugar, said that the senator has "participated in the foreign relations committee in exactly the same percentage as he always has."
"I don't see that there's been much diminution of effort or emphasis in terms of the work done on foreign policy," Diller added, citing Lugar's continued work on Nunn-Lugar monitoring, a foreign aid reform bill and a new NATO expansion bill.
"He needed to extricate himself from Obama," said Jacob Heilbrunn, a journalist and scholar who has written extensively on GOP foreign policy and the decline of the centrist establishment within the party.
"He would probably be more outspoken, but under the circumstances he's battling for sheer survival, and in some ways obviously trying to bend toward the Tea Party without genuflecting," Heilbrunn said.
Should Lugar lose his race on Tuesday, Heilbrunn said, it might mark the end of an era of Republican centrism on foreign policy: "Lugar is the last of his breed."
Popular in the Community