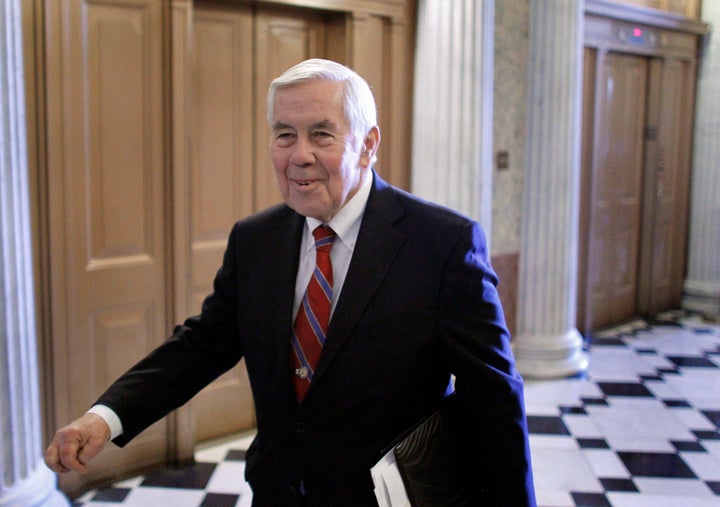 WASHINGTON -- Senate Democrats reintroduced the DREAM Act on Wednesday without the co-sponsorship of Sen. Richard Lugar (R-Ind.), who had previously been one of the bill's strongest backers.
In a statement, Lugar spokesman Mark Helmke blamed Democrats for turning immigration into a partisan issue.
"President Obama's appearance in Texas framed immigration as a divisive election issue instead of attempting a legitimate debate on comprehensive reform," wrote Helmke. "Ridiculing Republicans was clearly a partisan push that effectively stops a productive discussion about comprehensive immigration reform and the DREAM Act before the 2012 election."
In his Tuesday speech at the Mexico-U.S. border, Obama pointed the finger at Republicans for moving the goal posts on immigration reform. The president argued that his administration has gone out of its way to accommodate their requests.
"Maybe they'll say we need a moat. Or alligators in the moat," Obama joked, referring to the GOP. "They'll never be satisfied. And I understand that. That's politics."
Helmke said Lugar's staff told Democrats that the Indiana senator supported the initiative, but he wanted them to work on getting more Republican support. Lugar's spokesman claims that not only did Democrats not do that, but they set up a press conference to announce the reintroduction of the DREAM Act before the Lugar had made his final decision not to cosponsor. Democrats, however, said that it was clear for months that Indiana Republican wasn't going to cosponsor the bill at this time.
"They did little to reach out to other Republicans as it became more apparent that the Obama Administration and the Dems wanted this as a partisan wedge issue," Helmke explained. "So this is not about passing good legislation to help people, but win elections. ... The Dems will not let there be a clean up or down vote on this issue, which is too bad for all the young people effected."
He added that the senator "continues to support what the DREAM Act could do."
Max Gleischman, a spokesman for Durbin, disputed Helmke's statements.
"Senator Reid has already allowed an up or down for on the DREAM Act -- less than six months ago, in December of last year," Gleischman told The Huffington Post. "Senator Lugar voted for that bill, so the notion that it's Democrats who won't allow a clean vote on the bill just isn't credible. Durbin has personally reached out to many Republican members on the DREAM Act, including a call to a leading Republican just yesterday. The problem isn't a lack of outreach by Democrats; it's a lack of political courage by Republicans."
Gleischman added that Lugar has been a "great partner" on the bill for more than six years, and hopefully he will still vote for the legislation when it comes up for a vote.
Lugar is facing a potentially tough reelection battle: The Tea Party is pointing to him as one of their main targets to get out of office in 2012. Jumping on-board with Democrats to push immigration reform may not have played well with conservative activists in Indiana.
A Senate Democratic aide said Lugar's decision not to cosponsor this time around wasn't entirely surprising, arguing that he was captive to a changing Republican Party.
"The last time the DREAM Act came up -- in 2007 -- 12 Republicans voted for the bill," said the aide. "When Republicans last controlled the Senate, the DREAM Act passed the Senate as part of a comprehensive immigration reform bill, and it was reported by the Judiciary Committee on a 16-3 vote. And when the DREAM Act was first introduced, in 2001, it was sponsored by a Republican. The DREAM Act hasn't changed significantly in the last 10 years, but the Republican Party has. So I don't blame Senator Lugar for his decision not to cosponsor. It reflects the direction of Republicans on immigration."
The DREAM Act's shot at passage is slim. Even if it gets through the Senate, it will face a Republican-controlled House.
Carlos Saavedra, national coordinator of the United We Dream network, a national immigrant youth-led organization, said he was "very disappointed" in Lugar's decision not to cosponsor the legislation this time.
"I think it would have made a big difference for him to say, 'Yes, I support you, even in this new time around,'" said Saavedra.
He added that the latest development puts more of a burden on Democrats and Obama, whom United We Dream would like to see grant undocumented young people administrative relief through an executive order.
Popular in the Community