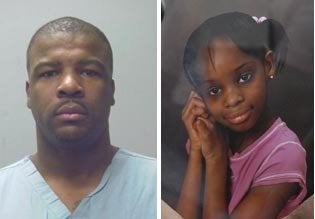 UPDATED STORY 1/19/2011

In 2008, the brutal murder of 9-year-old Mya Lyons shook a South Side neighborhood.
The body of Lyons, who had been staying with her father in the 8400 block of Gilbert Court, was found in a dark alley nearby on July 14, 2008. She had been stabbed multiple times.
Richard Lyons, the girl's father, allegedly found her body and drove her to the hospital in his van while the girl's uncle, a nurse, tried tending to her wounds in the back. Mya did not survive, and on Tuesday, her father was charged in her murder.
Richard Lyons, 42, was arrested Monday on a "no-bond warrant," according to the Chicago Sun-Times, which broke the story of his arrest Monday night. Police held a press conference Tuesday to announce the charges.
"This was a horrific crime," police Supt. Jody Weis told reporters. "Every month we got updates and, you know, I kept pestering these guys to bring this case to fruition because a case like this cannot go unsolved."
Detectives told NBC Chicago they were moving to charge Lyons more than a year ago, but they decided to link the case of Mya's murder to an unrelated case against the girl's father.
Aside from first-degree murder, Lyons was charged with one count of aggravated criminal sexual abuse, according to the Chicago police department. The Cook County State's Attorney's office told the Sun-Times the charges were connected to the sexual abuse of a 15-year-old boy in June of 2009.
According to law enforcement sources, the case turned on blood-spatter evidence that experts contend proves Mya was stabbed inside her father's van, not in the alley where he said he discovered her body. Lyons had told police that he and his uncle used the van to rush his dying daughter to the hospital.
Mya's uncle, who was allegedly in the van with her, accused police of trying to "railroad" Richard Lyons.
The girl's mother, Ericka Barnes, told the Tribune she suspected that someone close to Mya was responsible for her death, but said that if she ever suspected Richard--her daughter wouldn't have been at his home in the first place.
The Auburn-Gresham community rallied around the apparently heartbroken Richard Lyons following the slaying.
"My family and I just want to be left alone so that we can remember Mya and deal with our broken hearts," Lyons said at the time, according to the Sun-Times. "I respect the police and pray that they do the job they are capable of doing in capturing the person who killed my baby."
Richard Lyons told reporters following his daughter's slaying that detectives made "accusatory" comments to him, which led him to hire a lawyer. He also took a lie detector test and gave a DNA sample in 2008.
Lyons' lawyer told NBC on Tuesday that his client was extremely upset about the charges against him, and said that police have no evidence implicating him in the murder.
Mya's funeral was attended by hundreds, and then-presidential candidate Barack Obama wrote the family a letter which was posted at her memorial.
"I cannot pretend to understand the struggle that you have been forced to endure as a result of this senseless violence...," Obama wrote. "As a parent myself, I can only imagine the unbearable pain you are experiencing as well as the uncertainty of so many questions left unanswered."
Richard Lyons will appear in bond court Wednesday.
REAL LIFE. REAL NEWS. REAL VOICES.
Help us tell more of the stories that matter from voices that too often remain unheard.