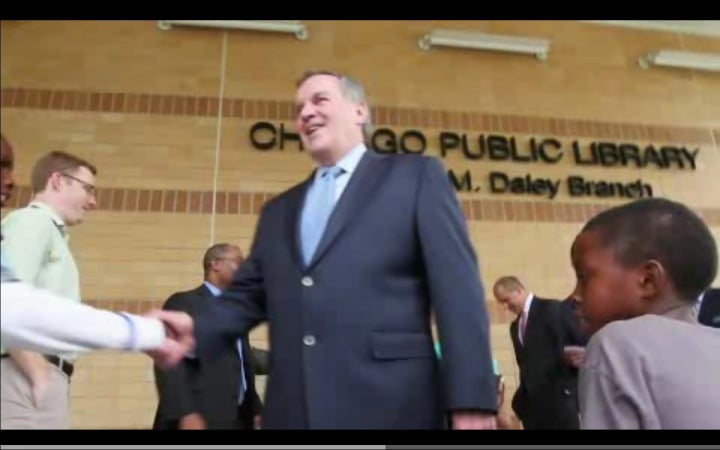 Former Chicago mayor Richard M. Daley made a rare public appearance on Thursday, showing up at a West Humboldt Park library which was named in his honor.
The Richard M. Daley branch is located on Kedzie and Chicago, and it was there that dozens of supporters -- and reporters -- gathered to greet the city's longest-serving mayor.
Current mayor Rahm Emanuel was on hand, and he introduced his predecessor to the crowd, calling the introduction "the greatest of honors that I have ever had" and referring to Daley as "our mayor," according to the Chicago Tribune.
Emanuel also lauded Daley for showing "unprecedented" support for the city's public libraries, FOX Chicago reports. Daley oversaw the construction or renovation of 59 branch locations around the city, including the one that now bears his name.
Daley spoke briefly about the importance of libraries as community centers, of parental involvement in children's education, and then answered reporters' questions on subjects ranging from his wife's health ("much better") to his schedule ("I'm busy") to his relationship with the media ("You had your own [game] going"), according to the Chicago Sun-Times.
The Sun-Times also quotes Alderman Walter Burnett explaining why the library wasn't named after a black or Latino leader in the largely black and Latino neighborhood.
"Because this is a mixed community, Hispanic and African American, they wanted to name it after some Hispanic leader," Ald. Walter Burnett, (28th), who Daley called "Ald. Barnett" during the naming ceremony. "I was like, 'Look, if we name it after [Daley] we get more resources and people donating stuff to the library. And if we need something we can always hit up his family.' Let's keep it real. It's about what we can get.

"They wanted to protest about the name. I think [naming it for Daley] is only fitting. This will help us in the community. Maybe we should get something else new named after Mayor Daley over here."

The library was the first public building named after the mayor. DePaul University had already named a structure after the ex-mayor and his wife Maggie.
Watch Daley greet residents and supporters at the library:
Calling all HuffPost superfans!
Sign up for membership to become a founding member and help shape HuffPost's next chapter