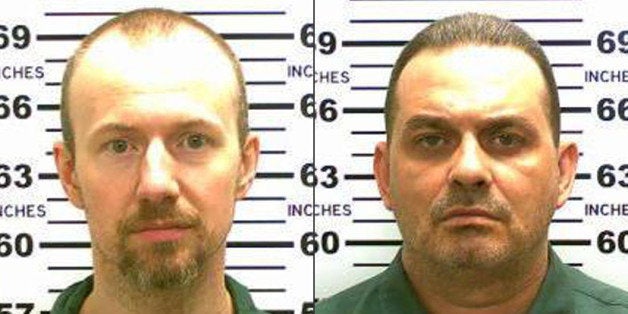 Two murderers who've eluded capture two weeks after escaping from a maximum-security prison in upstate New York may be hiding in the wilderness, which could give them an advantage over authorities attempting to hunt them down, according to a survival expert.
"There has been a lot of rain, which hinders tracking someone," survival instructor Creek Stewart told The Huffington Post. "That area is also rich in food this time of the year, with plenty of wild edible plants, fish, frogs and water -- things that are a top priority."
Escapees Richard Matt and David Sweat made national headlines on June 6, when officials at Clinton Correctional Facility in Dannemora discovered they had tunneled out of the facility with power tools. It was a methodical plan that authorities said the two killers plotted well in advance.
Matt, 48, is serving a 25 years-to-life sentence without the possibility of parole for the murder and dismemberment of a Buffalo man in 1997. Sweat, 34, is serving a sentence of life without parole for the 2002 killing of a Broome County sheriff's deputy.
CASE PHOTOS: (Story Continues Below)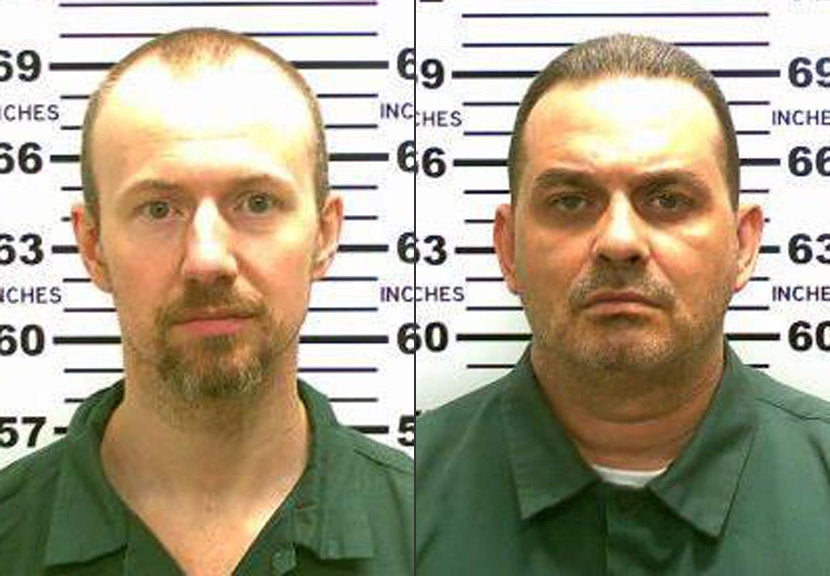 Escaped New York Murderers
Authorities have said they suspect Matt and Sweat are hiding out in either New York's Adirondack Mountains or in Vermont's Green Mountains.
Joyce Mitchell, the prison tailoring shop instructor, has been charged with helping the men escape. Mitchell, according to police, had agreed to be the escapees' getaway driver, but backed out at the last minute. A corrections officer at the prison was suspended in connection with the escape on Friday, according to authorities, who wouldn't elaborate.
Some experts have speculated that without their getaway driver, the two men were unprepared to run away on foot and survive in the rugged wilderness surrounding the prison.
"These guys are not going to go deep into the Adirondacks and survive," Shane Hobel, founder of Mountain Scout Survival School in Beacon, New York, told Reuters. "They're not going to make it. They have to stay close to supplies they're already familiar with."
Pat Patten, a survival expert who teaches tracking skills in North Carolina, told Reuters "it's a fallacy" to think the men could survive in the "the woods with nothing and make it."
However, Stewart said it would be a mistake to assume the men were entirely reliant on help from the outside.
"A lot of people are under the impression these guys walked into the wilderness with nothing, but I guarantee you that's not the case," Stewart told HuffPost. "I'm sure these guys read up on food sources they could gather in the wilderness and went into this with some knowledge. They wouldn't have just prepared for the breakout, they would have also prepared for the escape."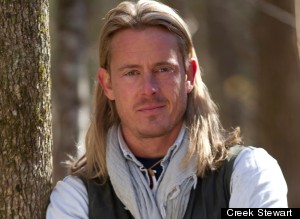 Survival Expert Creek Stewart
That preparation, according to Stewart, likely included stockpiling supplies.
"They most likely took food they obtained from the prison commissary and makeshift supplies and weapons that they made or got their hands on. It also wouldn't surprise me if someone on the outside had stashed a cache of supplies for them."
With the weather and food resources likely on their side, Stewart said the men's biggest problem likely would be insects.
"My personal experience in the wilderness for extended periods of time during summer months is that it's the smallest things that will drive you crazy," Stewart said. "Mosquitoes and ticks can absolutely drive someone to the point of insanity without any type of insect repellant."
The U.S. Marshals Service has put the escapees on the 15 Most Wanted Fugitives List and is offering a $50,000 reward for information leading to their capture. Authorities have widened the dragnet to include the borders of Canada and Mexico.
If the men are traveling on foot, it's possible they've made it by now to Canada, as the border is roughly 20 miles from the prison.
"If they are continuously traveling in the daylight, there is no reason they can't be moving 10 miles a day," said Stewart. That estimate that would put the men roughly 140 miles from the prison.
Stewart said it's important not to underestimate their abilities, considering they've pulled off one of the most daring prison escapes in U.S. history.
"As long as they're willing to struggle and be uncomfortable, they'll be able to survive out there a lot longer than people will give them credit for," Stewart said. "Don't underestimate them. Desperation goes a long way."
Sweat is described as 5 feet 11, 165 pounds, with brown hair and green eyes. He has tattoos on his left biceps and his right fingers.
Matt is 5 feet, 10, 210 pounds, with black hair and hazel eyes. He has tattoos, including "Mexico Forever," on his back, a heart on his chest and left shoulder and a Marine Corps insignia on his right shoulder.
Both escapees are considered extremely dangerous. Anyone with information on their whereabouts is asked to call 1-800-GIVE-TIP.
CORRECTION: An earlier version of this article overstated Richard Matt's height.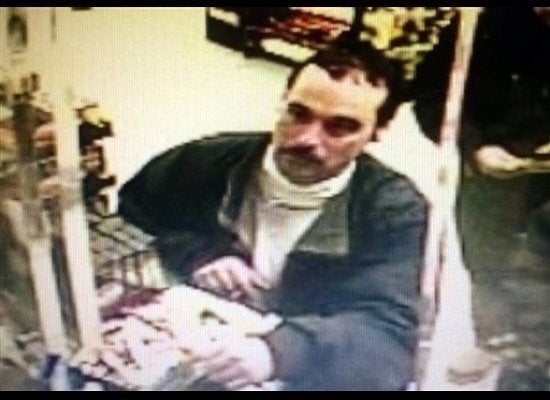 Prison Breaks: They Made A Run For It
Popular in the Community