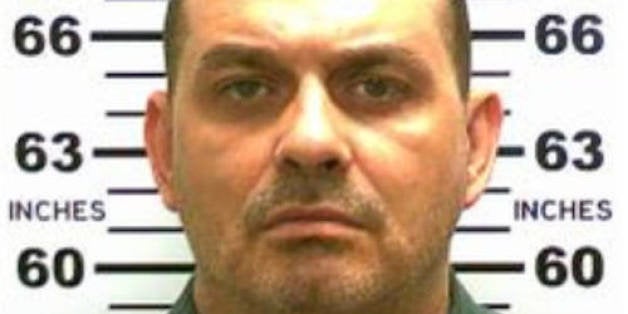 Escaped murderer Richard Matt was fatally shot by a Border Patrol agent Friday and police were pursuing "several leads" to find his fellow escapee David Sweat, New York Gov. Andrew Cuomo said.
The nearly three-week manhunt for the two escaped killers intensified around 1:51 p.m., when a 911 operator received a call from a motorist who found a bullet in a camper that was being towed, Cuomo said Friday night at a state police barracks in the village of Malone.
Law enforcement swooped in and detected the odor of gunpowder in a nearby cabin, State Police Superintendent Joseph D'Amico said at the press conference. They followed Matt, one of the two killers who escaped a maximum security prison on June 5, through a wooded area and fired at him when he ignored orders to put up his hands, D'Amico said.
Matt had a 20-gauge shotgun with him, though he didn't fire at police, D'Amico said.
"You never want to see anyone lose their life, but I want to remind people that Mr. Matt is an escaped murderer from a state prison. He killed two people that we know about," Cuomo said. "These are dangerous, dangerous men."
Officers continued to search a nearby wooded area for Sweat, who escaped with Matt. Cuomo said the two were assumed to have been together on Friday. "There are several leads that are being tracked down as we speak about Mr. Sweat," he said.
"Matt has been shot, he's down," Lenny DePaul, a former U.S. marshal, told CNN. "Apparently he's been hit. Not sure what his status is at this point."
Earlier Friday, police said they believed the men were on their way to Canada.
Matt and Sweat escaped from Clinton County Correctional Facility in Dannemora, New York, on June 5.
Acting on the tips, law enforcement canvassed different parts of northern New York for almost three weeks, following leads across state lines to Vermont and along the Pennsylvania border, before zeroing in on the convicts near Malone.
A major break in the case came earlier this week when authorities found the convicts' DNA in a burglarized hunting cabin in Franklin County.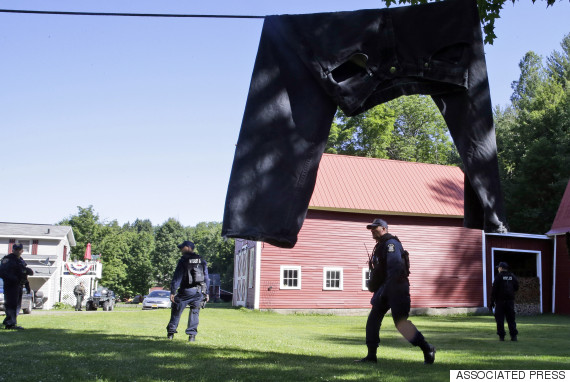 New York State Department of Corrections officers search an area in Owls Head, New York, for convicted murderers Richard Matt and David Sweat on Friday. Police shifted the focus of their three-week search closer to the Canadian border. (AP Photo/Mary Altaffer)
The two convicted murderers used power tools and worked their way through a series of catwalks and tunnels to escape from the maximum security prison.
Investigators determined that the escapees obtained the tools with the help of accomplices inside the prison. Several prison employees were questioned following the breakout, and two were ultimately charged with aiding in their escape.
Authorities accused Mitchell of concealing tools such as hacksaw blades and screwdriver bits inside frozen hamburger meat and smuggling them into the prison. Sweat and Matt lived in the prison's honor block, which afforded them the privilege of cooking their own meals.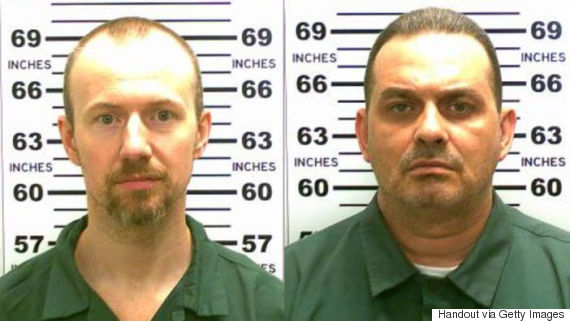 David Sweat and Richard Matt. (Photo: New York State Police via Getty Images)
Prosecutors said the meat containing the tools were taken to Matt and Sweat by a corrections officer, Gene Palmer, 57. Palmer also allegedly gave the inmates pliers and a screwdriver in exchange for paintings they'd made, according to court documents. He was charged June 24 with promoting prison contraband, tampering with physical evidence and official misconduct.
"She said she loved me but she was in too deep," Lyle Mitchell said.
Matt was serving a sentence of 25 years to life for the kidnapping and beating death of his boss on Dec. 3, 1997.
Sweat was serving a sentence of life without parole for the shooting death of a Broome County sheriff's deputy on July 4, 2002.
Calling all HuffPost superfans!
Sign up for membership to become a founding member and help shape HuffPost's next chapter