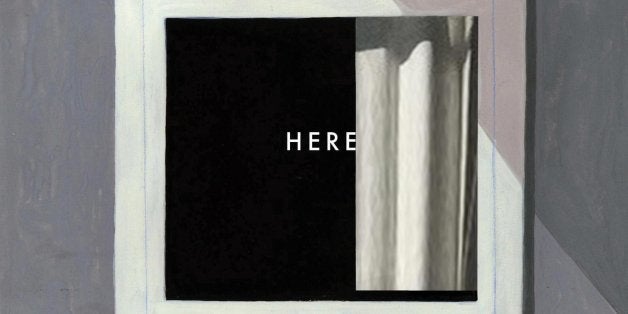 Here
by Richard McGuire
Pantheon
Published December 9, 2014
What we think:
Before Richard Linklater made the decision -- hailed as groundbreaking -- to film a single actor for 12 years, Richard McGuire used his own artistic medium to chronicle the life of a single room over the course of millennia. His 1989 comic series "Here" was quietly published by Art Spiegelman in RAW magazine, and this month the concept has been put into a graphic novel of the same name.
When we first meet our protagonist -- the corner of a living room nestled within a house built in colonial America -- it's 1957, and she's decked out in shades of mauve, with a crib situated at her center and a painting of an overgrown forest hung above her fireplace. In short, she's an ordinary room -- a womb fostering small, universal moments.
On the next page, it's 1942, and on the next, 2007. Little has changed but the wallpaper and the texture of the couch. When we return to 1957, a woman enters, and wonders aloud, "Hmm… now why did I come in here again?"
This quotidian scene, which bookends the story (in the end we return to the woman, who remembers she wanted to pick up a book from the coffee table) sets the tone for most that follow -- other than a few climactic pages, McGuire's book concerns itself with private laughs, family portraits, teens studying and couples redecorating.
The drama, then, arises not from the plot, but from the convergence of many plots. In 1986, a doorbell rings. Simultaneously occurring on the same page is a conversation from 1609, when an American Indian couple rustling in the same spot in the woods stops in their tracks to whisper: "Ntelsitam" ("I heard something"). A man from an archeological society enters the 1986 living room, inquiring about the home's backyard, which could house the remains of a burial site. A soda-drinking boy nods along, wearing a shirt that reads "Future Transitional Fossil."
McGuire's tinkering with time is more than clever. Readers have taken chronological leaps before, using machines invented by sci-fi writers, the many pages of hefty bildungsroman, or the modernist conventions that fold years into sentences. But allowing a brief history of the world, from 80,000,000 B.C. to 2213, to swirl around a living room -- a setting that's intimate but not too intimate -- is particularly moving.
Hearing Revolutionary War-era sons quibbling with their fathers over politics reminds us of how permanent some facets of humanity are. McGuire does this in a way that doesn't undermine the dramas that make up our lives, no matter how insignificant they may seem when read aside a thumping dinosaur (the dinosaur gets one panel, and a Halloween party gets several pages).
While McGuire's original panels were inventive in their own right –- separate scenes set in different eras would take up flat space within a single image of the room, removing chronology from the representation of time –- the book format is even more impressive. Turning its pages doesn't thrust you forward or backward, but just elsewhere. The result is a tenderly deconstructed flip book that's worth reading if only for its pleasant depictions of the near future.
What other reviewers think:
The Atlantic: "Here is a meditation on 'impermanence,' which is what makes it emotionally compelling yet unsettling -- as though every moment in time is preserved in some random playback mode."
The Morgan Library & Museum: "Populating the space with multiple frames of action, dating from the ancient past to the distant future, McGuire conjures narratives, dialogues, and streams of association that unite moments divided by years and centuries."
Who wrote it?
Richard McGuire is a comic artist, and author of children's books.
Who will read it?
Fans of graphic novelists -- particularly Chris Ware, who cites McGuire as an inspiration.
Opening lines:
"Hmm... Now why did I come in here again?"
Notable passage:
"I used to see her run by my window where I worked. She was always running."
"I was always late for work."
Calling all HuffPost superfans!
Sign up for membership to become a founding member and help shape HuffPost's next chapter