West Virginia state senator Richard Ojeda has announced a 2020 presidential run less than a week after losing his run for Congress.
The U.S. Army veteran and pro-coal populist Democrat, who prominently rallied for teachers during their strike this year for better wages, announced his run on Monday.
"Where I come from, service equals sacrifice," he said in a video posted to Facebook. "We have not had people who have really fought for the working-class citizens in this country."
Ojeda's announcement came with a vow to support working-class Americans and eliminate federal politicians' financial elitism by setting wage limits for politicians and enforcing charitable donations for politicians and top earners.
"Most of them have no idea what it's like to try to put food on the table or tell their kids that they can't afford college. They don't use the same health care as us, they send their kids to private schools, they have their own security," Ojeda said in a statement posted to his website. "It's time for us to ask of our legislators and our president to make a fraction of the sacrifices our troops do. Live modestly while serving your country and live on a modest pension thereafter." 
Ojeda last week lost his congressional run against Republican Carol Miller, who had the endorsement of President Donald Trump, whom Ojeda said he now regrets voting for.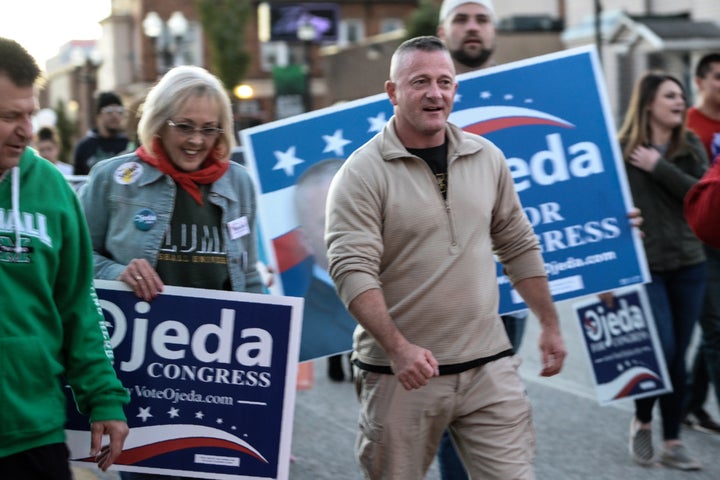 Though Ojeda's presidential announcement was largely unexpected, in his concession speech last week, he repeatedly declared, "I'm not done fighting" while criticizing Trump's policies and leadership. In one particularly emphatic moment, he attacked the president's recent visit to West Virginia to campaign for Miller.
"On several occasions, you came here to speak for Carol Miller, you called me a stone-cold crazy wacko and then you mispronounced the way I say my name, but make no mistake about it, you're going to know my name," said Ojeda, who pronounces his name "Oh-jeh-da."
"I'm Richard Ojeda. I am Richard Ojeda. I am Richard Ojeda, and I'm not done fighting, and neither are we."
Calling all HuffPost superfans!
Sign up for membership to become a founding member and help shape HuffPost's next chapter