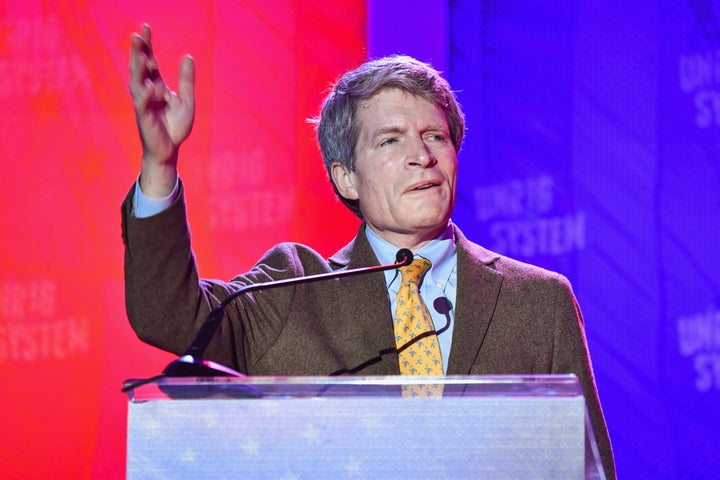 Richard Painter, an ethics lawyer in former President George W. Bush's administration, has earned a reputation as a resistance hero with his sharp criticisms of the current White House occupant, Donald Trump. He's amassed a large audience on Twitter ― nearly half a million followers ― and he appears often on cable news shows to make the case that Trump has violated ethics laws, abused his power and obstructed justice during the Russia investigation.
Unlike most #NeverTrump Republicans, Painter is doing more than speaking out against the president's alleged transgressions ― he's putting his money where his mouth is and running for office in Minnesota.
There's only one problem: Painter has chosen to run in the Aug. 14 Democratic primary against Sen. Tina Smith, the state's former lieutenant governor who replaced Democratic Sen. Al Franken after he resigned early this year amid sexual misconduct allegations.
Painter's campaign will test whether Democratic voters are willing to support a one-time Bush administration official who hates Trump as much as they do.
Painter, 56, worked in the White House as chief ethics lawyer from 2005-2007 before he left to teach at the University of Minnesota. He describes himself as a centrist who doubts there is a place for him in the Republican Party the age of Trump.
"Today's Republican voters are just not receptive to my views on a lot of issues," Painter told HuffPost. He added that "to run as an independent in this race, it almost certainly would have handed the Senate seat to the pro-Trump Republican."
Democrats will agree with much of his campaign platform. Painter views climate change as an existential threat to the planet and opposes Trump's withdrawal from the Paris Accord in global warming. He supports "reasonable gun regulations" and even "a responsible path" to single-payer health care.
He believes decisions about marriage and abortion are "strictly personal and none of the government's business." He disagrees with the tax cut measure the GOP pushed into law late last year because it blows a hole in the federal deficit.
What raised his profile has been his pointed critiques of Trump's ethical failings.
Last year, as vice-chair of the liberal Washington watchdog group Citizens for Responsibility and Ethics, he helped file a lawsuit that argued the president was violating the Constitution by not fully divesting from his business properties that take in rent and other payments from foreign governments.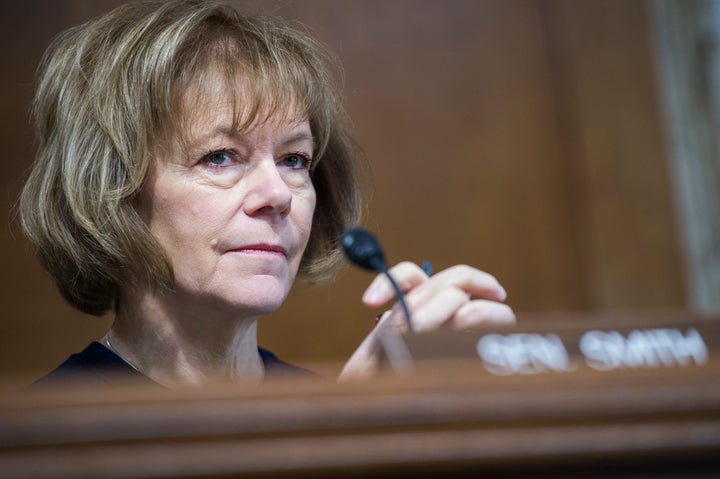 One might get the impression that Painter is actually a member of the Democratic Party. But ask him about his party preference and he'll be quick to criticize policies backed by Democratic lawmakers in his state, as well.
"I don't know whether I'm a Democrat. ... Democrats in this state can't make up their mind what they want to do with the environment," he said, referring to the backing some party leaders have given to efforts to build Minnesota's first copper-nickel mine.
Painter also criticized Smith and Minnesota's other senator, Democrat Amy Klobuchar, for supporting the repeal of Obamacare's medical device tax, lamenting that the health care law was "starting to get chopped up" thanks to the influence of special interests.
"Pretty soon you don't have anything left," he said.
Painter's stint in the Bush counsel's office, though, will likely pose problems in his primary race. In a 2016 New York Times Op-Ed article, for example, he wrote that he helped Bush with the nominations of Chief Justice John Roberts and Justice Samuel Alito to the Supreme Court ― two of its most solidly conservative members who voted against marriage equality, gutted the Voting Rights Act and supported the Citizens United decision that has allowed huge sums of special-interest money to influence elections, to name a few.
But Painter now maintains his role was limited to vetting the court nominees for financial conflicts, and not their judicial philosophy.
"My opinions are quite different to those of the conservative justices, and I have repeatedly disagreed with a number of their decisions," he said.
While he disagrees with Citizens United ruling, Painter has argued that overturning the "poorly reasoned" decision will do little to stem the flow of unaccountable money in politics. In his 2016 book, "Taxation Only with Representation: The Conservative Conscience and Campaign Finance Reform," he wrote that fighting to reverse the decision isn't worth the trouble because lawyers will simply find another way to get around campaign money laws.
Smith, 60, wants Congress to overturn the 2010 decision in part through a constitutional amendment and in part by enacting legislation to require super PACs and other organizations spending more than $10,000 in an election cycle to disclose the names of their donors.
"What I don't like is the strategy of emphasizing just the constitutional amendment," Painter said. "What it allows politicians to do is check the box ... of supporting an amendment ... that'll get blocked, and they'll just keep raking in huge amounts of cash at the same time."
"We need to hold the executive branch accountable: the president and everyone working for him."
Painter, in contrast to Smith, has been vocal about opening impeachment proceedings against Trump ― an explosive issue that could help him win some votes in a Democratic primary. Whereas most Democratic officials fear that using such rhetoric could backfire by driving Republican voters to the polls in November, Painter has said, "We need to hold the executive branch accountable: the president and everyone working for him."
But Painter's past comments on abortion rights might raise eyebrows in a Democratic primary. Appearing at a February 2016 conference on conservative campaign finance reform efforts, he suggested money from pharmaceutical companies helped lead to the approval of the morning-after pill. He mused that "corporate donors" like health insurance companies would "save money if pregnancies that are likely to lead to serious health issues for newborns are terminated."
"Who makes Plan B? Drug companies," Painter said. "Once again, maybe that's a good product, maybe that should be on the market, maybe not. But [that's] a decision for the people, not a decision that should be rammed down anybody's throat by the drug companies through campaign contributions."
A big hurdle Painter also faces will be fleshing out his views on an array of domestic and foreign policy issues that aren't known to many voters. And, of course, there will be the constant challenge of being labeled a Bush Republican in a Democratic race.
Painter said he believes voters can look past that latter matter.
"I'm not sure those labels ― Democrat or Republican ― mean a lot," he said. "It's up to whether members of Congress are going to deliver for their constituents or not.
This story has been updated with Painter's comments on contraceptives.