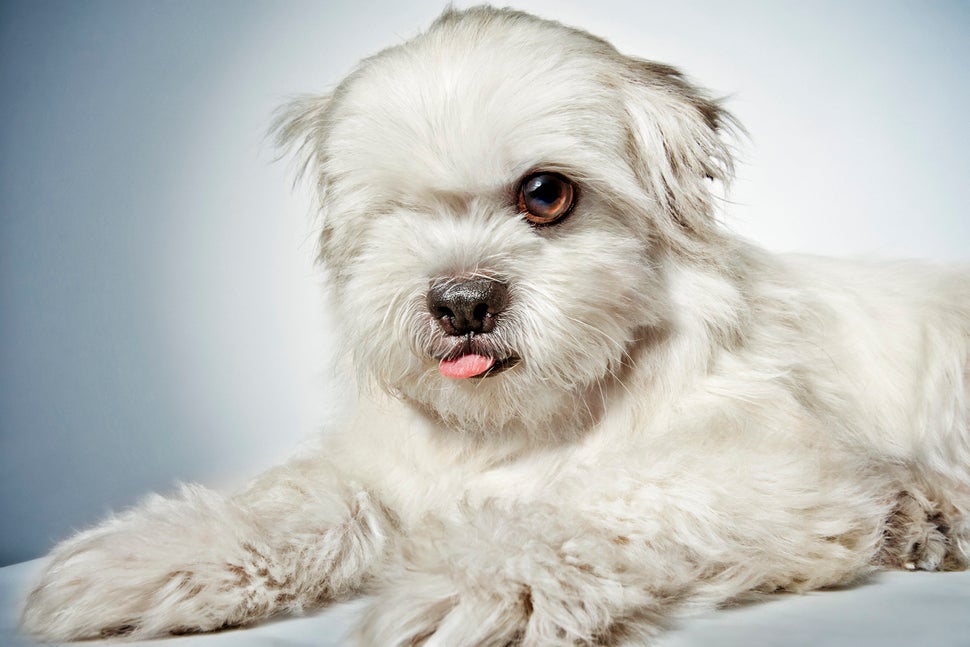 Little Lowell, pictured above, was found by police on a brutally hot day in May. Locked inside a portable kennel for quite some time, Lowell was dirty, dehydrated, soaked in urine and desperate for food.
Thankfully, Little Lowell was rescued by the Humane Society of New York and promptly underwent surgery to have a bad eye removed. After a long recovery process, he was adopted by a couple living off Fifth Avenue. Lowell is now 6 years old and living in a great New York neighborhood. 
This painfully cute little fur ball is but one subject of Richard Phibbs' portrait series "Rescue Me," depicting dogs rescued by New York's Humane Society. The complete series is soon to be available in unbearably cute book form, thanks to Aperture. The book pairs each photograph with a written description by journalist Richard Jonas, who describes each animal's journey from abhorrent conditions to peace and safety.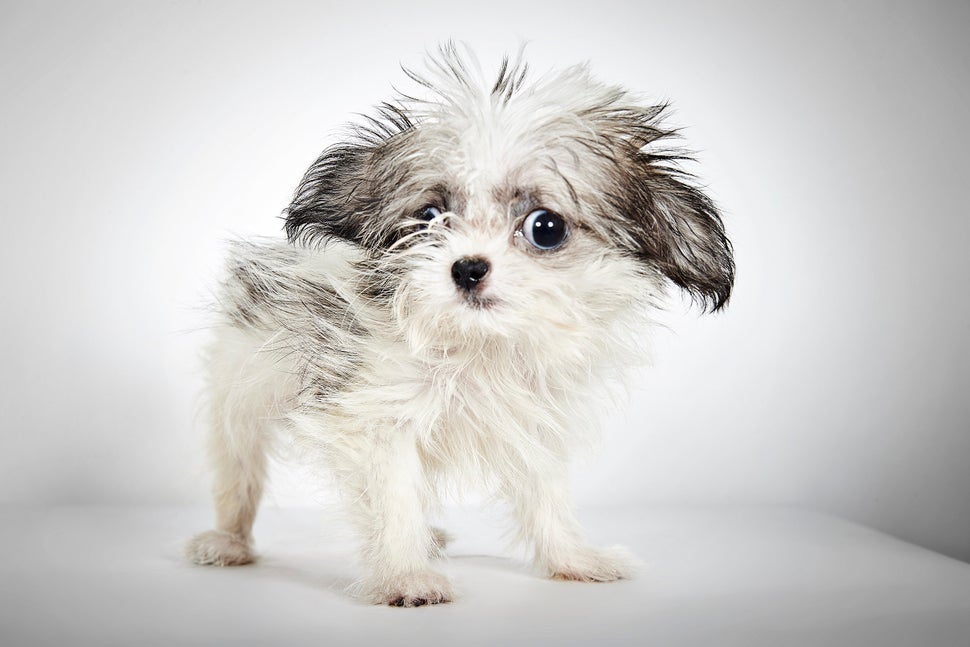 "My portraits of homeless animals are not meant to make people feel sad," New York-based photographer Phibbs writes in his introduction. The photographer has volunteered at the Humane Society since 2012, working to protect the animals who have no control over how their lives take shape.
"The goal is to find every animal a home. I hope to inspire people who are thinking of getting a dog or cat to 'adopt instead of buy.' By sharing your home and your life with a homeless animal, you become part of this great awakening, this transformation of human consciousness that recognizes the essential value of all living beings."
Just looking at these dogs' wide-eyed, slobbery-mouthed faces is almost too much to handle. Imagining them out on the New York City streets will make your heart hurt.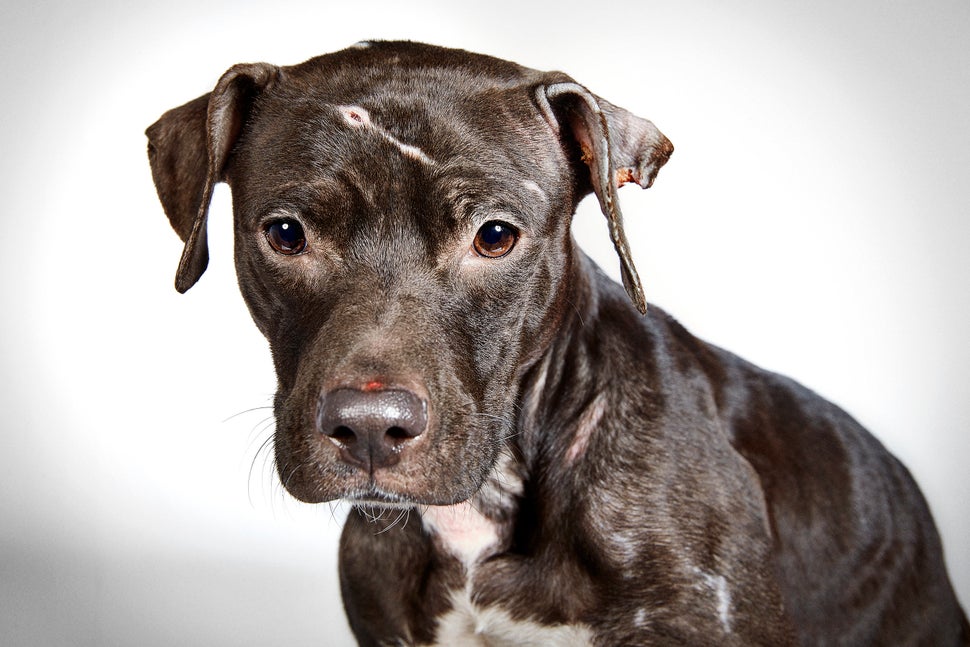 Propped against a blank backdrop, the pups become dignified photographic subjects. After long stretches of neglect, abuse and horrific living conditions on the streets, the canines are given their place in the spotlight, a chance to assert their standing as beautiful and strong living creatures. And, also, really, really cute ones. 
The simple but powerful photographs make plain the strong trust between photographer and subject. As Virginia Chipurnoi, President of the Humane Society of New York, explains in the book, for these animals ― so long maltreated and ignored ― expressing their true natures is a difficult task.
"Because life has been so unkind to so many of them," Chipurnoi writes, "it is often difficult to break through their defenses. To discover the spirit of life in a dog that has almost given up trying to find a place of peace takes great skill and patience. Richard manages to capture that spark in each dog by engendering a trust that allows the animal to reveal itself."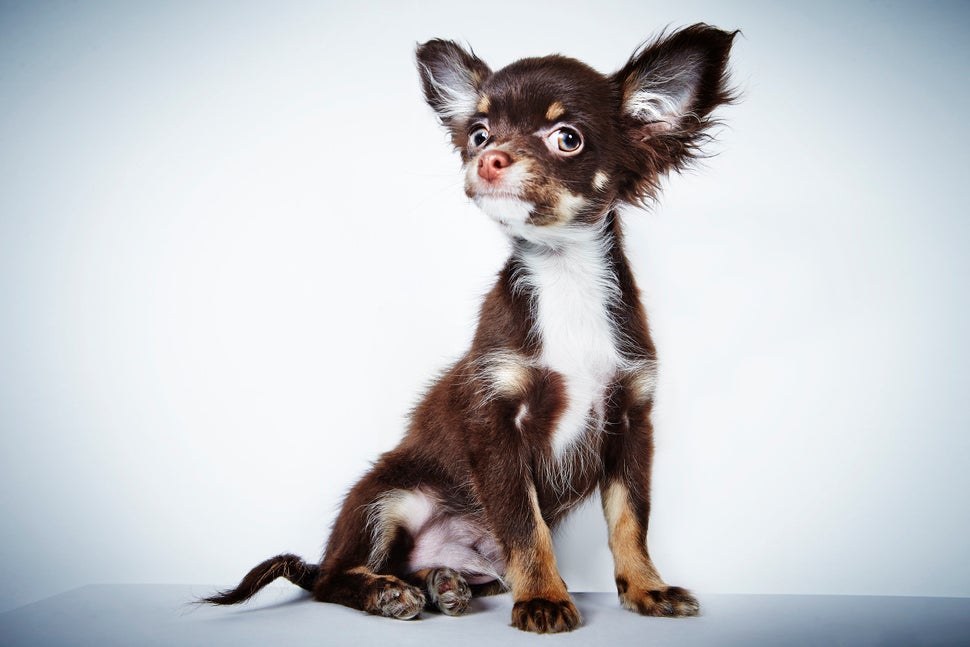 One dog particularly attached itself to Phibbs during the photography process ― a long-haired Chihuahua named Finn. The photographer felt an instant connection with the little guy, who he describes as "affectionate and spunky with an outsize personality." Phibbs ended up adopting Finn and the two have been together ever since. 
Still, for every dog that finds a home, hundreds more are without shelter, food, or love. Phibbs hopes his images portray shelter dogs in a new light, inspiring all who encounter them to consider adopting a dog in need for themselves. If you're so inspired, head to the Humane Society of New York's website to see how you can help a pup in need. 
CORRECTION: A previous version of this article misspelled Richard Jonas' name. We regret the error.
Calling all HuffPost superfans!
Sign up for membership to become a founding member and help shape HuffPost's next chapter
BEFORE YOU GO
PHOTO GALLERY
7 Doodles That Sum Up Life With A Dog