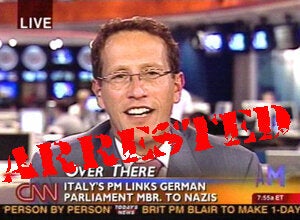 ***UPDATE***The New York Post reports on new, lurid details regarding the arrest of CNN reporter Richard Quest.
CNN personality Richard Quest was busted in Central Park early yesterday with some drugs in his pocket, a rope around his neck that was tied to his genitals, and a sex toy in his boot, law-enforcement sources said.[...]

Quest was initially busted for loitering, the source said. Aside from the oddly configured rope, the search also turned up a sex toy inside of his boot, and a small bag of methamphetamine in his left jacket pocket.

It wasn't immediately clear what the rope was for.
Mr. Quest was arrested early Friday morning after being escorted out of Central Park for violating the park curfew, a law enforcement official said Friday. The park is closed from 1 a.m. to 6 a.m.

The police noticed Mr. Quest at 64th Street and West Drive at about 3:40 a.m., the official said. As he was being escorted out, he volunteered, "I have meth in my pocket," according to an official briefed on the case. The police searched him and recovered a small amount of methamphetamine in a Ziploc bag.
Not sure who Richard Quest is? Check this video out below:
Related
Popular in the Community