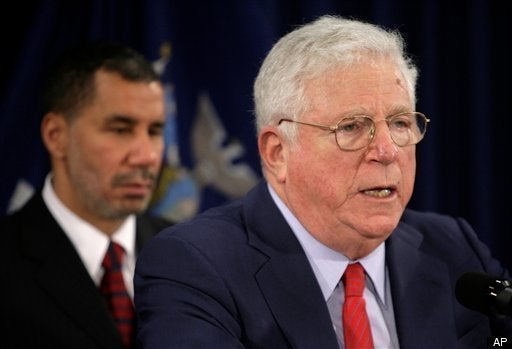 Richard Ravitch, Governor of New York?
The prospect of Ravitch becoming governor is a very real possibility, should Gov. David Paterson resign due to mounting pressure.
Ravitch is currently the Lieutenant-Governor of New York and would be next in line.
Democratic officials told the AP today Paterson won't run for re-election in 2010 and his approval ratings are waning.
Born in 1933 in New York City, Ravitch sought the Democratic mayoral nomination for New York in 1989.
Ravitch's career has included serving as chairman of the Metropolitan Transportation Authority and President of the Player Relations Committee for Major League Baseball.
In July 2009, Paterson appointed Ravitch lieutenant-governor, sparking controversy and State Attorney General Andrew Cuomo calling the move unconstitutional.
Among those calling for a Governor Richard Ravitch is HuffPost blogger David A. Singer, a New York attorney, who wrote today:
David Paterson should cede the gubernatorial reigns to Richard Ravitch. And then, both the Democratic and Republicans parties should right now announce that they will cross-endorse Richard Ravitch to be Governor of New York State -- not just through the end of this year -- but for the following four. At 77 years old, Ravitch doesn't want or need this. But we need Governor Ravitch now. He's the adult in the room.
Related
Popular in the Community