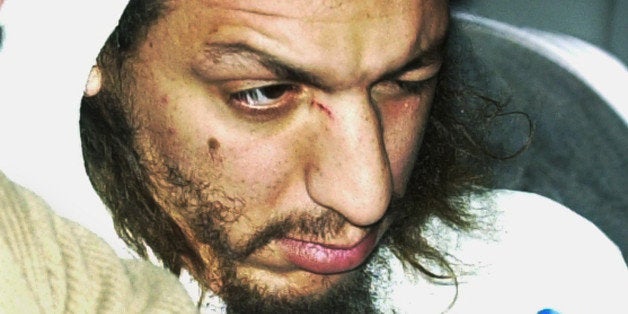 Feb 3 (Reuters) - More than 13 years after his failed attempt to blow up a passenger plane with explosives hidden in his shoes, Richard Reid told U.S. researchers he believes his actions were permissible under Islamic law, according to correspondence released on Tuesday.
Reid, who is serving a life sentence in a federal prison in Colorado because of the attack, was foiled in his 2001 bid to blow up an American Airlines flight from Paris to Miami when passengers and crew overpowered him as he tried to ignite explosives in his shoes.
The attempted attack in December 2001 came as Americans were on heightened alert following the Sept. 11, 2001, attacks on U.S. targets, and prompted federal officials to institute stricter security rules for travelers requiring airline passengers to run their shoes through a screening device.
"I do believe my actions to have been permissible in Islamic law, although I admit that many people would dispute that and disagree with me on that point," Reid wrote in one of a series of letters with researchers from the Virginia-based Justitia Institute who reached out to him last June.
"However, at the same time I also believe that it wasn't supposed to happen, not because it was displeasing to God ... and rather because (a) it was not either my time to die nor that of those on the plane with me and (b) He had other plans for me which include my staying in prison," he wrote in a letter signed with the name Abdur-Raheem.
Reid, a British citizen who is now 41, pleaded guilty in 2002 to multiple charges including attempted use of a weapon of mass destruction and attempted murder.
Kim Mehlman-Orozco, a researcher and board member at the Justitia Institute, which researches criminal and social justice issues, said her team was not surprised Reid had maintained his militant views after over a decade behind bars.
"It speaks to the level of motivation, because it defies time, it defies rationality, it supersedes his will to live, his will for freedom," she said in a phone interview.
Saif Inam, policy analyst at the Muslim Public Affairs Council in Washington, D.C., said Reid's contention that his attempted attack was allowed by Islamic law was "100 percent, unequivocally, theologically untenable." (Reporting by Alex Dobuzinskis in Los Angeles; Editing by Eric Walsh)

Popular in the Community