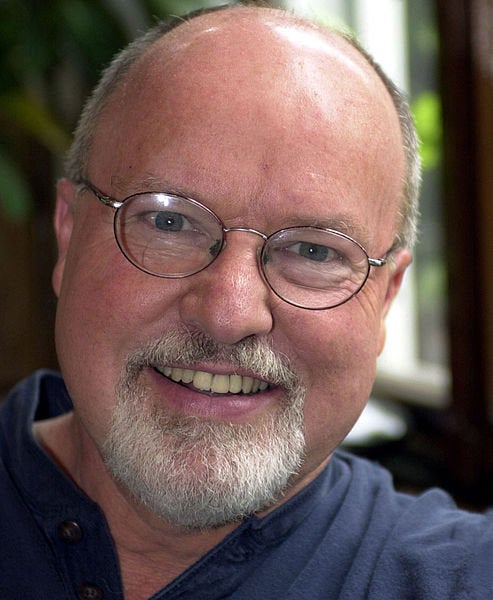 After 42 years of itinerant ministry, Franciscan Father Richard Rohr is getting off the road.
"I decided years ago that if I'm going to keep teaching contemplation, then the last years of my life should be contemplative," Rohr told me in an interview at the Center for Action and Contemplation (CAC) in Albuquerque, N.M., a program he founded 25 years ago.
"It's not that I'm retiring," says Rohr, who turns 70 this March. "If God continues to give me health and a sane mind and verbal ability, I want to teach," but it will only be in and around New Mexico.
"A key part of the mission at CAC is social justice, so I've also had to look at the carbon footprint I'm creating with all of this traveling," he explains.
But Rohr won't simply be teaching occasional seminars in the desert. Later this year, he and the CAC will welcome the inaugural class of their newly founded Living School for Action and Contemplation.
"Having a school really is the fulfillment of a longtime dream of mine," Rohr says.
It's a dream that had the chance of becoming a reality 18 months ago when Alicia Johnson joined the CAC as executive director.
Johnson wasn't only a devotee of Rohr's work, she had extensive experience in both academic and business administration. "She really understands the vision of CAC. It astounds me what she can hold together," Rohr says.
During Johnson's first week on the job, Rohr told her about his plan to get off the road. She asked Rohr to write down the lineage of people, ideas and writings that have formed his thinking. The exercise helped Rohr realize that his work could be distilled to 15 key sources and seven underlying themes.
"Alicia looked it over and said to me, 'We've got the curriculum for a school,'" Rohr recalls. Johnson noticed that Rohr had been using the phrase "a living school" even before he had realized that we were developing a school. He used the term because he was envisioning a program that emphasizes not simply orthodoxy, but praxis as well.
"It is so important to balance orthodoxy with orthopraxy," Rohr explains. "St. Thomas Aquinas said, 'Life itself is prior to doctrine.' It's an idea that really speaks to what we call the 'Franciscan alternative orthodoxy,' which says that lifestyle and practice are much more important than mere verbal orthodoxy."
It's radical notion given that the current Roman Catholic and Evangelical climates seem particularly preoccupied with orthodoxy.
"I'm not trying to be cynical or unfair, but those who are most insistent on orthodoxy to the tradition often seem to understand it the least," says Rohr. "They call the last 500 years 'the tradition.' They seem to know little about the fathers of the church or the intertestamental period, or the Jewish tradition, or the Desert Mother and Fathers, which is all part of the tradition, too."
The Living School's curriculum has been designed to give students a comprehensive understanding of the centuries of wisdom that have contributed to many of our theological ideas and spiritual practices.
"Richard has always been a traditionalist," Johnson explains. "When we looked at the lineage that he was standing on, we recognized in a very real way that through the Living School we would be rescuing parts of traditional Christianity -- especially the parts that get put under the rug."
"A growing crowd is asking us to do this," Johnson continues. "They love Richard's work and they want to ensure that all that he has done is not lost on the next generation."
The response to Living School's program seems to suggest that all will certainly not be lost.
More than 1,500 people requested applications, and almost 700 applications were submitted. A team of CAC staff and outside readers reviewed each 25-page application. Applicants had to commit to at least 35 hours a month of coursework, which involves not only reading but contemplation, experiential practices and service. The Living School staff anticipates welcoming a new cohort of 150 to 180 students each year for at least the next three years.
"This tells me that people want something substantial," says Rohr. "They realize that the weekend conference is a shot in the arm. But there is no solidifying carry-through or follow-up, just the high you sometimes get from a weekend conference. Somehow the metaphor of school is exciting far more people."
Among the applicants, 75 percent were Christian, with half identifying as Catholic and the other identifying as members of a mainline Protestant denomination. Evangelicals and nonaffiliated Christians made up 20 percent of the group, and 5 percent either were from a non-Christian tradition or declined to label their religious affiliation.
"Though there isn't a presupposition that students must come from a particular religious background, this is not an interspiritual program," explains Matt Sholler, who serves as the Living School's associate director.
The demographics of the first cohort of students suggest that while it is a predominately Christian group, it is also richly intergenerational, with an age range of 25 to 90 years old. Although half of those accepted are in their 50s and 60s, "there is a significant cluster of students in their 30s and 40s, which is exciting," Sholler says.
Perhaps most interesting, the applicant pool was not made up of mostly armchair theologians and ministry-types. The occupations held by prospective students ran the gamut: clergypersons and bishops, artists and educators, doctors and first responders, nurses and scientists, lawyers and small-business owners.
Rohr will serve as academic dean of the Living School, and he and two of his frequent collaborators, James Finley and Cynthia Bourgeault, will serve as core faculty members through 2015. Finley and Bourgeault are both sought-after retreat leaders known for their writing on the contemplative life. They will be joined by about a dozen master teachers.
Faculty members were chosen not simply because of their expertise in a field, but for their ability to synthesize various disciplines. "The people we chose are not just great teachers; they are making new knowledge in their time. They are people who take the work forward," Johnson says. "This isn't an adult education program. It really is a school of thought."
With his dream of creating a school finally realized, Rohr's focus now shifts to his hopes for the future. "Our deepest hope for the Living School is that students will emerge ready to live out their own soul task at home, in their places of work, and in all of their relationships," says Rohr.
"We hope that through education and contemplation, they can further develop their own spirits of collaboration, compassion and joy, and engage themselves more deeply in social action for our suffering world."
Related
Popular in the Community