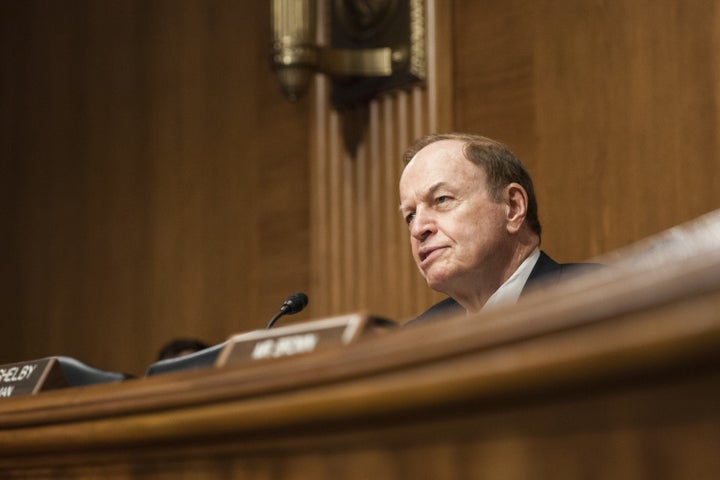 WASHINGTON -- Independent groups that don't disclose their donors have put nearly $1 million behind campaign ads for Senate banking committee chairman Richard Shelby, who faces upstart conservative John McConnell and three other challengers in Alabama.
Citizens for a Sound Government, a Colorado-based social welfare nonprofit, is the lead group backing Shelby. The conservative group has spent more than $400,000 on its own to fund ads for Shelby and contributed another $400,000 to fund Citizen Super PAC's pro-Shelby ads. In addition, One Nation, a nonprofit connected to a former aide of Senate Majority Leader Mitch McConnell, has spent $140,000 on radio ads to support the five-term senator.
Since the Supreme Court's 2010 Citizens United decision opened the door to unlimited corporate, union and individual spending on elections, the amount of untraceable money supporting political campaigns has soared.
While super PACs must disclose their donors, nonprofits like Citizens for a Sound Government do not. Usually, they direct this undisclosed dark money toward the most competitive races -- but, as Shelby's campaign shows, unknown donors are supporting even relatively safe incumbents.
"The problem with dead-end disclosure situations is we have no idea who is behind it and no way to find out," said Jordan Libowitz, communications director for the campaign finance watchdog group Citizens for Responsibility and Ethics in Washington.
It's not clear who's funding the pro-Shelby ads, but tax forms show that Citizens for a Sound Government is connected to Republican party insiders working to influence government policy.
Citizens for a Sound Government was created in 2011 by Gentry Collins, James Anderson and Alan Philp, founders of the "grassroots" lobbying firm CAP Public Affairs. All three are also former Republican National Committee staffers.
CAP Public Affairs helps its clients promote topics they care about by encouraging ordinary citizens to reach out to lawmakers about them. This practice of manufacturing grassroots support for an issue is also known as "astroturfing," and it's not mandatory to disclose the groups behind it. CAP Public Affairs' only publicly disclosed client is the government of Angola, which the firm worked for in 2012.
In 2014, Citizens for a Sound Government paid CAP Public Affairs -- in other words, its own founders -- nearly $500,000 to cover project management fees.
Philp is still the president of Citizens for a Sound Government, but in 2013, Jeff Burton and Reeves Barbour replaced Collins and Anderson as board members.
Barbour is a lobbyist for Crest Investment Company, a private equity firm with global energy holdings. He's also the son of Haley Barbour, the former Mississippi governor and super-lobbyist.
Burton runs a political consulting firm called Prevail Strategies. In 2014, Burton's Prevail Strategies received nearly $150,000 from the Independent Insurance Agents & Brokers of America trade group to support Republican candidates in the midterm elections.
Citizens for a Sound Government has also been active in past elections. In 2014, the nonprofit group spent $1.3 million on "research" and "education" related to the Nebraska gubernatorial campaign. Some of this money went toward so-called "issue ads" promoting Republican Pete Ricketts' successful gubernatorial race and attacking his primary campaign opponent, Jon Bruning. The group also funneled $685,000 to a super PAC supporting Connecticut Republican gubernatorial candidate Tom Foley, who lost that election.
Just last year, Citizens for a Sound Government spent more than $200,000 on TV ads to support Kentucky gubernatorial candidate Hal Heiner, a Republican, and gave $200,000 to a super PAC supporting him. Heiner lost the Republican primary race to Matt Bevin.
Citizen Super PAC, which received $400,000 from Citizens for a Sound Government, is a for-hire group with no clear objective except to provide a super PAC shell for donors to fund ads without their names on them.
Due to the mercenary nature of Citizen Super PAC, it's unclear whether its other donors are funding ads to support Shelby or other candidates. A super PAC called New Generation PAC donated nearly $130,000 to Citizen Super PAC on Jan. 20 before closing up shop. New Generation had received $100,000 from the coal company Murray Energy Corporation and a couple of five-figure donations from California-based Ramat Medical and S&F Management Company.
All of this spending to support Shelby shows just how hard it is to determine who is helping to elect powerful politicians.
Citizens for a Sound Government did not respond to a request for comment.
Popular in the Community