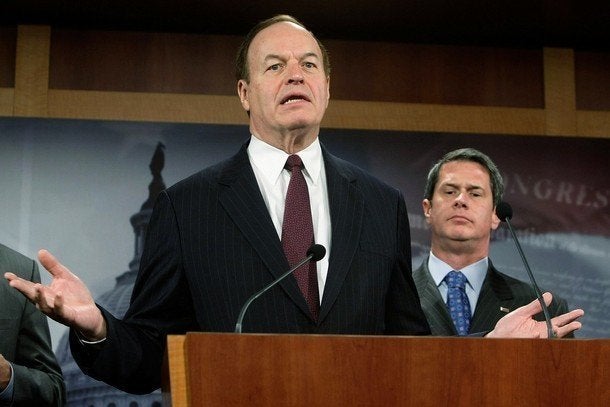 The GOP's lead Wall Street reform negotiator, Richard Shelby (R-Ala.), said on Monday morning that a deal with Democrats is unlikely before a test vote at 5:15 p.m. on a motion to proceed to debate.
Shelby, the top ranking Republican on the Banking Committee, told George Stephanopoulos that his staff would be meeting with staff from Chairman Chris Dodd's office at 2:00 p.m., leaving little time to cement a bargain. Without an agreement, all 59 members of the Democratic caucus are committed to moving ahead and hoping to peel off at least one Republican.
GOP Minority Leader Mitch McConnell (R-Ky.) has said that he has 41 votes to block debate. Shelby insisted Monday that was still the case. "I believe we will have the votes this afternoon," said Shelby.
Several Republicans have wavered in recent days, giving Democrats a sense of momentum heading into the vote. Sen. Charles Grassley (R-Iowa.) voted last week in the Agriculture Committee to back strong derivatives reform, legislation that Shelby said he could "absolutely" get behind.
"To trade with the idea of highly leveraged positions hoping that the taxpayer will bail them out... that's wrong, it's a mistake, and we're going to end that," said Shelby, arguing that the casino culture must be ended. "If they want to gamble, go to Las Vegas or somewhere."
Unlike on health care, Republicans continue to insist that they want a deal with Democrats. "We continue to work. I believe we're going to get a good bill," he said. "I think that conceptually we're very close together."
Jim Manley, senior communications adviser for Majority Leader Harry Reid (D-Nev.), said that Republicans must choose between siding with reform or backing Wall Street. "Today, Republicans face a major choice: Will they stand up for the American people, and join us to hold Wall Street accountable for the reckless gambling that cost 8 million Americans their jobs and millions more their economic livelihood? Or will they follow the marching orders they've been getting at their secret, closed-door meetings with Wall Street executives, and continue to protect Wall Street? We remain eager to work with Republicans who are sincere about reforming Wall Street, and we are hopeful for bipartisan agreement on this important effort," he said. "But there are no two ways about it: a vote against even opening debate on holding Wall Street accountable is a vote to protect Wall Street."
UPDATE: Shelby addressed the Independent Community Bankers of America after his GMA appearance, and was asked by one banker if Congress should wait until the commission studying the roots of the crisis is finished its work before passing financial regulatory reform.
"I think we basically know what went wrong. We had a lot of hearings. We've been working on it 15, 16 months now. The question is, do we agree basically on how to fix it, for lack of a better term, deal with it? I don't know that you can fix it, because you can't anticipate every problem down the road in the financial sector because of the world the way we've connected in the world. But we can mitigate it as much as we can. And we can send a message, hopefully, that this is not the status quo," Shelby said.
WATCH Shelby before the community bankers:
Calling all HuffPost superfans!
Sign up for membership to become a founding member and help shape HuffPost's next chapter