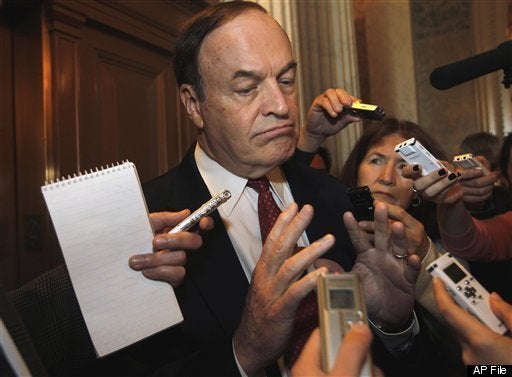 A week after Senate Majority Leader Harry Reid (D-Nev.) declared that cutting Social Security is off the table, a leading Republican senator proposed increasing the Social Security retirement age "every several years."
Sen. Richard Shelby of Alabama, the top Republican on the banking committee and a senior member of the appropriations committee, told a breakfast gathering held by the Institute for Education on Tuesday to expect a fight -- rather than bipartisan agreement -- over the budget.
Shelby said he considers deficit reduction to be the top issue on the congressional agenda.
"We're on the road to financial destruction," he warned. "Can we get our hand around this problem without bringing everything to the table? No."
And Shelby indicated that entitlements are very much on his budget-cutting agenda. He mocked the recommendation of President Barack Obama's deficit commission, which he said would raise the Social Security retirement age in 2025 (actually, not until 2027).
"America will be burned by then -- and a lot of us will be dead," he said.
His preferred solution is to "up the age every several years," he said -- the net effect of which would be tantamount to one benefit cut after another.
The senator said that anyone who had mastered "sixth-grade math" knows that Social Security is actuarially unsound. But his calls for alarm about the system are simply not supported by the facts.
Shelby, 76, said of the next generation of workers: "They're not going to receive anything or if they do, very little." Citing his sons -- who he said "want their money now" -- he asserted: "There's no proof that they will get much, if anything."
In reality, however, current projections are that, unlike other budget categories that are unsustainable in the short run, Social Security will experience only a modest shortfall over the next 75 years.
The Social Security trust fund will last at least through 2037, at which point, with no Congressional action, the program could still pay out 78 percent of expected benefits going forward.
In August, when the latest projections were announced, Social Security Commissioner Michael J. Astrue lashed out at those who exaggerate the significance of the trust fund running out -- in 26 years.
"That does not mean that there will be no money left," Astrue said. And saying otherwise simply makes young people despair unnecessarily.
Shelby -- who was a Democrat until 1994 -- is now one of the Senate's most reliable conservative votes. At Tuesday's breakfast, he spoke approvingly of the Tea Party movement. "Where do they come from?" he asked. "Fear -- a lot of it -- fear of the future."
Cutting the budget will be a challenge, he said. "People are going to have to say, 'Well, we're going to have to put the nation first'" -- above party and pet programs. "That's easy to say," but "tough to implement," he acknowledged.
For instance, Shelby said there is potential for "massive cutting" in the defense budget -- but probably not the political will.
One area where he might find bipartisan agreement is in his opposition to corporate subsidies. "I believe there are too many subsidies in our tax code," he said, adding that neither ExxonMobil nor any other company needs a tax incentive to drill for oil. Obama said the same thing in his State of the Union address.
But Shelby's thoughts about reforming the tax code are unlikely to find support across the aisle.
He spoke disapprovingly of the fact that the richest 5 percent of Americans pay, he said, 55 percent of taxes (actually, it's about 59 percent.) That's the result of an income-tax system that is not nearly as progressive as it used to be, or as the public wants.
But Shelby thinks the rich are paying too much -- not too little.
Shelby also spoke briefly about the anti-government protests in Egypt. His concern was not about the protesters, however, but about what they might accomplish. He warned that the outcome might be a democracy, "just not the kind we would like."
If what emerges is a democratically elected government dominated by Islamic fundamentalists, he said, "the contagion would go right through the area."

Popular in the Community