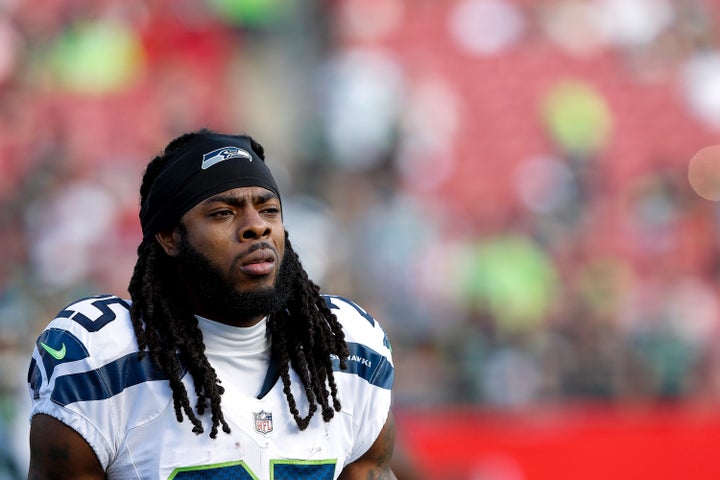 Welcome to Super Bowl week, where the fans are loud and the haters are even louder. No one has dealt with more haters this year than Carolina Panthers quarterback Cam Newton, who, as we all know by now, has received wave after wave of criticism this season, even as his team danced its way to Super Bowl 50. 
In some minds, the censure that Newton's seen this year is similar to the kind that Seattle Seahawks cornerback Richard Sherman faced two seasons back -- the year he controversially claimed to be "the best corner in the game." And when asked about the similarity in a radio interview on Friday, Sherman showed his solidarity with Newton, underscoring just how baseless the hate for the QB is.
"He hasn't done anything wrong to anyone," Sherman told 710 ESPN Seattle's "Justin and Gee." "He hasn't done anything off the field or hurt anyone or committed a crime or done anything. He plays the game like a young kid, like a kid's supposed to play it. This is a game. This isn't life. This isn't government. This isn't military. This isn't anything that's that serious. I think people are taking it out of perspective."
Sherman was referring to the finger-wagging Newton's received because of his touchdown celebrations. He was called a bad role model because of his dabbing back in November, and the controversy surrounding the dance has only grown since then.
"They're saying he's a bad example for kids," Sherman said. "This is a kid's game. Unless he's cursing or putting the middle finger up or pulling his pants down or doing things like that, then I don't get what they're saying."
Per usual, Sherman hit the nail on the head: Far from being a "bad example for kids," Newton has spent many of his off-field hours this season donating his time and resources to aid the local North Carolina community.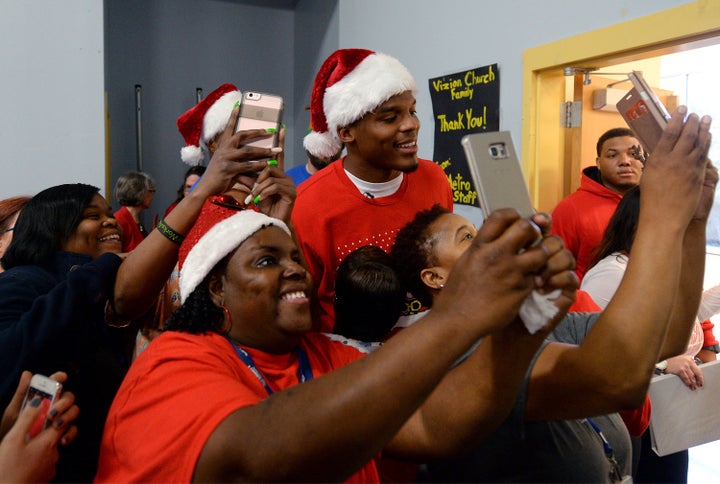 Sherman's comments come in the wake of the Panthers' 31-24 victory over his own Seahawks two weeks ago. Following the game, Newton threw a Seattle team flag onto the field, drawing the ire of a passionate group of Seahawks fans, one of whom called the act "disrespect[ful]" and the signal caller "classless."
Sherman, however, seems to have shrugged off the incident, choosing to respect Newton for his play on the gridiron and passion for the game rather than trying to find any possible fault in his historic season.
"The guy's going out there and playing as hard as he can, living the dream and treating it like that. He's honoring the game in his own way."
PHOTO GALLERY
Amazing Photos From The 2015 NFL Season
Calling all HuffPost superfans!
Sign up for membership to become a founding member and help shape HuffPost's next chapter