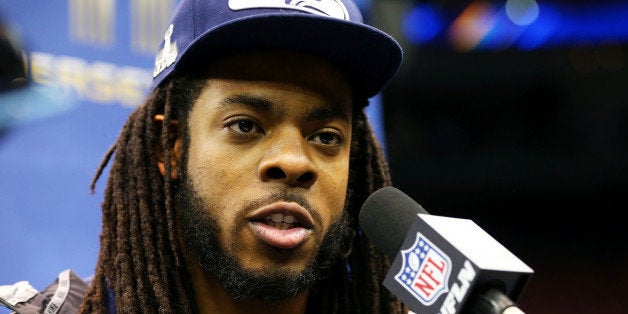 NFL star cornerback Richard Sherman took a stand and became the first current pro football player to openly criticize the league for refusing to use its power to change the name of the Washington football team. For this we commend him and hope that other sports figures will take his lead, and choose to stand with us on the right side of history.
In an interview with Time magazine, the Seattle Seahawks star was asked if the NFL would respond the same way as the NBA to racism. Sherman said:
No I don't. Because we have an NFL team called the Redskins. I don't think the NFL really is as concerned as they show. The NFL is more of a bottom line league. If it doesn't affect their bottom line, they're not as concerned.
Sherman was then asked whether the NBA's action against Los Angeles Clippers owner Donald Sterling would bolster the campaign to change the Washington team's name. He responded by saying, "I would hope it would help."
With that, Sherman can now follow proudly in the footsteps of athletes before him who have changed sports for the better -- those who have fought for equality, mutual respect and civil rights -- by taking a stand against racism.
This is a powerful wake-up call to the NFL where players are being forced to be a part of an enterprise that insists on profiting off of the promotion of a dictionary-defined racial slur. Sherman has let every player in the NFL know that it's OK to speak out. Professional players have the right to stand up and tell the league that professional sports should not be marketing and promoting racial slurs.
Sherman joins a prestigious group which includes former Washington NFL players all-pro linebacker Jason Taylor, Hall of Famer Art Monk and linebacker London Fletcher.
The NAACP, religious and ethnic groups, civil rights groups, the NCAA, high schools, and local and state elected officials have called for changing the name. Several media outlets have already dropped the name from their vocabulary. Republicans and Democrats in Congress, and the president of the United States, all say the Washington NFL team should change its name.
And the remarks from Sherman come days after New York State lawmakers launched bipartisan legislation demanding the NFL stop promoting a dictionary-defined racial slur.
The Oneida people have been here since time immemorial and we are proud to be located in a state that has become a model for promoting inclusiveness and mutual respect. Standing with New York's political leaders was incredibly heartening for me. New York State Assemblyman and Chair of the Black, Puerto Rican, Hispanic and Asian Legislative Caucus Karim Camara, New York State Senator George Maziarz, Senator Joe Griffo and Assembly Member Keith Wright have joined together, pointing out that offensive slurs should be immediately relegated to the dustbin of history.
Both Webster's dictionary and the United States government have deemed this term (R-word) a racial slur. It's outrageous that in this day and age, a professional football team in our nation's capital intentionally demeans Native Americans. The league needs to hear from New York's government that the NFL's refusal to use its power to stop the use of this racial epithet dishonors the universal values of this great state.
Professional sports organizations that receive massive amounts of public funding should not be profiting from the use of harmful racial slurs such as the R-word. With the introduction of this resolution, New York has become a role model for the entire nation, and is clearly demonstrating that it wants to stand on the right side of history.
Related
Popular in the Community