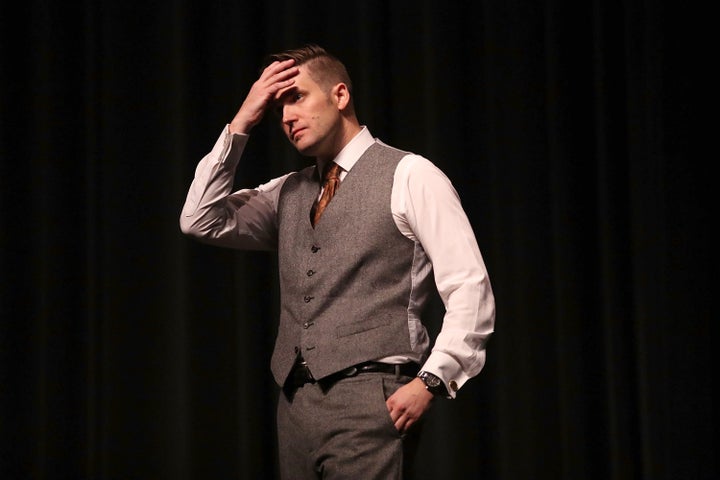 Richard Spencer and his band of white nationalist brothers see themselves as part of a superior race destined to create a utopian white ethno-state.
But first, their checks have to clear.
Spencer has spent the last several months bullying universities into letting him preach his racist vision to college students. Most recently, he spoke at the University of Florida in Gainesville. The event, which the university tried to counter by courting an appearance from legendary former quarterback Tim Tebow, eventually took place, with Spencer parading onto campus to his own personalized Depeche Mode-heavy playlist.
But in the leadup to his speech, Spencer and his colleagues at the National Policy Institute — Spencer's white nationalist think tank — struggled to complete basic chores required to stage the event, according to hundreds of pages of university emails obtained by HuffPost. They bungled money, forgot appointments, and appear to have failed to read all of their rental contract.
In order to secure a room for the Oct. 19 speech, Spencer was required send a signed rental agreement and a check for $10,564.80 by Oct. 6. NPI executive director Evan McLaren put the contract and the check in the mail that morning, using FedEx's same-day delivery service, requiring a university employee to accept the delivery around 10:30 that evening.
Days later, the check bounced.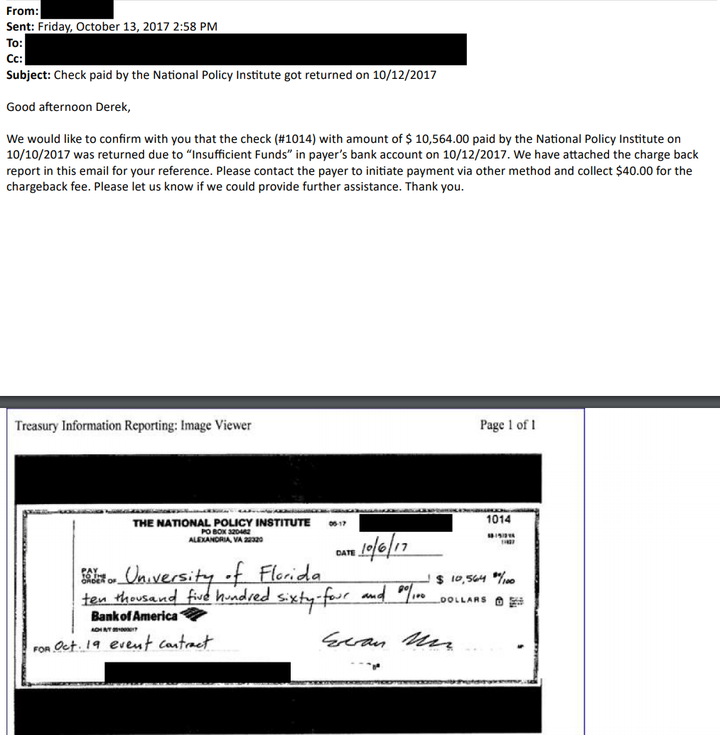 NPI eventually wired the money to the university, allowing Spencer's speech to proceed, Nancy Chrystal-Green, the university's senior director of student engagement, told HuffPost.
Bounced checks are not uncommon, of course, but Spencer's supposedly racially superior team made other slip-ups too. On Oct. 3, for instance, Chrystal-Green emailed Cameron Padgett, a graduate student who books Spencer's university speaking events, notifying him that McLaren had failed to initial each page of the contract. That was McLaren's mistake. But Padgett forgot about scheduled phone calls and asked Chrystal-Green for answers to questions he could have figured out by reading documents she'd already provided.
"Should we pay the low estimate range or the high?" Padgett asked in one email, referring to the range of cost estimates for the event.
"Contract asks for high," Chrystal-Green reminded him. "We settle the costs afterwards and give you a refund if warranted."
Days later, Padgett asked to set up a time that week to speak over the phone.
"I thought we were on for 11:30," Chrystal-Green wrote back.
There were also mix-ups around which media outlets NPI credentialed to cover Spencer's speech. When a reporter from Japan's Kyodo News was turned away, the reporter appealed to Spencer's admiration for Japan and its ethnically homogeneous population. "It is our understanding that Mr. Spencer traveled to Japan which he said he was fond of. We would like t [sic] ask Mr. Spencer why he like [sic] Japan's immigration policy?" Matthew Carland from Kyodo News wrote McLaren.
Asked if Spencer and his team were particularly difficult to coordinate with, Chrystal-Green was diplomatic. "As with any program there are always some hiccups in the event planning," she told HuffPost.
Residents of Gainesville, where the University of Florida is located, were broadly opposed to Spencer's visit. They spoke out against his racist ideology and feared his presence would lead to violent confrontations between white nationalists and protesters. The day of the speech, Gainesville Mayor Lauren Poe (D) told HuffPost that Spencer was a "terrorist leader" whose followers "descend upon communities, harm people and then leave."
Faced with legal threats, the University of Florida ultimately decided to allow Spencer to speak. Still, the university and its students took steps to counter his message. Students and campus organizations reached out to Chrystal-Green to plan events opposite Spencer's speech that celebrated the campus's diversity and unity, the emails showed.
Chrystal-Green herself tried to enlist the help of Tebow, the former University of Florida quarterback who won a Heisman Trophy and led the Gators to two national championships.
Tebow was in Gainesville days before Spencer's speech for "SEC Nation," the ESPN college football show on which he serves as an analyst. Chrystal-Green reached out to assistant athletic director Jon Rubin with "a favor to ask."
"I'm sure you have seen the news about a white nationalist coming to speak at UF on Oct. 19," Chrystal-Green wrote in an Oct. 6 email. "One of the things we are doing is showing a virtual assembly during the speech. We are getting in contact with famous alums asking to record a brief message of unity, togetherness, Gator Nation, etc. Obviously a message from Tim Tebow would be a great addition. Is there an easy method by which to ask him?"
Rubin told Chrystal-Green to reach out to ESPN public relations officials about Tebow's availability. An ESPN spokeswoman told HuffPost, "The university reached out to us to gauge Tim's involvement in recording a video with regards to the Richard Spencer event at UF and we declined on his behalf."
A group of student leaders ultimately planned an event that featured speeches from students who shared their own "experiences focusing on unity," as well as pre-recorded messages from University of Florida president W. Kent Fuchs, who had originally denied Spencer a venue; actor Kal Penn, who did not attend the school but was on campus for a separate event; and Thaddeus Bullard, a former Florida football player who is now a professional wrestler known as Titus O'Neil.
One task Spencer wouldn't leave to his underlings at NPI was the event's music selection. Two days before he was scheduled to speak, Spencer emailed Chrystal-Green a link to a 13-track Spotify playlist — which included five Depeche Mode songs — dubbed the "College Tour Playlist."
Spencer has called Depeche Mode "the official band of the alt-right," a title the band has actively disavowed. "Depeche Mode has no ties to Richard Spencer or the alt-right and does not support the alt-right," lead singer Dave Gahan told Billboard earlier this year. "He's a c**t."
Spencer asked the university to play his playlist on shuffle as people entered the auditorium for his speech. "Please play 'Where's the Revolution' as I'm introduced and come on stage," Spencer wrote to Chrystal-Green, apparently entirely misinterpreting the meaning of the Depeche Mode song.
Chrystal-Green said the university complied with Spencer's music requests, as it does with all renters. But the music was drowned out by a different sort of chorus. As the white nationalist darling took the stage, University of Florida students chanted, "Fuck you, Spencer."
Spencer did not respond to a request for comment.
Popular in the Community