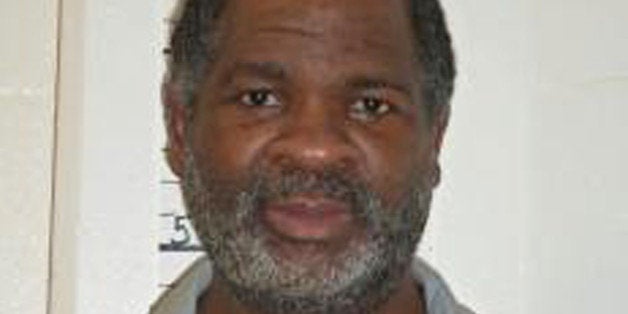 Missouri murderer Richard Strong was executed by lethal injection Tuesday night after authorities turned aside a last-minute plea from his daughter, who was only months old when Strong killed her mother and 2-year-old half-sister.
Strong, 47, was pronounced dead at 6:58 p.m. at the Eastern Reception, Diagnostic and Correctional Center in Bonne Terre, Missouri, according to the state Department of Corrections.
He ate a last meal of fried chicken, a cheeseburger and donuts, and asked forgiveness, according to the department. His last words were: "Jehovah-jireh, you're my provider. Your grace is sufficient for me. Forgive me for my sin. Abba-Abba, take my soul in your hands."
Gov. Jay Nixon focused on Strong's victims in a statement, acknowledging "there have been many lives deeply affected by these crimes."
Petrina Thomas, whose niece was the toddler Strong killed, witnessed the execution and said in a statement she read to reporters that her family "was so glad that it is finally over." (Read her full statement below.)
The execution was carried out after an unsuccessful plea for clemency from his daughter, who was a baby in 2000 when Strong murdered her mother and her half-sister. Last-minute appeals to the U.S. Supreme Court and to Nixon also failed.
Strong was sentenced to death in 2003 for fatally stabbing his 23-year-old girlfriend, Eva Washington, and her daughter from a previous relationship, Zandrea Thomas, in their suburban St. Louis apartment. He left Alyshia Strong, his baby with Washington, unharmed.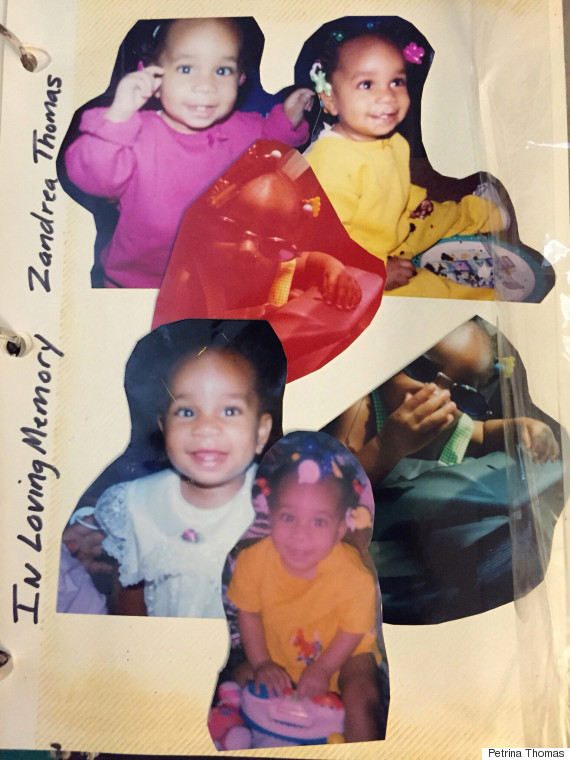 Strong Murder victim Zandrea Thomas.
"I understand that my father needs to face consequences and to pay for what he did, but I do not think it is right for me to lose my father as part of the punishment," Alyshia Strong wrote in her clemency petition.
She wrote that she frequently visits her dad in prison, and said his advice led her to behave better in school.
"My father told me that I should stay clear of the drama at school, and stay focused on the books, not the people. I listened to my father's advice, and I can honestly say that I had less drama in my school year than I would have if I had not listened to my father," she wrote.
The U.S. Supreme Court voted 5-4 against issuing a stay that would have postponed Tuesday's execution. Strong's attorney, Jennifer Herndon, argued that Strong was mentally ill. She said both Strong and Washington suffered from mental illness and argued frequently, according to The Associated Press.
"He just snapped," Herndon said. "It was just sort of a powder keg waiting to explode. It wasn't a healthy relationship."
Nixon declined to halt the lethal injection, saying in a statement that the fatal stabbing of the mother and daughter was "very brutal."
Strong is the fourth person to be executed in Missouri this year, and the 16th in the U.S.
Petrina Thomas, Zandrea Thomas' aunt, read this statement during a press briefing following the execution, according to the Department of Corrections:
On behalf of the Thomas family, we would like to thank the state of Missouri for finally providing our family with closure of the horrific death of my niece and her mom. For 14 years, we have impatiently waited for this day to come. It has been said that time heals all wounds. I do not agree; the wounds remain. In time, the mind, protecting its sanity, covers them with scar tissue and the pain lessens, but it is never gone. The reality is we will grieve forever. We will not get over the loss of our loved ones, and we will learn to live with it. We will heal, and we will rebuild around the loss that we have suffered. We will never be the same again. He had a chance to watch his daughter grow up and laugh and smile with her. We never got a chance to see her first day of school, graduations, or watch her go on prom. My brother will never get a chance to walk his daughter down the aisle for her wedding day. Human life has dignity at any age. Nothing can justify the shedding of innocent blood or the taking of lives. You must take 100 percent responsibility for your choices and your actions, and pay with your own life. Revelation 21:4 reads: "He will wipe every tear from their eyes. There will be no more death or mourning or crying or pain, for the old order of things has passed away."

We are at peace now and so glad that it is finally over. Thank you

REAL LIFE. REAL NEWS. REAL VOICES.
Help us tell more of the stories that matter from voices that too often remain unheard.