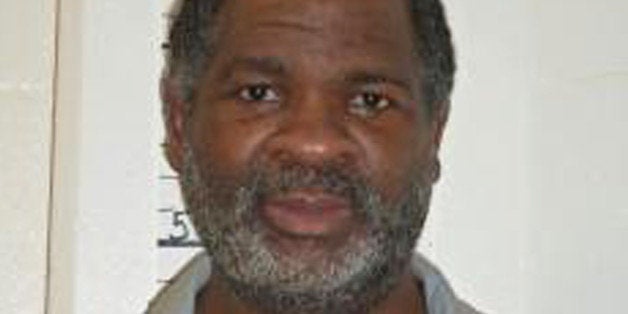 Alyshia Strong's mother and half-sister were found stabbed to death in their apartment in 2000. Alyshi, now 14, was an infant at the time and was in the Missouri home too, but was left unharmed. The culprit was her father, Richard Strong.
Strong, now 48, was convicted and sentenced to death in 2003 for slaying his girlfriend, 23-year-old Eva Washington, during an argument and then killing 2-year-old Zandrea Thomas, her child from an earlier relationship.
Now, with one day before her father is scheduled to be executed, Alyshia told the Associated Press that she's forgiven him and wants to stop his execution.
"I understand that my father needs to face consequences and to pay for what he did, but I do not think it is right for me to lose my father as part of the punishment," Alyshia wrote in her clemency petition.
In the letter, the teen said she frequently visits her dad in prison, and that his advice led her to behave better in school.
"My father told me that I should stay clear of the drama at school, and stay focused on the books, not the people. I listened to my father's advice, and I can honestly say that I had less drama in my school year than I would have if I had not listened to my father," Alyshia wrote.
Strong's lawyer, Jennifer Herndon, told The Huffington Post that some of Washington's relatives oppose clemency and plan to attend the execution.
In an op-ed in the Columbia Daily Spectator, Rev. Cassandra Gould, the pastor of Quinn Chapel AME Church in Jefferson City and executive director of Missouri Faith Voices, wrote that Strong's original defense team received just $15,000 to represent him in the case. It's an inadequate sum to mount a reasonable defense in a death penalty trial, she noted.
Gould also wrote that Strong grew up in abusive homes in which he was forced to drink water from a toilet and where his mother's boyfriends mistreated her and her children. According to Gould, mental health specialists have determined that Strong "suffers from recurrent depression, PTSD and schizotypal personality disorder, among other conditions."
Nixon's spokesman confirmed to HuffPost that Strong's request is under review. Herndon said the defense team has appealed to the U.S. Supreme Court in the case, and does not expect a decision from the governor's office until shortly before the scheduled execution time.
"He doesn't ever make a decision until everything is exhausted in court," Herndon said.
Calling all HuffPost superfans!
Sign up for membership to become a founding member and help shape HuffPost's next chapter