Richard T. Scott's AMERICANA is an exhibition of paintings that aims for the core of what has happened to the American dream. Interesting that they are being shown in Paris but, as Scott knows from living abroad for years, it enhances ones understanding to look at America from the outside. This body of work is Scott's personal investigation into not only violence in America but, what it means to be witness to it, and to find that freedom is to be tangled in it's web.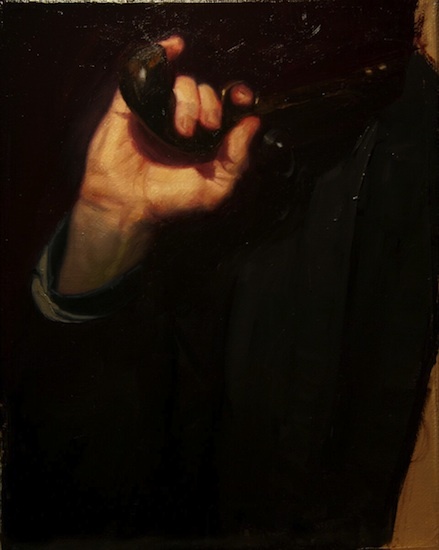 Pistol Hand by Richard T. Scott
For a painter to attempt to interpret ones own experience symbolically, realistically, so that others may be able to relate to it, is challenging to say the least and Scott has invested many years in coming to this point of his ability to tell his story. From his home in Georgia to New York and from there to Paris, Scott has steadily been assembling his arsenal. Here we have a painter making progress along an alternative route to the post modern ideas that drive our culture, and his efforts are paying off.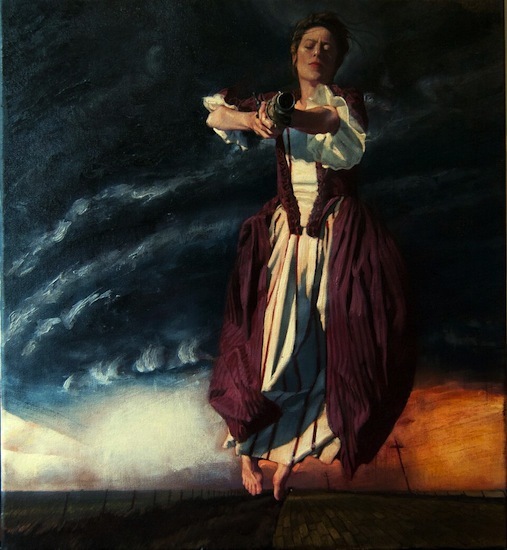 Violence You Stole My Foolish Heart by Richard T. Scott
From March 10 until April 3, 2016, a dozen or so thought provoking paintings will be on view. Yann 'Deshouliéres, who owns the gallery, became acquainted with Scott and his work while the painter was working in the studio of Odd Nerdrum in Mason Lafitte, just outside Paris. Galerie L'Oeil du Prince has continued to exhibit and sell Scott's work even though Scott now works primarily at his studio in Millerton, New York.
Scott has given us a poetic introduction to the show.
"Le Rêve Américain
When I was a child, I dreamt of America: of revolutionaries and cowboys. I dreamt of brave men conquering the wild frontier, battling their way westward to the ocean, to achieve the natural destiny that God laid before them. As an adolescent I dreamt of the savages and the slaves in the field, cumulus clouds bending over their backs. I dreamt of the war between brothers, and glory of the southern cause. I celebrated abolition and the great march toward freedom, equal rights for blacks, not realizing my hypocrisy. I lived in the world of Leave it to Beaver, the world of Don Draper. I did not know that all my life I dreamt white dreams - the dreams of white men. It was my legacy for the taking, and the wealth of the American dream was for me, but it was not for the blacks, or the indians, it was not the legacy of women. No, it was built upon their backs.
It is only now that I can begin to understand it myself. What profound romanticism in what we aspire to be, and such tragedy in what we are! America is a pantheon of martyrs. It is the illicit seduction, the taboo, the forbidden.
The American Dream is a warm gun. "
As was revealed in the Newington-Cropsey Podcast with Peter Trippi, editor of Fine Art Connoisseur, Scott was present during one of America's many school shootings, in his home state of Georgia, one month after the Columbine shooting. Growing up in the south gives Scott a unique perspective into the issue of racial prejudice as well as racial privilege and this incident, perhaps above all others, has prompted Scott to delve into the history, the mystery, of why we as Americans shoot each other. He has not only the skill but the life experience to assist in shedding light on this ongoing American conundrum. He has attended Civil War reenactments and met with scholars on the subject to further enhance his understanding, to add to the breadth of his work.
Scott calls his paintings Post Contemporary. Reconstructive. The term was brought to the representational art table by Scott and it is gaining traction on social media. Post Contemporary Painting, Post Contemporary Art and other PoCo groups and hashtags are showing up on Facebook and Instagram, and although much of what shows up does not fit the Post Contemporary philosophy which Scott espouses, more and more professionals in the field are using the term correctly as Scott intended it. Not to define a movement but rather as a way to reference the best of 21st Century representational painting which, according to Scott, is philosophically different from that of the Modern and Post Modern doctrines.
Scott was recently a panelist on the subject of Post Contemporary at the NBMAA inauguration of the Post Contemporary gallery in the newly added wing of this gem of a museum which is near Hartford, Connecticut. Daniel Maidman, who was also a panelist in that discussion and who wrote a Huffington Post blog about Post Contemporary in which he states that the pillars of Post Contemporary are skill, creativity and empathy. Scott's work certainly fits that definition.
Scott's depiction of women preparing, longing, lonely in the evening light or by the mirror, gazing at reflections of themselves as their men rise up out of the early morning fog to kill each other, are not meant solely to speak of the past, but to bring the past forward, toward us, as a means to help us understand why, like no other country, we wage war on ourselves, on our neighbors, and on our classmates. Only by understanding history will be able to create a better future. The world is watching.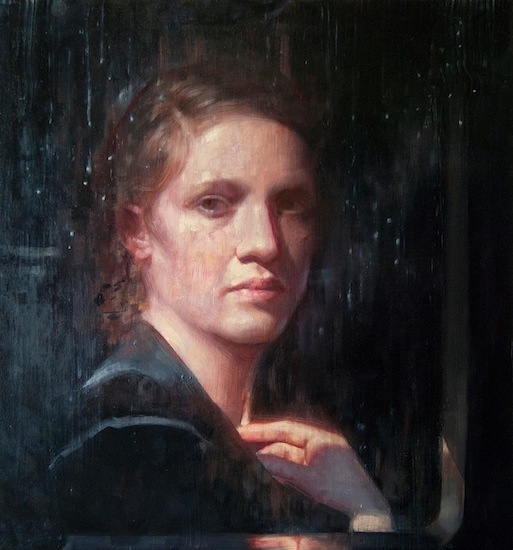 Reflection by Richard T. Scott
To somehow portray this subject beautifully is more than talent. It is more than a gift, for the years of dedication to acquiring the skill cannot be left out of the equation that makes Richard T. Scott and his paintings so remarkable and pertinent. We are being told a story that we need to hear but we must be patient. After all, New Amsterdam was not built in a day.