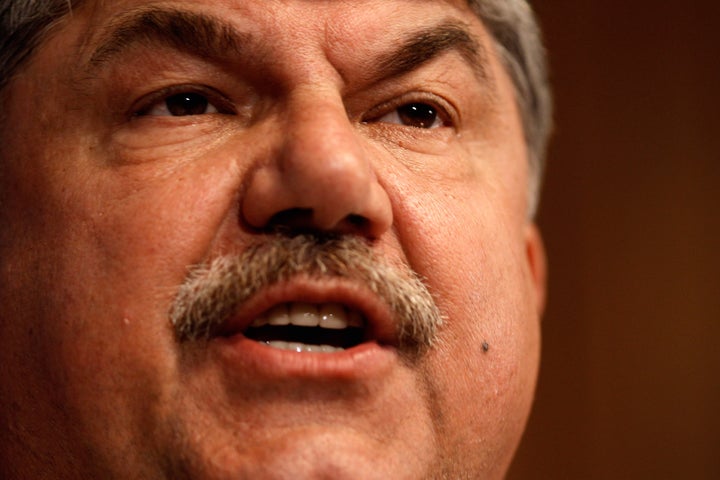 In a speech addressing the gender issues at play in the closely watched Massachusetts Senate race, the head of the AFL-CIO said on Monday that it was "crazy" for men not to vote for Democratic candidate Elizabeth Warren "because she's a woman," just as he dissed incumbent Republican Sen. Scott Brown as the guy who "wears a Bruins jersey with the boys" and "pat[s] us on the back."
Richard Trumka, president of the AFL-CIO, was trying to ramp up support for Warren among Massachusetts' large number of union voters. According to internal polling of the labor federation's own members in the state, the pro-labor Warren leads Brown by a mere 3 percentage points, 49 to 46. Although Warren has pulled ahead in recent polling, data shows that the incumbent maintains a healthy lead among white male voters.
In a moment in which he said he was being "perfectly honest," the barrel-chested, mustache-sporting Trumka, a former coal miner, blamed voters who "look just like me" for Warren's poll numbers among males.
"There may be dozens of good reasons for us to vote for her, but it's crazy not to vote for her because she's a woman, or because she's a college professor, or for any other superficial reason," Trumka said, speaking at a local of the International Brotherhood of Electrical Workers, in Dorchester, Mass.
In his speech, Trumka needled voters who were considering casting a ballot against Warren for reasons not ideological but "superficial." Opponents of the Wall Street reform advocate and Harvard professor have painted her as an elitist academic throughout the campaign, and Brown's campaign has attacked her for her past claims of being Native American.
"The other bad reason to vote against her is because Scott Brown comes across like the guy some of you supported years ago," Trumka said. "Do we want a buddy who'll pat us on the back? Who wears a Bruins jersey with the boys? Or a leader who will fight for our right to form unions and bargain for a better life?"
REAL LIFE. REAL NEWS. REAL VOICES.
Help us tell more of the stories that matter from voices that too often remain unheard.
BEFORE YOU GO
PHOTO GALLERY
2012 Senate Race Polls