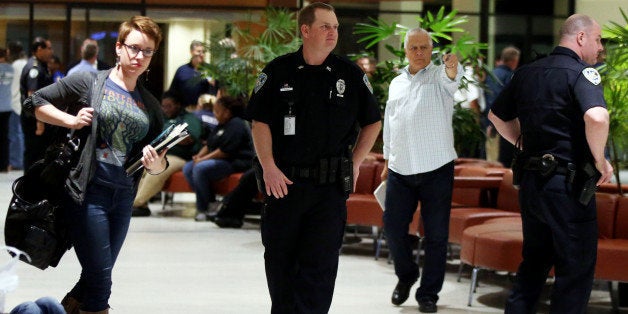 March 21 (Reuters) - The machete-wielding man who was shot by police when he attacked security agents at a New Orleans airport on Friday has died in hospital, police said on Saturday.
Richard White, 63, was carrying six homemade explosives when he attacked agents at the airport with wasp killer spray and a machete. He had a history of mental illness, officials said.
"No one at this point in time has any notion of what triggered this behavior," Jefferson Parish Sheriff Newell Normand said at a news conference earlier on Saturday.
"His family has been very cooperative. We have been able to determine that there is a mental illness component here."
White died after the news conference, at around 4 p.m. local time (2100 GMT), police said.
White sprayed the Transportation Security Administration agents at about 8 p.m. on Friday at a security checkpoint at the Louis Armstrong New Orleans International Airport.
A TSA agent threw a bag at White and slowed him down. White then brandished a machete and chased an unarmed TSA agent, until he was shot three times by a sheriff's officer.
During the attack White dropped a bag containing a lighter and six glass jars with cloth wicks in gasoline, commonly known as a molotov cocktails, Normand said.
Officials found tanks of acetylene, freon and oxygen in White's car at the airport, but do not know what their purpose was.
White, who lived near the airport and had worked as a taxi driver, refused some types of medical attention because of religious beliefs, officials said.
Federal agents responded to the scene, the concourse was cleared and planes were moved to other concourses.
Transportation Security Officer Carol Richel praised Lieutenant Heather Slyve of the sheriff's office, who shot White.
"Officer Slyve is my hero," Richel said. "She probably saved my life because he was within inches of whacking me. ... She saved a lot of people's lives. This man was swinging very hard with the machete."
In November 2013, a lone gunman walked into the Los Angeles International Airport carrying a semi-automatic rifle and opened fire, killing a TSA agent and wounding three other people.
The agent killed in that attack, 39-year-old Gerardo Hernandez, was the first officer slain in the line of duty since the agency was created in the aftermath of the Sept. 11, 2001, attacks. (Reporting and writing by Fiona Ortiz in Chicago. Editing by Andre Grenon)
Related
Popular in the Community