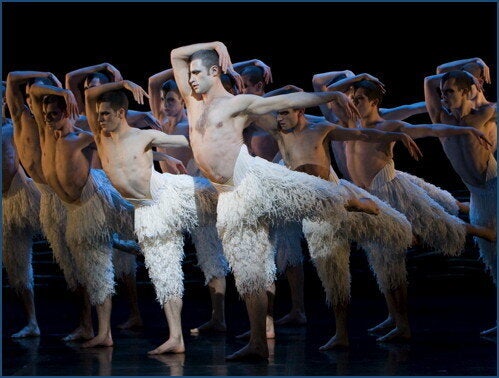 The Film World is in the midst of a three-dimensional craze, and its latest eye-popping gem is Matthew Bourne's Swan Lake. The film's featured star, Richard Winsor, is something of a startling vision himself. "Sexiest dancer in the world" - says Elle magazine. "I certainly do hope so!" would be the composer's response. Tchaikovsky's musical dream is strictly Star Material. The leading artist/interpreter must be at the top of his game, and it doesn't matter where the plumage goes or what it may conceal.
Swan Lake is all about longing for the vision in front of you. And sexual desire -- so near, so far, and never ending. This time, the feathers are going to be flying around in 3D and the leading man wearing them will be way-up close and personal, in your face, toying with your head. Twice over! Matthew Bourne's Swan Lake in 3D not only reflects the psychological and mystical currents of the ballet's original narrative, it also floats the same physical and creative demands upon its featured star: a dual role. Richard Winsor is well-equipped to handle both.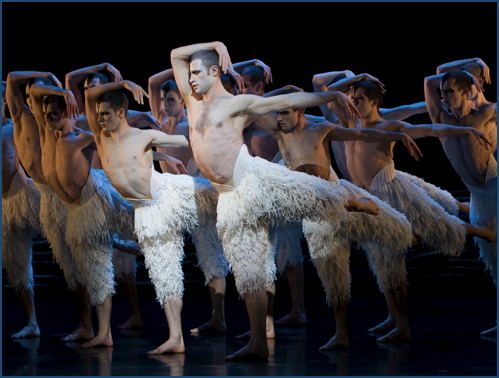 RICHARD WINSOR, flocking Photo, NCM Fathom Entertainment Events
On Tuesday, March 20th, NCM Fathom Events and More2Screen presents a One-Night-Only screening of Matthew Bourne's Swan Lake in 3D. Starting at 7:30 local time in select theaters coast-to-coast, the event displays the latest in cutting-edge 3D technology and celebrates the 25th year of Bourne's dance company, New Adventures. Richard Winsor is a product of that company. For the past 10 years he has trained with the company and starred in its award-winning productions. In our conversation this week, I asked Richard about his take on the dual roles in Swan Lake and his personal ID as a dancer.
"I'm not a classical ballet dancer," he said. "I never wanted to go into it or do classical ballets as such. That's why Matthew Bourne's company -- in the early parts of my dance career -- was absolutely perfect for me. I saw his Swan Lake when I was in college and was just blown away. The level of narrative and story telling, the drama and passion behind it really hit me hard. That's what I wanted -- to become the lead, the star of his company. I've been so fortunate and blessed that it happened. I call myself a dancer/actor or an actor/dancer. I train very hard in classical ballet and contemporary techniques, but apply it to something like Matthew Bourne's company and other films and pieces I've done over the years, always approaching it as a dancer and an actor."
The Bourne production eliminates the familiar bevy of delicate swan girls in tutus and replaces them with an aggressive pack of bare-chested swan guys in feathered pants. The Royal Court is advanced to the 20th century and its look is very reminiscent of the '60s "Jet Set" - a high-flying crowd of extravagant party people that included the Queen's dazzling sister, Princess Margaret, along with gay author Truman Capote, notorious ballet greats Rudolf Nureyev and Margot Fonteyn, and First Lady Jacqueline Kennedy's sister Princess Lee Radziwill. It was "la dolce vita" from Buckingham to Bermuda, from L.A. to St. Tropez. During that period (then as now) the tabloids delivered much speculation on a lot of royal bedrooms, sundry royal arrangements, and the dalliances and hidden preferences of those in the line of succession. Even teenaged Prince Charles.
"I wanted to capture my role by bringing it back to its realistic nature," said Richard, "what it actually is to be this creature, this beast -- beautiful and graceful, but a quite dangerous and angry animal. We already had the template of the original story and people have known this adaptation for nearly twenty years. In Act 2, when The Prince associates with The Swan -- you're never quite sure if it's in his imagination or if it's a fantasy. I like to see it as The Prince suddenly letting himself be open to the possibility of love and freedom, and beauty. Then later, for the dark swan [The Stranger], I play him just as a normal character who comes to the ball. Maybe he's an ex-lover of The Queen. But The Prince is overcome by his fantasy and he endows the beautiful white swan onto this other dark and menacing character - which makes him even more dark and menacing as the fantasy goes on."
In the opening scene of Matthew Bourne's story, the young Prince is asleep, cuddling a stuffed swan. Suddenly, a dream makes him disturbed and restless. The music reaches a tumultuous climax. Watching through his bedroom window is a stunning male swan who instinctively sizes up The Situation -- another lost and loveless special boy who cannot escape the realm of keeping up appearances. Has the Swan cast a spell over him?
"Yes, I absolutely think it could be interpreted that way," he replied. "It sets the path for The Prince's destruction. It's like something he aspires to because he has no love, no human contact at all. He's completely lost in this dry world where there is no emotion, no guidance. For me, it's about actually being there for The Prince and -- playing on his homosexuality -- being this beacon of beauty and hope. I don't see it as a spell. In playing the character, I have to find the truth and reality for what is actually happening, there and then."
Calling all HuffPost superfans!
Sign up for membership to become a founding member and help shape HuffPost's next chapter