Richard Zemlak realized early in life that society condones a certain level of violence in hockey. As a player, he grasped his role. And whether his team was behind by three goals or leading by four, he had a function to fulfill. While carrying out that position, he was often outgunned.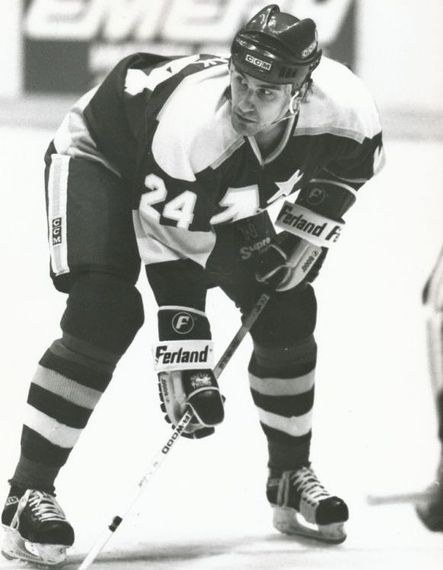 "I fought to the best of my ability," says Zemlak, who lingered in the minors from 1979 to 1986 before breaking in with the Quebec Nordiques in 1986-1987. "I have no problem looking in the mirror. When I was 24, 25, I was young and excited to put on the Nordiques jersey. I was young and naïve. I loved the game and I wanted to be on the ice. To be on a team with Peter Stastny, Michele Goulet and Dale Hunter, what a thrill."
In Zemlak's second NHL altercation, on January 17, 1987, he matched up against Bob Probert.
"It was in Detroit," says Zemlak, "And my philosophy was to get it over early. I tried to attack and go right after him. I fought outmatched in size and weight. I knew that when I went toe-to-toe with Probert, I was not going to win. Probert had strength, power, he was just a beast. I tried to get in tight."
Later that night, away from the rink, he bumped into Probert once more.
"The elevator door opened in the hotel," says Zemlak. "I said, 'Hi, Bob.' He smirked a bit and said, 'Hi, Richard.' I couldn't believe it was Probert and I was running into him after a game and after a fight. I realized how big he was. It was pretty comical. I fought a lot of guys, like Gord Donnelly, who, off the ice, were courteous and respectful."
After playing 20 regular season games with the Nordiques, he ended up on the Minnesota North Stars roster, as a linemate of Basil McRae, tallying 25 fighting majors.
"Out of all those games, I remember Jay Miller was a handful," says Zemlak. "He was a mean individual. He was like a logger on skates who beats people up."
In 132 regular season games, spanning 1986-1992, Zemlak scored two goals and 12 assists, whipped 39 shots on goal and amassed 587 penalty minutes. His final plus/minus rating was -26. In 1987-1988, he churned out 307 penalty minutes in 54 games with the Minnesota North Stars.
Zemlak played on the Pittsburgh Penguins for 31 games during the 1988-1989 season -- a time at which the Philadelphia Flyers had a roster crammed with tough players, including left-handed, long-armed hatchet man Dave Brown. From top to bottom, they were stacked with useful brawlers.
"I'd be in the locker room and looking at their lineup, and I'd see six guys on the roster who could fight," says Zemlak. "That was emotionally draining. With guys like Craig Berube and Jeff Chychrun, I hated going to work. But, you know, you punch the clock and show up. Jay Caufield and I didn't get much room. I always had butterflies in the stomach, but, as a competitor, I was ready for the game."
Zemlak is a father of two boys, and sometimes they pull up clips of his old fights on YouTube.
"They say, 'Hey, dad, look at this.' I guess there is more info than there should be online, and it gets old after a while. I'm really not that type of guy. But when you are young, you play hard, and I did whatever it took for me to be successful. But I never did anything that would reflect badly on any organization."
Fighting had its own set of worries. Admitting that he struggled with anxiety was harder for a tough guy like Zemlak -- it's a bit like admitting he couldn't reach his bootstraps. It's assumed that successful fighters can just shake it off.
"As an enforcer, you always worry about whose coming into town," says Zemlak. "You know, you sit and look at the sheets a night before a game. When you went to bed, you had anxiety, and there was some stress throughout the pregame, because you always thought about who you were going to fight. It could be frightening to answer the bell. But, really, it's just a job for me, and when I retired, I let it go."
Summoning the aggression and the endurance to chuck the knuckles with the NHL's toughest hombres was a constant challenge for Zemlak, a matter of surviving the dark nights of the soul.
Fighting: 'Nervous Thing'
"Drugs, alcohol, painkillers," says Zemlak. "There are a lot of great individuals with families who've been lost. To hear about the depression and other problems is saddening. But fighting is something that weighs on you, like a piano on your back -- an overbearing weight. At times, especially for a guy my size, you hope you survive and not get hurt. Emotionally, it's a nervous thing, you lose weight. When I fought in Fredericton, I remember being swollen and bleeding, but I took pride in my job."
Zemlak works as a real estate agent in the Twin Cities area, he says he eats well, doesn't drink or smoke, and is a bit of a health nut. He is concerned, however, that all the fighting has taken some toll.
"Well, sometimes I pass my exit going home on the highway," says Zemlak. "In the minors, I had thirty to forty fights a year, for 10 years, and I took a lot of blows to the head. That's a lot of punches bouncing off the brain and skull. In some ways, it doesn't surprise me; consider the shots to the head. But then again, I'm 50, so my memory doesn't work as well. I'm not saying I have memory loss."
Pugilism in the NHL is rooted in mutual respect, and Zemlak has the utmost respect for players such as Bob Probert.
"Bob left a tradition as an unbelievable individual," says Zemlak. "So many players had great success because he set the tone and gave them room on the ice. He was the number one fighter in his era. How he died was sad because he had a wonderful wife and kids, and Probert was on the upswing. He was making a difference, feeling positive. I was shocked and I really felt for his family. Too soon."
Rules have dramatically changed since the 1990s and Zemlak concedes that he wouldn't even be able to crack a lineup today.
"I'd be a stick boy," laughs Zemlak. "It's pretty frightening the size of those players right now. In the last few years, the people are bigger, stronger and faster. When I started, the average hockey player was 5'7", 175 pounds, and now they aren't drafting people under six feet, two hundred pounds.
Zemlak ended his NHL career with the Calgary Flames in 1991, and he exited hockey after a stint in 1993-94 with the Milwaukee Admirals of the International Hockey League.
"I blew out the ligaments in my knee at age 29," says Zemlak. "And in hockey, you are only as good as your last shift. After two years in the minors, at age 31, that was enough for me."
Zemlak says he doesn't miss the combat, the application of ice bags to his knuckles, or the general angst of wondering about who his next opponent would be.
"What's there to miss? I shower alone, and I don't have to get punched in the face. After I retired, the piano was off of my back. That was a lot of punishment."
Brian D'Ambrosio is the author of Warriors on the Ice, discussions about fighting in the NHL with 30 of the toughest warriors ever to play the game. Warriors on the Ice will be available everywhere December 23.
REAL LIFE. REAL NEWS. REAL VOICES.
Help us tell more of the stories that matter from voices that too often remain unheard.